Carbon nanotube-modified monolithic polymethacrylate pipette tips for (micro)solid-phase extraction of antidepressants from urine samples
Abstract
This work evaluates the potential of methacrylate monoliths with multi-walled carbon nanotubes incorporated into the polymeric network for the extraction of antidepressants from human urine. The method is based on a micropipette solid-phase extraction tip containing a hybrid monolithic material covalently attached to the polypropylene housing. A polymer layer made from poly(ethylene dimethacrylate) was bound to the inner surface of a polypropylene tip via UV grafting. The preparation of the monolith and the microextraction steps were optimized in terms of adsorption capacity. Limits of detection ranged from 9 to 15 μg·L−1. The average precision of the method varied between 3 and 5% (intra-tips), and from 4 to 14% (inter-tips). The accuracy of the method was evaluated through a recovery study by using spiked samples.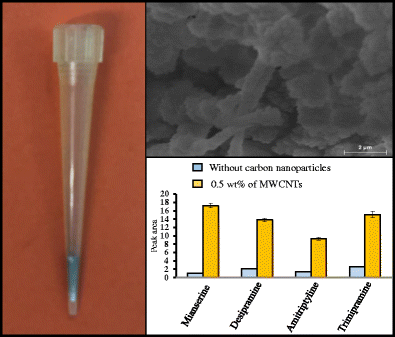 Keywords
Carbon nanoparticles 
Hybrid monolith 
Microextraction 
Porous polymer 
Photografting process 
UV attachment 
Drugs 
Liquid chromatography 
Biological samples 
Notes
Acknowledgments
Financial support from the Spanish Ministry of Science and Innovation (CTQ2014-52939-R and CTQ2014-52765-R) and PROMETEO/2016/145 (Conselleria de Educación, Investigación, Cultura y Deporte, Generalitat Valenciana, Spain) is gratefully acknowledged. B. Fresco-Cala expresses her gratitude for the predoctoral grant (ref FPU13/03896) from the Spanish Ministry of Education.
Compliance with ethical standards
The author(s) declare that they have no competing interests.
Copyright information
© Springer-Verlag GmbH Austria, part of Springer Nature 2018