Selection of DNA aptamers against Mycobacterium tuberculosis Ag85A, and its application in a graphene oxide-based fluorometric assay
Abstract
The Mycobacterium Ag85 complex is the major secretory protein of
M. tuberculosis
. It is a potential marker for early diagnosis of tuberculosis (TB). The authors have identified specific aptamers for Ag85A (FbpA) via protein SELEX using magnetic beads. After twelve rounds of selection, two aptamers (Apt8 and Apt22) were chosen from different groups, and their binding constants were determined by flow cytometry. Apt22 (labeled with Atto 647N) binds to FbpA with high affinity (K
d
 = 63 nM) and specificity. A rapid, sensitive, and low-cost fluorescent assay was designed based on the use of Apt22 and graphene oxide, with a limit of detection of 1.5 nM and an analytical range from 5 to 200 nM of FbpA.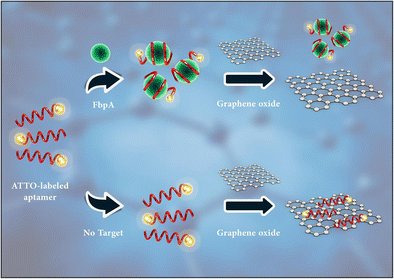 Keywords
SELEX 
Serum 
Fluorescent assay 
Limit of detection 
Secretory protein 
Quenching 
Notes
Acknowledgements
Financial support of this study was provided by Mashhad University of Medical Sciences. This report has been extracted from the Ph.D. thesis of Najmeh Ansari.
Compliance with ethical standards
The author(s) declare that they have no competing interests.
Copyright information
© Springer-Verlag GmbH Austria, part of Springer Nature 2017