Abstract
A versatile and cost-effective aptamer-based fluorescence quenching assay is described for the detection of the mycotoxin zearalenone (ZEN). Exfoliated functional graphene oxide (FGO) of high water-dispersibility is adopted as an effective fluorescence quencher of the fluorescence of FAM. Quenching properties of graphite, graphene oxide (GO) and FGO were investigated, and FGO is found to be the most efficient quencher. FGO therefore was used in an aptamer-based detection format that allows ZEN to be determined in the concentration range of 0.5 to 64 ng·mL−1 with a limit of detection of 0.5 ng·mL−1. The aptamer assay has good repeatability and reproducibility (n ≥ 4). Selectivity of the aptamer assay against a set of possible interferents is substantiated. This aptasensing assay was successfully applied to the determination of ZEN in (spiked) alcoholic beverage samples, beer and wine, and recovery values in the range of 87 to 96% were obtained for the determination of ZEN at levels as low as 1–16 ng mL−1.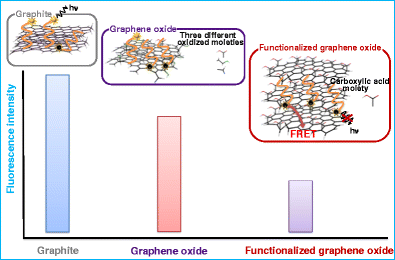 Access options
Buy single article
Instant access to the full article PDF.
US$ 39.95
Tax calculation will be finalised during checkout.
Subscribe to journal
Immediate online access to all issues from 2019. Subscription will auto renew annually.
US$ 119
Tax calculation will be finalised during checkout.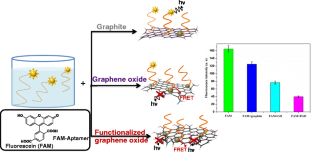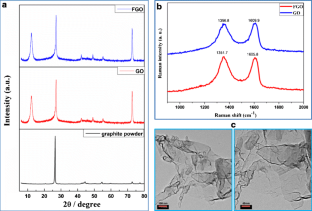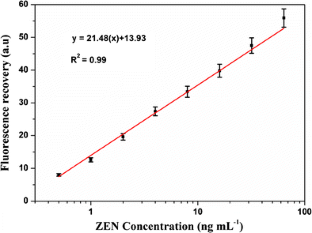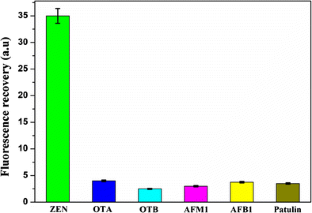 Acknowledgments
This research work was supported by NATO SPS program, project NUKR.SFPP 984637. K. Yugender Goud would like to thank EUPHRATES Program for ERASMUS Mundus Doctoral Fellowship.
Ethics declarations
The author(s) declare that they have no competing interests.
About this article
Cite this article
Yugender Goud, K., Hayat, A., Satyanarayana, M. et al. Aptamer-based zearalenone assay based on the use of a fluorescein label and a functional graphene oxide as a quencher. Microchim Acta 184, 4401–4408 (2017). https://doi.org/10.1007/s00604-017-2487-6
Received:

Accepted:

Published:

Issue Date:
Keywords
Zearalenone

Optical aptasensor

Fluorescein amidite (FAM)

Functional graphene oxide

Aptamer

Fluorescence quenching

Beer

Wine

Alcoholic beverages