Aptamer-based fluorometric determination of norovirus using a paper-based microfluidic device
Abstract
The authors describe a rapid and highly sensitive point-of-care device for rapid determination of noroviruses, a leading cause of acute gastroenteritis. The assay is based on the use of a norovirus-specific aptamer labeled with 6-carboxyfluorescein, and of multi-walled carbon nanotubes (MWCNT) and graphene oxide (GO). The fluorescence of the 6-FAM labeled aptamer is quenched by MWCNT or GO. In the presence of norovirus, fluorescence is recovered due to the release of the labeled aptamer from MWCNT or GO. An easy-to-make paper-based microfluidic platform was developed using a nitrocellulose membrane. The quantitation of norovirus was successfully performed. The linear range extends from 13 ng·mL−1 to 13 μg·mL−1 of norovirus. The detection limits are 4.4 ng·mL−1 and 3.3 ng·mL−1, respectively, when using MWCNT or GO. The device is simple and cost-effective, and holds the potential of rapid in-situ visual determination of noroviruses with remarkable sensitivity and specificity. Hence, it provides a new method for early identification of norovirus and a tool for early intervention when preventing the spread of an outbreak.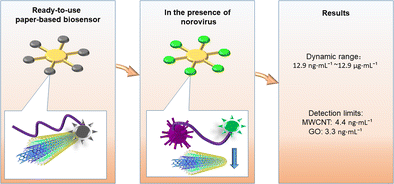 Keywords
Biosensor 
Aptamer 
Norovirus 
Paper-based microfluidic device 
Nitrocellulose membrane 
Multi-walled carbon nanotubes 
Graphene oxide 
Abbreviations
6-FAM

6-carboxyfluorescein

ELISA

enzyme-linked immunosorbent assay

FRET

fluorescence resonance energy transfer

GO

graphene oxide

LoD

limit of detection

LFAs

lateral-flow assays

MWCNT

multi-walled carbon nanotubes

POCT

point-of-care testing

RT-PCR

reverse transcription polymerase chain reaction
Notes
Acknowledgements
The authors sincerely thank the Natural Sciences and Engineering Research Council of Canada (400705) for funding this study.
Author Contribution
XW and SN designed the study; XW performed experiments, acquired and analyzed data, XW and SN drafted and edited the manuscript. All authors read and approved the final manuscript.
Compliance with ethical standards
The authors declare that they have no competing interests.
Copyright information
© Springer-Verlag GmbH Austria 2017