A turn-on fluorescent lysine nanoprobe based on the use of the Alizarin Red aluminum(III) complex conjugated to graphene oxide, and its application to cellular imaging of lysine
Abstract
The authors describe a rationally designed nanoprobe for the fluorometric determination of lysine. It is based on a ternary complex consisting of graphene oxide, aluminum ions (acting as a bridging agent), and alizarin red (GO-Al-AR). The fluorescence of the complex (with excitation/emission maxima at 440/512 nm) is weak but significantly enhanced upon the addition of lysine, probably due to a photoinduced electron transfer signalling mechanism. The method has a detection limit of 2 mg L−1 of lysine and a linear range from 25 mg L−1 to 250 mg L−1. It was applied to image lysine in human retinal pigment epithelium cells.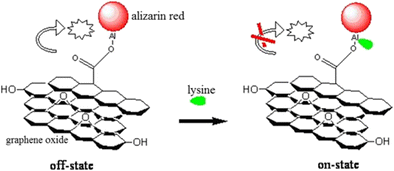 Keywords
Graphene oxide 
Alizarin red 
Lysine 
Aluminum complex 
Photoinduced electron transfer 
Notes
Acknowledgements
The National Natural Science Foundation of China (21405115, 51202167), the National "Thousand Talents Program", the Wenzhou Bureau of Science and Technology (Y20120218), the technology project of Zhejiang Province Medical and Health Project (2015KYB254, 2017KY492) and Ophthalmology & Optometry of Wenzhou Medical University (YNCX201408) are acknowledged.
Compliance with ethical standards
The author(s) declare that they have no competing interests.
Copyright information
© Springer-Verlag GmbH Austria 2017