Bottom-up assembly of silicon nanowire conductometric sensors for the detection of apolipoprotein A1, a biomarker for bladder cancer
Abstract
The authors describe highly sensitivity nanowire sensors that can be prepared by a bottom-up approach. The sensors were incorporated into microchannels and used for the quantitative conductometric detection of apolipoprotein A1 (APOA1), a bladder cancer protein biomarker. Silicon nanowires were placed in the gap between nickel electrodes by using dielectrophoretic forces, which improved the yield of the assembly. Then, the nanowires were clipped by another nickel layer to form a nickel/nanowire/nickel sandwich-like structure using photolithography and a lift-off process. The results show that this structure exhibits reduced contact resistance at the interface between the nickel layer and the silicon nanowires, which is an ohmic contact. Thus, a stable nanowire sensor was obtained. It was found that the contact resistance can be further decreased by using a hot plate annealing process. An SU-8 photoresist was used to insulate the electrodes to allow for applications in wet environments. An antibody against APOA1 was covalently conjugated to the surface of the silicon nanowires. Antibody conjugation was verified via the decrease in the conductance of the nanowires after conjugation. The sensor has a dynamic range that covers the 0.2 ng·mL−1 to 10 μg·mL−1 APOA1 concentration range and a detection limit of approximately 1 ng·mL−1.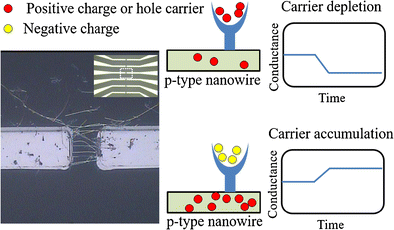 Keywords
Dielectrophoresis 
Label-free detection 
Protein detection 
Microfluidics 
Nanoscale sensor 
Sandwich structure 
Notes
Acknowledgements
The authors thank Prof. Yit-Tsong Chen from National Taiwan University for providing the silicon nanowire and offering valuable suggestions. We also express our gratitude to the Ministry of Science and Technology of Taiwan and the Chang Gung Memorial Hospital for their funding support (MOST 103-2221-E-182-016-MY2, CMRPD2C0091, BMRPC01).
Compliance with ethical standards
The author(s) declare that they have no competing interests.
Copyright information
© Springer-Verlag Wien 2017