Abstract
The authors describe the preparation of carbon nanofibers (CNFs) with a three-dimensional network structure by one-step carbonization of bacterial cellulose at 800 °C. The 3D CNFs wrapped with Nafion polymer were cast on a glassy carbon electrode (GCE) which then enables sensitive detection of Cd(II) and Pb(II). Under optimized conditions and at typical stripping peaks of around −0.80 and −0.55 V (vs Ag/AgCl), the electrode exhibits high sensitivity and a wide analytical range of 2–100 μg·L−1 for both Cd(II) and Pb(II). The detection limits are 0.38 μg·L−1 for Cd(II) and 0.33 μg·L−1 for Pb(II), respectively. The modified GCE was successfully employed to the determination of trace amounts of Cd(II) and Pb(II) in both tap water and waste water.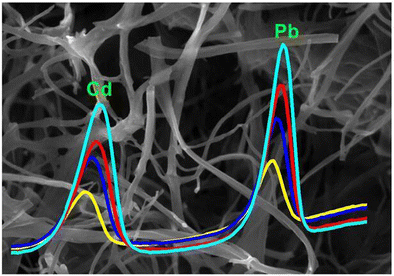 This is a preview of subscription content, log in to check access.
Access options
Buy single article
Instant access to the full article PDF.
US$ 39.95
Price includes VAT for USA
Subscribe to journal
Immediate online access to all issues from 2019. Subscription will auto renew annually.
US$ 199
This is the net price. Taxes to be calculated in checkout.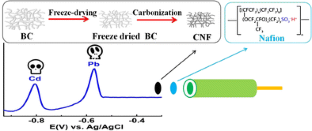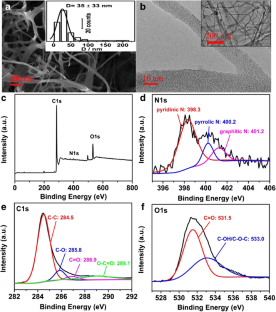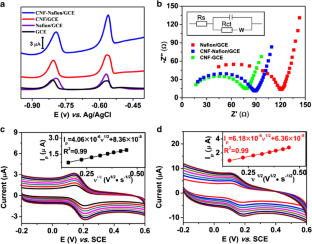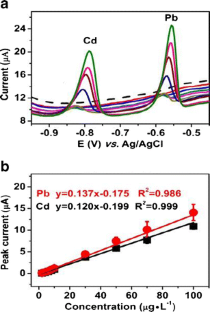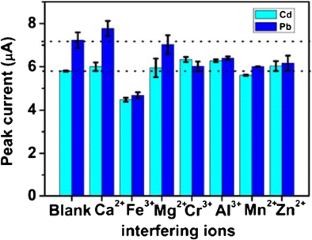 References
1.

Aragay G, Pons J, Merkoci A (2011) Recent trends in macro-, micro-, and nanomaterial-based tools and strategies for heavy-metal detection. Chem Rev 111(5):3433–3458

2.

Bagheri H, Afkhami A, Khoshsafar H, Rezaei M, Sabounchei SJ, Sarlakifar M (2015) Simultaneous electrochemical sensing of thallium, lead and mercury using a novel ionic liquid/graphene modified electrode. Anal Chim Acta 870:56–66

3.

Çelik GK, Üzdürmez AF, Erkal A, Kılıç E, Solak AO, Üstündağ Z (2016) 3,8-DiaminobenzoCinnoline Derivatived graphene oxide modified graphene oxide sensor for the Voltammetric determination of Cd2+ and Pb2+. Electrocatalysis 7(3):207–214

4.

Cerovac S, Guzsvany V, Konya Z, Ashrafi AM, Svancara I, Roncevic S, KukoveczA DB, Vytras K (2015) Trace level voltammetric determination of lead and cadmium in sediment pore water by a bismuth-oxychloride particle-multiwalled carbon nanotube composite modified glassy carbon electrode. Talanta 134:640–649

5.

Chamjangali MA, Kouhestani H, Masdarolomoor F, Daneshinejad H (2015) A voltammetric sensor based on the glassy carbon electrode modified with multi-walled carbon nanotube/poly(pyrocatechol violet)/bismuth film for determination of cadmium and lead as environmental pollutants. Sensors Actuators B Chem 216:384–393

6.

Chen L, Huang Z, Liang H, Gao H, Yu S (2014) Three-dimensional heteroatom-doped carbon nanofiber networks derived from bacterial cellulose for supercapacitors. Adv Funct Mater 24(32):5104–5111

7.

Zhu W, Yue X, Dua J, Zhang Y, Zhang W, Yu S, Wang Y, Zhang D, Wang J (2016) Electrochemically coreduced 3D GO C60 nanoassembly as an efficient nanocatalyst for electrochemical detection of bisphenol S. Electrochim Acta 188:85–90

8.

Yue X, Song W, Zhu W, Wang J, Wang Y (2015) In situ surface electrochemical co-reduction route towards controllable construction of AuNPs/ERGO electrochemical sensing platform for simultaneous determination of BHA and TBHQ. Electrochim Acta 182:847–855

9.

Joshi A, Nagaiah TC (2015) Nitrogen-doped carbon nanotubes for sensitive and selective determination of heavy metals. RSC Adv 5(127):105119–105127

10.

Keawkim K, Chuanuwatanakul S, Chailapakul O, Motomizu S (2013) Determination of lead and cadmium in rice samples by sequential injection/anodic stripping voltammetry using a bismuth film/crown ether/Nafion modified screen-printed carbon electrode. Food Control 31(1):14–21

11.

Li L, Zhou Y, Li Z, Ma Y, Pei C (2014) One step fabrication of Mn3O4/carbonated bacterial cellulose with excellent catalytic performance upon ammonium perchlorate decomposition. Mater Res Bull 60:802–807

12.

Li W, Zhang Z, Kong B, Feng S, Wang J, Wang L, Yang J, Zhang F, Wu P, Zhao D (2013) Simple and green synthesis of nitrogen-doped photoluminescent carbonaceous nanospheres for bioimaging. Angew Chem 52(31):8151–8155

13.

Liang H, Wu Z, Chen L, Li C, Yu S (2015) Bacterial cellulose derived nitrogen-doped carbon nanofiber aerogel: an efficient metal-free oxygen reduction electrocatalyst for zinc-air battery. Nano Energy 11:366–376

14.

Zhu W, Liu W, Li T, Yue X, Liu T, Zhan W, Yu S, Zhang D, Wang J (2014) Facile green synthesis of graphene-au nanorod nanoassembly for on-line extraction and sensitive stripping analysis of methyl parathion. Electrochim Acta 146:419–429

15.

Liu Y, Lu T, Sun Z, Chua D, Pan L (2015) Ultra-thin carbon nanofiber networks derived from bacterial cellulose for capacitive deionization. J Mater Chem A 3(16):8693–8700

16.

Madhu R, Sankar KV, Chen S, Selvan RK (2014) Eco-friendly synthesis of activated carbon from dead mango leaves for the ultrahigh sensitive detection of toxic heavy metal ions and energy storage applications. RSC Adv 4(3):1225–1233

17.

Matovic V, Buha A, Ethukic CD, Bulat Z (2015) Insight into the oxidative stress induced by lead and/or cadmium in blood, liver and kidneys. Food and chemical toxicology: an international journal published for the British Industrial Biological Research Association 78:130–140

18.

Meng F, Li L, Wu Z, Zhong H, Li J, Yan J (2014) Facile preparation of N-doped carbon nanofiber aerogels from bacterial cellulose as an efficient oxygen reduction reaction electrocatalyst. Chin J Catal 35(6):877–883

19.

Pérez-López B, Merkoçi A (2012) Carbon nanotubes and graphene in analytical sciences. Microchim Acta 179(1–2):1–16

20.

Perez RC, Serrano N, Diaz JM, Arino C, Esteban M (2015) Penicillamine-modified sensor for the voltammetric determination of cd(II) and Pb(II) ions in natural samples. Talanta 144:569–573

21.

Promphet N, Rattanarat P, Rangkupan R, Chailapakul O, Rodthongkum N (2015) An electrochemical sensor based on graphene/polyaniline/polystyrene nanoporous fibers modified electrode for simultaneous determination of lead and cadmium. Sensors Actuators B Chem 207:526–534

22.

Shen H, Qin D, Li Y, Li S, Yang C, Yuan Q, Wagberg T, Hu G (2016) In situ Magnesiothermal synthesis of mesoporous MgO/OMC composite for sensitive detection of lead ions. Electroanalysis 28:1–9

23.

Sioda RE, Frankowska B (2008) Voltammetric oxidation of naphthalene derivatives. J Electroanal Chem 612(1):147–150

24.

Hu G, Nitze F, Sharifi T, Barzegar HR, Wagberg T (2012) Self-assembled palladium nanocrystals on helical carbon nanofibers as enhanced electrocatalysts for electro-oxidation of small molecules. J Mater Chem 22:85541–88548

25.

Hu G, Nitze F, Gracia-Espino E, Ma J, Barzegar HR, Sharifi T, Jia XE, Shchuckarev A, Lu L, Ma C, Yang G, Wagberg T (2014) Small palladium islands embedded in palladium–tungsten bimetallic nanoparticles form catalytic hotspots for oxygen reduction. Nat Commun 5:5253–5262

26.

Wang S, Wang Y, Zhou L, Li J, Wang S, Liu H (2014) Fabrication of an effective electrochemical platform based on graphene and AuNPs for high sensitive detection of trace Cu2+. Electrochim Acta 132:7–14

27.

Wu Z, Liang H, Li C, Hu B, Xu X, Wang Q, Chen J, Yu S (2014) Dyeing bacterial cellulose pellicles for energetic heteroatom doped carbon nanofiber aerogels. Nano Res 7(12):1861–1872

28.

Wu Z, Liang H, Chen L, Hu B, Yu S (2016) Bacterial cellulose: a robust platform for Design of Three Dimensional Carbon-Based Functional Nanomaterials. Acc Chem Res 49(1):96–105

29.

Xiao L, Xu H, Zhou S, Song T, Wang H, Li S, Gan W, Yuan Q (2014) Simultaneous detection of cd(II) and Pb(II) by differential pulse anodic stripping voltammetry at a nitrogen-doped microporous carbon/Nafion/bismuth-film electrode. Electrochim Acta 143:143–151

30.

Yu W, Lin W, Shao X, Hu Z, Li R, Yuan D (2014) High performance supercapacitor based on Ni3S2/carbon nanofibers and carbon nanofibers electrodes derived from bacterial cellulose. J Power Sources 272:137–143

31.

Zhang C, Zhou Y, Tang L, Zeng G, Zhang J, Peng B, Xie X, Lai C, Long B, Zhu J (2016) Determination of Cd2+ and Pb2+ based on mesoporous carbon nitride/self-doped polyaniline nanofibers and square wave anodic stripping voltammetry. Nano 6(1):1–11

32.

Zhao D, Wang T, Han D, Rusinek C, Steckl AJ, Heineman WR (2015) Electrospun carbon nanofiber modified electrodes for stripping voltammetry. Anal Chem 87(18):9315–9321

33.

Zhou H, Hou H, Dai L, Li Y, Zhu J, Wang L (2016) Preparation of dendritic bismuth film electrodes and their application for detection of trace Pb (II) and cd (II). Chin J Chem Eng 24(3):410–414

34.

Zhou W, Li C, Sun C, Yang X (2016) Simultaneously determination of trace Cd2+and Pb2+ based on L-cysteine/graphene modified glassy carbon electrode. Food Chem 192:351–357
Acknowledgements
This work was supported by National Natural Science Foundation of China (21505154 and 21677171), Xinjiang International Science and Technology Cooperation Project (20166010), 1000-Talent Program (Recruitment Program of Global Expert, In Chinese: Qian-Ren-Ji-Hua), and Project supported by the Special Scientific Research Fund of Agricultural Public Welfare Profession of China (21403014-1). TW acknowledge support from the Artificial Leaf Project Umeå (K&A Wallenberg foundation) and the Swedish Research Council (2013-5252).
Ethics declarations
The author(s) declare that they have no competing interests.
Electronic supplementary material
About this article
Cite this article
Qin, D., Gao, S., Wang, L. et al. Three-dimensional carbon nanofiber derived from bacterial cellulose for use in a Nafion matrix on a glassy carbon electrode for simultaneous voltammetric determination of trace levels of Cd(II) and Pb(II). Microchim Acta 184, 2759–2766 (2017). https://doi.org/10.1007/s00604-017-2260-x
Received:

Accepted:

Published:

Issue Date:
Keywords
Green material

Bacterial fermentation

Freeze drying

Carbon materials

Immobilization

Scanning electron microscopy

X-ray photoelectron spectroscopy

Electroanalysis

Heavy metals

Water analysis