Three-dimensional carbon nanofiber derived from bacterial cellulose for use in a Nafion matrix on a glassy carbon electrode for simultaneous voltammetric determination of trace levels of Cd(II) and Pb(II)
Abstract
The authors describe the preparation of carbon nanofibers (CNFs) with a three-dimensional network structure by one-step carbonization of bacterial cellulose at 800 °C. The 3D CNFs wrapped with Nafion polymer were cast on a glassy carbon electrode (GCE) which then enables sensitive detection of Cd(II) and Pb(II). Under optimized conditions and at typical stripping peaks of around −0.80 and −0.55 V (vs Ag/AgCl), the electrode exhibits high sensitivity and a wide analytical range of 2–100 μg·L−1 for both Cd(II) and Pb(II). The detection limits are 0.38 μg·L−1 for Cd(II) and 0.33 μg·L−1 for Pb(II), respectively. The modified GCE was successfully employed to the determination of trace amounts of Cd(II) and Pb(II) in both tap water and waste water.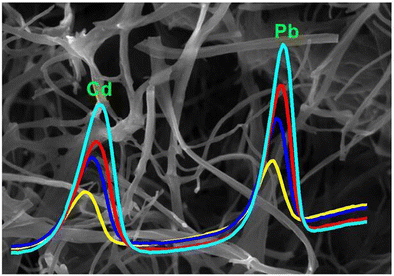 Keywords
Green material 
Bacterial fermentation 
Freeze drying 
Carbon materials 
Immobilization 
Scanning electron microscopy 
X-ray photoelectron spectroscopy 
Electroanalysis 
Heavy metals 
Water analysis 
Notes
Acknowledgements
This work was supported by National Natural Science Foundation of China (21505154 and 21677171), Xinjiang International Science and Technology Cooperation Project (20166010), 1000-Talent Program (Recruitment Program of Global Expert, In Chinese: Qian-Ren-Ji-Hua), and Project supported by the Special Scientific Research Fund of Agricultural Public Welfare Profession of China (21403014-1). TW acknowledge support from the Artificial Leaf Project Umeå (K&A Wallenberg foundation) and the Swedish Research Council (2013-5252).
Compliance with ethical standards
The author(s) declare that they have no competing interests.
Copyright information
© Springer-Verlag Wien 2017