Characterization of paraben substituted cyclotriphosphazenes, and a DNA interaction study with a real-time electrochemical profiling based biosensor
Abstract
This paper describes an amperometric method for studying DNA-drug candidate interactions. It uses an automatted electrochemical biosensor (MiSens®) based on real-time electrochemical profiling and gold nanoparticles. A biochip was prepared from a 10 x 20 mm silicon dioxide wafer. The biochip surface is modified with a self-assembled monolayer and integrated into the microfluidic system. All the steps of the DNA-drug interaction assay have been performed during fluid flow. Biotinylated surface DNA has been captured on a NeutrAvidin -modified biochip surface. Hybridization of the complementary target sequence and biotinylated detection probe to the surface DNA strand was studied with and without the addition of newly synthesised drug candidates. NeutrAvidin and enzyme modified gold nanoparticles were then injected to bind to the biochip surface. The real-time reading of the amperometric response during the substrate injection results in the biosensor signal. The DNA interaction analysis was exemplarily applied to test the activity of paraben-substituted cyclotriphosphazenes as potential anticancer agents. Two of the synthesised compounds were identified that are capable of inducing DNA damage by 27 and 34%, respectively.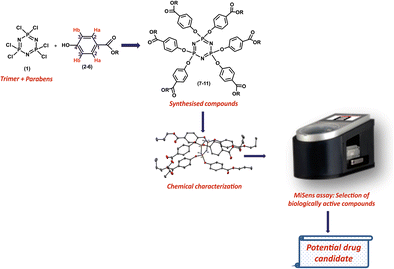 Keywords
Microfluidics 
Anticancer agent 
Cyclotriphosphazene 
Biosensor 
DNA-drug interaction 
Gold nanoparticles 
Genotoxicity 
Notes
Acknowledgements
The authors thank to Gebze Technical University (GTU) for the provided financial support (Grant No: BAP-2013-A-013). The project is also supported by BILGEM-TUBITAK (The Scientific and Technological Research Council of Turkey; Grant no:100121). We gratefully acknowledge Bioelectronic Devices and Systems Group from BILGEM-TUBITAK for their contribution to the fabrication of the biochip and the sensing platform.
Compliance with ethical standards
The author(s) declare that they have no competing interests.
Copyright information
© Springer-Verlag Wien 2017