A nanoparticle sorbent composed of MIL-101(Fe) and dithiocarbamate-modified magnetite nanoparticles for speciation of Cr(III) and Cr(VI) prior to their determination by electrothermal AAS
Abstract
The article describes a magnetic metal-organic framework (MOF) of the type MIL-101(Fe)/2-(propylamino-ethyl) dithiocarbamate on the surface of magnetite nanoparticles. The MOF is shown to be a viable material for speciation analysis of Cr(III) and Cr(VI) because it shows selectivity for Cr(VI) at pH values around 2.0, while at pH values around 5 both Cr(III) and Cr(VI) species are sorbed. Hence, preoxidation or reduction treatments are not needed. After optimization of the extraction conditions, chromium was quantified by ET-AAS. Feature of the determination of Cr(VI) include (a) a 1.0 ng L−1 limit of detection, (b) a linear analytical range that extends from 3 to 300 ng L−1, and (c) a relative standard deviation of 6.4%. The respective values for total chromium are 1.5 ng L−1, 4 to 325 ng L−1 and 7.5%, respectively. The method was validated by analyzing two certified reference materials. It also was successfully employed to the rapid extraction and speciation of Cr(III) and Cr(VI) in (spiked) water samples and of total chromium in tea samples.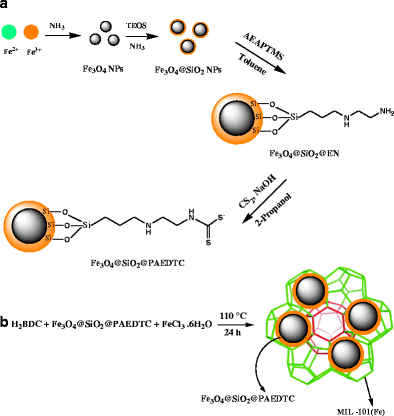 Keywords
Speciation analysis 
2-(Propylamino-ethyl)dithiocarbamate 
Metal-organic framework 
Water and tea samples 
Scanning electron microscopy 
Transition electron microscopy 
Vibrating sample magnetometry 
Nanosorbent 
Reference material 
Notes
Compliance with ethical standards
The author declare that he has no competing interests.
Copyright information
© Springer-Verlag Wien 2017