Verteprofin conjugated to gold nanoparticles for fluorescent cellular bioimaging and X-ray mediated photodynamic therapy
Abstract
Photodynamic therapy (PDT) uses photosensitizers, light and molecular oxygen to generate cytotoxic reactive oxygen species. Its effectiveness is limited to <1 cm due to the limited penetration depth of light. The present study compares the PDT effectivity of the photosensitizer verteporfin (VP) conjugated to gold nanoparticles (AuNPs) (a) by using deeply penetrating X-rays administered in standard radiotherapy doses, and (b) by using red light (690 nm). VP was conjugated to AuNPs of around 12 nm size to enhance the interaction of ionizing radiation with PS. For comparison, VP also was directly exposed to X-rays. It is found that VP alone is stimulated by X-rays to generate singlet oxygen. The conjugate to AuNPs also generated a significant amount of singlet oxygen on irradiation with X-rays in comparison to illumination with 690-nm light. It is also found that the rate of singlet oxygen generation is amplified in case of AuNP-conjugated VP compared to VP alone. The performance of the AuNP-VP conjugate and of the VP alone was tested in Panc 1 cells. Their viability was impaired much more in these two scenarios than with the X-ray radiation only. This suggests excellent perspectives for PDT based on VP and with X-ray stimulation, both as a stand-alone photosensitizer and in Au-NP conjugates. Moreover, both VP and AuNP-VP conjugates show bright fluorescence in physiological media for excitation/emission wavelengths in the range of 405/690 nm; hence they can also be used for simultaneous bioimaging.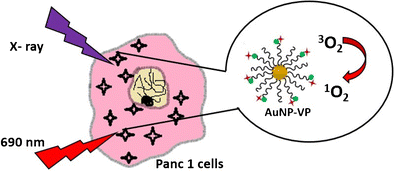 Keywords
PDT 
Photosensitizer 
Gold nanoparticle 
X-ray 
Bioimaging 
Fluorescence 
SOSG probe 
Singlet oxygen 
Cell uptake 
Cell toxicity 
Notes
Acknowledgements
The authors thank Mr. Vaughan Moutrie and Mr. Daniel Santos from Genesis Cancer Care for helping us with X-ray radiation experiment. All fluorescence measurements were performed in the Optical Characterization Facility, Linked Laboratory to AMMRF (Australian Microscopy and Microanalysis Research Facility). Authors Sandhya Clement and Wenjie Chen acknowledge the support of an iMQRES scholarship from Macquarie University. This work is partially supported by Australian Research Council (ARC) through its Centre of Excellence scheme (CE140100003) to E.M.G.
Compliance with ethical standards
The author(s) declare that they have no competing interests.
Copyright information
© Springer-Verlag Wien 2017