Low-cost genotyping method based on allele-specific recombinase polymerase amplification and colorimetric microarray detection
Abstract
The costs of current genotyping methods limit their application to personalized therapy. The authors describe an alternative approach for the detection of single-point-polymorphisms using recombinant polymerase amplification as an allele-specific technique. The use of short and chemically modified primers and locked nucleic acids allowed for a selective isothermal amplification of wild-type or mutant variants at 37 °C within 40 min. An amplification chip platform containing 100 wells was manufactured with a 3D printer and using thermoplastic polylactic acid. The platform reduces reagent consumption and allows parallelization. As a proof of concept, the method was applied to the genotyping of four SNPs that are related to the treatment of tobacco addiction. The target polymorphisms included rs4680 (COMT gene), rs1799971 (OPRM1 gene), rs1800497 (ANKK1 gene), and rs16969968 (CHRNA5 gene). The genotype populations can be well discriminated.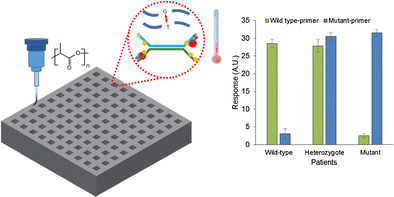 Keywords
Pharmacogenomics 
SNP genotyping 
Isothermal amplification 
Micro-well plate 
Microchip 
Tobacco addiction 
3D–printer 
COMT gene 
OPRM1 gene 
ANKK1 gene 
CHRNA5 gene 
Notes
Acknowledgements
The authors acknowledge the financial support received from the Generalitat Valenciana (GVA-PROMETEOII/2014/040 project and GRISOLIA/2014/024 PhD grant) and the Spanish Ministry of Economy and Competitiveness (MINECO CTQ2013-45875-R project).
Compliance with ethical standards
The author(s) declare that they have no competing interests.
Copyright information
© Springer-Verlag Wien 2017