Photoelectrochemical determination of Hg(II) via dual signal amplification involving SPR enhancement and a folding-based DNA probe
Abstract
The authors describe a highly sensitive and selective photoelectrochemical (PEC) assay for mercury(II) ions. It is based on a dual signal amplification strategy. The first enhancement results from the surface plasmon resonance (SPR) of Au@Ag nanoparticles (NPs) absorbed on MoS2 nanosheets. Here, the injection of hot electrons of Au@Ag NPs into MoS2 nanosheets produces a strong photocurrent, while background signals are strongly reduced. The second enhancement results from the use of a thymine rich ct-DNA aptamer attached to the Au@Ag-MoS2 nanohybrid. The DNA specifically binds Hg(II) ions to form thymine-Hg(II)-thymine (T-Hg-T) complexes. This leads to the formation of a hairpin-shaped dsDNA structure. The use of a CdSe quantum dot label at the terminal end of the ct-DNA further facilitates electron–hole separation. The photocurrent of the detector is measured as a function of Hg(II) concentration at a bias voltage of 0.1 V and under irradiation of 430 nm light. Due to the two-fold amplification strategy presented here, the linear range extends from 10 pmol·L−1 to 100 nmol·L−1, with a detection limit of 5 pmol·L−1 (at S/N = 3).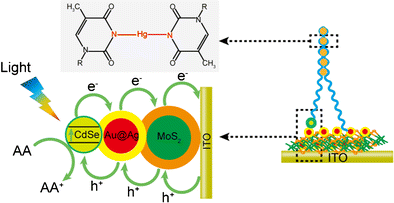 Keywords
Au@Ag 
MoS2 
T-Hg-T 
Nanosheets 
CdSe quantum dots 
Nanohybrid 
Au@Ag-MoS2 
Indium tin oxide 
HRTEM 
Electrochemical impedance spectroscopy 
Notes
Acknowledgments
This study was supported by the Natural Science Foundation of China (No. 21575050), the Natural Science Foundation of Shandong Province (No.ZR2013BL003) and the Doctoral Science Foundation of University of Jinan (No. XBS1658).
Compliance with ethical standards
The authors declare that they have no competing interests.
Copyright information
© Springer-Verlag Wien 2017