Enhanced and tunable oxygen carrier and amperometric sensor based on a glassy carbon electrode assembly of a hemoglobin-chitosan-Fe3O4 composite
Abstract
The authors have prepared organized assemblies of a hemoglobin-chitosan(CS)@Fe3O4 composite on glassy carbon electrodes (GCEs) via three strategies with the aim of preparing tunable Hb-coated GCEs with good stability and long-term oxygen storage capability. The formation and morphology of the Hb-CS@Fe3O4 composite was characterized by scanning electrochemical microscopy, XRD and UV–vis spectroscopy. It is shown that Hb is fully integrated into the CS@Fe3O4 and can be manipulated by a magnetic field whilst maintaining its biological activity. In the absence of oxygen, a surface-controlled electrode process occurs with an interfacial electron transfer rate (k s) of 2.14 s−1. The modified GCE also has a favorable oxygen storage lifetime (almost 6 h). One Hb-CS@Fe3O4 film on the electrode displays particularly good electrocatalytic reduction activity towards oxygen. The linear range for detection of O2 is 1.2 × 10−7 ~ 2.0 × 10−4 mol L−1 with a detection limit of 4.0 × 10−8 mol L−1. In our opinion, this method has great potential in terms of enhanced oxygen storage capability of Hb, which can be applied in special situations such as space operations, down hole mining, mountaineering and diving.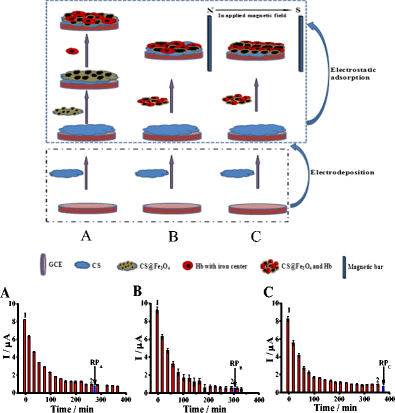 Keywords
Hemoglobin 
Fe3O4 nanoparticles 
Oxygen storage capability 
Functional electrode interface 
Amperometry 
XRD 
Notes
Acknowledgments
This work was funded by the National Natural Science Foundation of China (21475070, 31400847), the Jiangsu Province Natural Science Foundation (BK20151267) and Foundation of Nantong Natural Science Projects (MS12015030, MS12015028, MS12015046). A project funded by the priority academic program development of Jiangsu Higher Education Institutions (PAAD).
Compliance with ethical standards
We declare that the funds mentioned in article have no competing interests.
Copyright information
© Springer-Verlag Wien 2017