Aptasensor for lead(II) based on the use of a quartz crystal microbalance modified with gold nanoparticles
Abstract
The authors describe a quartz crystal microbalance based aptasensor for the determination of Pb2+. In order to enhance its response, oligonucleotide-embellished gold nanoparticles (AuNPs) were used to amplify the frequency changes. The method is based on the use of specific aptamers immobilized on the surface of the quartz crystal microbalance (QCM) and the binding of Pb2+, which prevents the self-assembly of the AuNPs on the QCM. Trace concentrations of Pb2+ can be determined by monitoring the change in the response frequency of the QCM. The method has a 4 nmol∙L−1 detection limit and works in the 5 to 200 nmol∙L−1 Pb2+ concentration range. This aptasensor also shows adequate selectivity for Pb2+ over potentially interfering metal ions.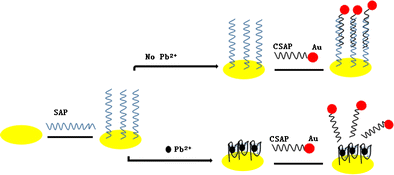 Keywords
Determination of lead ion 
Aptamer 
Piezoelectric biosensor 
Gold nanoparticles 
Signal amplification 
Notes
Acknowledgements
This study was supported by the National Natural Science Foundation of China (Grant No. 61501295 and No. 31671934), Shanghai Committee of Science and Technology (Grant No.15YF1408000).
Compliance with ethical standards
The author(s) declare that they have no competing interests.
Copyright information
© Springer-Verlag Wien 2017