A capillary coated with a metal-organic framework for the capillary electrochromatographic determination of cephalosporins
Abstract
The authors have developed a rapid and reliable method for the capillary electrochromatographic determination of cephalosporin antibiotics in environmental waters. An open-tubular capillary column was modified with the complex [Cu(mal)(bpy)], a copper(II) complex with malic acid and 4,4′-bipyridyl, by an amide coupling method to act as the stationary phase. The simultaneous determination of the cephalosporins formulations, namely cefapirin (CP), ceftiofur (EFT) and cefixime (CFM) in environmental water samples was accomplished in buffer of pH 5.0 by applying a voltage of 8 kV and with DAD detection. Detection limits typically are 0.1 μg⋅mL−1.The method was applied to the analysis of cephalosporins in spiked water samples from Kunming Lake to give recoveries betwen 88 and 106%.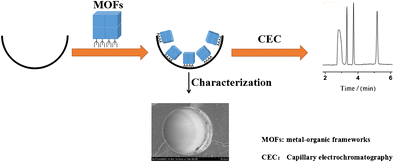 Keywords
CEC 
MOF 
Environmental water samples 
Cefapirin 
Ceftiofur 
Cefixime 
Stationary phase 
Cu(mal)(bpy) 
Notes
Acknowledgements
This work was financially supported by the Beijing Natural Science Foundation (2162008), the Importation and Development of High-Caliber Talents Project of Beijing Municipal Institutions (CIT&TCD 201504083).
Compliance with ethical standards
The authors declare that they have no competing interests.
Copyright information
© Springer-Verlag Wien 2017