Thymine chitosan nanomagnets for specific preconcentration of mercury(II) prior to analysis using SELDI-MS
Abstract
Laser desorption-ionization mass spectrometry (LDI-MS) is used to determine Hg(II) ions by using thymine-modified chitosan-coated magnetic nanoparticles (TCTS). TCTS nanoparticles are characterized using transmission electron microscopy, X-ray diffraction, UV-vis absorption, infrared spectroscopy and LDI-MS. TCTS acts as a preconcentration probe, supports surface enhanced LDI-MS (SELDI-MS) and acts as a capping agent for Hg(II). The separation of Hg(II) via this method combined with SELDI-MS provides a sensitive and selective tool for inexpensive and fast (5 min) detection of Hg(II) with limit of detection down to 0.05 nmol for environmental samples such as tap and sea water.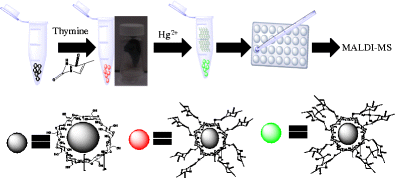 Keywords
Mercury 
Laser desorption ionization mass spectrometry 
Magnetic nanoparticles 
Thymine 
Chitosan 
Notes
Acknowledgements
We acknowledge the financial support from the Ministry of science and technology Taiwan. H.N. Abdelhamid expresses his gratitude to Assuit University and Ministry of Higher Education (Egypt) for support.
Compliance with ethical standards
The authors declare that they have no competing interests.
Copyright information
© Springer-Verlag Wien 2017