Molecularly imprinted polymers labeled with amino-functionalized carbon dots for fluorescent determination of 2,4-dinitrotoluene
Abstract
The authors have prepared amino-functionalized carbon dots (AC-dots) and applied them to fluorescently label a molecularly imprinted polymer (MIP) prepared by using 2,4-dinitrotoluene (DNT) as a template. Since DNT can retard vinyl polymerization, poly(methyl acrylate-co-acrylic acid) was used as a monomer. Non-imprinted polymers (NIPs) were also synthesized in order to compare data. As expected, MIPs exhibit higher adsorption than NIPs, with imprinting efficiencies ranging from 2 to 2.5. DNT is specifically captured by the cavities in the MIP and interact with AC-dots on the surface, resulting in quenching of the fluorescence of the AC-dots. Response to DNT reaches equilibrium within ~30 min. The method has a dynamic range that extends from 1 to 15 ppm, and allows for quantitation of DNT in aqueous solutions, with a detection limit of 0.28 ppm. Selectivity tests conducted in presence of DNT analogs demonstrated the selective recognition of DNT.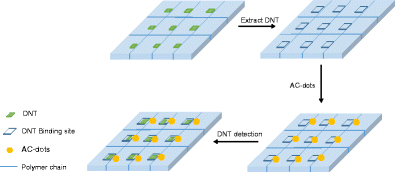 Keywords
Surface modification 
Quenching 
Fluorometry 
Stern-Volmer plot 
Poly(methyl acrylate-co-acrylic acid) 
Silica colloidal crystal 
Nitroaromatic compounds 
Notes
Compliance with ethical standards
The author(s) declare that they have no competing interests.
Copyright information
© Springer-Verlag Wien 2017