Colorimetric aggregation assay for arsenic(III) using gold nanoparticles
Abstract
The authors describe a colorimetric assay for the determination of As(III) in aqueous solution using citrate capped gold nanoparticles (AuNPs) which, in the presence of As(III), undergo aggregation due to the interaction of citrate ion with As(III). This results in an easily detectable color change from wine-red to blue. The ratio of the absorbances at 661 and 519 nm is linearly related to the As(III) concentration in the 4 to 100 ppb range, with a detection limit as low as 1.8 ppb (at 3σ) which is below the guideline value of 10 ppb. The method is rather simple in that it does not require the surface of the AuNPs to be modified. It was successfully applied to the determination of As(III) in spiked drinking water where it gave adequate recoveries.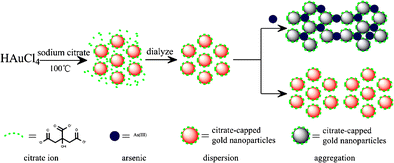 Keywords
Determination of As(III) 
Transmission electron microscopy 
ICP-OES 
Visual test 
Spiking 
Dialysis 
Environmental analysis 
Notes
Acknowledgements
This work was sponsored by the National Natural Science Foundation of China (Grant Nos. 21272263, 21205132 and 21302008), the State Key Laboratory of Natural and Biomimetic Drugs (No. K20160203), the national key research and development plan(2016YFF0203700), a grant from the Major National Scientific Research Plan of China (973 Program) (Grant No. 2011CB933202), College Student Innovation Training Program of Chinese Academy of Sciences (No. 118900EA12), Science and Education Integration Innovation of Molecule Science of Institute of Chemistry Chinese Academy of Sciences (No. Y52902HED2), the Special Fund of UCAS for Scientific Research Cooperation between Faculty and Institutes (Grant No. Y552016Y00), and the University of Chinese Academy of Sciences Grant (No. O8JT011J01).
Compliance with ethical standards
The author(s) declare that they have no competing interests.
Copyright information
© Springer-Verlag Wien 2017