Multicolor immunochromatographic strip test based on gold nanoparticles for the determination of aflatoxin B1 and fumonisins
Abstract
The authors describe the preparation of desert rose-like gold nanoparticles (DR-GNPs) with a plasmon resonance band at 620 nm which gives them a blue color. They have a hydrodynamic diameter of ∼72 nm and were prepared by a seeding growth approach. The DR-GNPs were characterized by UV-vis spectroscopy, transmission electron microscopy and dynamic light scattering. These nonspherical GNPs were used as a label for the antibody in an immunochromatographic strip test (ICST). Despite their particular shape and the higher surface area compared to spherical gold nanoparticles, the DR-GNPs are useful blue labels for the GNP-based strip test. A multicolor ICST for aflatoxin B1 and fumonisins is described that employs both blue DR-GNPs and red spherical GNPs. It allows for simultaneous rapid determination of the two mycotoxins in maize flour, with visual cut-off levels of 2 μg⋅kg-1 for aflatoxin B1 and of 1000 μg⋅kg-1 for fumonisins.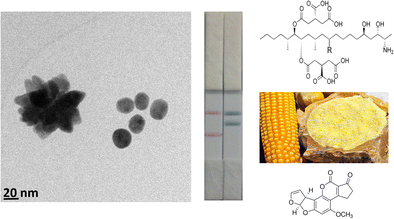 Keywords
Non-spherical gold nanoparticles 
Labels for immunoassay 
Lateral flow assay 
Aflatoxin B1 
Fumonisins 
Maize 
Notes
Acknowledgements
Authors are grateful to Dr. M. Manzoli and Prof. V. Maurino for the fruitful and helpful discussion related to the TEM and DLS measurements.
Compliance with ethical standards
The author(s) declare that they have no competing interests.
Copyright information
© Springer-Verlag Wien 2017