Flow cytometric immunoassay for aflatoxin B1 using magnetic microspheres encoded with upconverting fluorescent nanocrystals
Abstract
The authors describe a flow cytometric immunoassay for aflatoxin B1 (AFB1). It has three distinct features: (a) Magnetic microspheres encoded with upconverting nanocrystals (UCNMMs) are used as fluorescent labels. These have the advantage of non-overlapping spectra and lacking crosstalk between the encoding signal and reporter signal via the low-energy near-infrared (NIR) light excitation; (b) phycoerythrin-labeled secondary antibodies are used to amplify the reporter signal; (c) The use of magnetic nanoparticles facilitates the rapid separation and specific purification of the analyte (AFB1). This assay has a detection limit of 9 pg·mL−1 and a broad working range for AFB1, requires a 50 μL sample only, and can be completed within 2 h with good accuracy and high reproducibility. It is perceived that such multifluorescent UCNMMs, whose color depends on the kind of dopants (Yb, Er, Tm, Mn) in the NaYF4 host lattice, represent a promising tool for the analysis of mycotoxins and other analytes.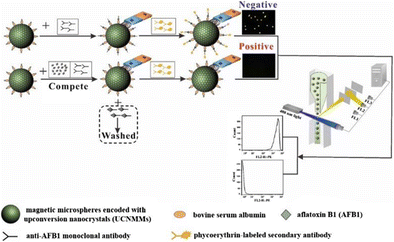 Keywords
Mycotoxin 
Upconversion nanocrystals 
Magnetic nanoparticles 
Mesoporous polystyrene microspheres 
Self-healing encapsulation strategy 
Flow cytometric analysis 
Indirect competitive immunoassay 
Notes
Acknowledgements
The authors gratefully acknowledge National Natural Science Foundation of China (31401578, 51373117, 51303126, 51573128 and 81402575), Tianjin Natural Science Foundation (13JCZDJC33200 and 15JCQNJC03100).
Compliance with ethical standards
The authors declare no competing financial interests.
Copyright information
© Springer-Verlag Wien 2017