Electrochemiluminescence immunoassay for the carcinoembryonic antigen using CdSe:Eu nanocrystals
Abstract
CdSe:Eu nanocrystals were successfully synthesized and characterized by transmission electron microscopy, X-ray powder diffraction, and X-ray photoelectric spectroscopy. The CdSe:Eu nanocrystals showed enhanced green electrochemiluminescence (ECL) intensity when compared to pure CdSe nanocrystals. Further, the nanocrystals were used to design an ECL immunosensor for the detection of carcinoembryonic antigen (CEA) that has a linear response over the 1.0 fg·mL−1 to 100 ng·mL−1 CEA concentration range with a 0.4 fg·mL−1 detection limit. The assay was applied to the determination of CEA in human serum samples.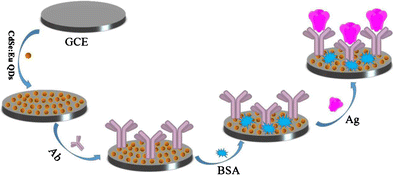 Keywords
CdSe:Eu nanocrytals 
Electrochemiluminescence 
XPS 
Serum analysis 
Tumor diagnosis 
Notes
Acknowledgements
This work was supported by the National Natural Science Foundation of China (Grant Nos. 21471001, 21427807, 21575001), Natural Science Foundation of Anhui Province (1508085 MB37), Key Project of Anhui Provincial Education Department (KJ2014A016), and 211 project of Anhui University.
Compliance with ethical standards
The author(s) declare that they have no competing interests.
Copyright information
© Springer-Verlag Wien 2017