A glassy carbon electrode modified with FeS nanosheets as a highly sensitive amperometric sensor for hydrogen peroxide
Abstract
Iron sulfides with different atomic ratios were synthesized by a hydrothermal method and used to modify a glassy carbon electrode. The various sulfides were compared to each other for their amperometric response to H2O2. It is found that FeS is the most adequate material. Operated in 0.1 M NaOH solution at 0.4 V (vs. Ag/AgCl), the sensor based on FeS displays a linear response that extends from 0.50 μM to 20.5 mM of H2O2, with a sensitivity of 36.4 μA mM−1 cm−2 and a detection limit of 0.15 μM (at an S/N ratio of 3). The sensor is selective, stable and reproducible.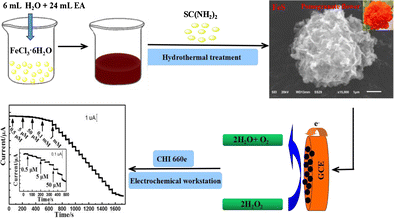 Keywords
Nanomaterial 
Electrochemical impedance spectroscopy 
X-ray diffraction 
Scanning electron microscopy 
Cyclic voltammetry 
Linear sweep voltammetry 
Chronoamperometry 
Notes
Acknowledgements
We acknowledge financial support from the National Natural Science Foundation of China through a project entitled "The synthesis of Pt-M/C nanoparticles and construction of non-enzymatic electrochemical biosensor" (Grant No. 21205030), and by the National Nature Science Foundation of China (51402096), and by State Key Laboratory of Advanced Technology for Materials Synthesis and Processing (Wuhan University of Technology, 2015-KF-13), and by Hubei Key Laboratory of Pollutant Analysis & Reuse Technology (PA160104), and from the Natural Science Fund for Creative Research Groups of Hubei Province of China through a project entitled "Controllable Synthesis and Application of Nano-/microsized Functional Materials" (2014CFA015).
Compliance with ethical standards
The author(s) declare that they have no competing interests.
Copyright information
© Springer-Verlag Wien 2017