Highly fluorescent carbon polymer dots prepared at room temperature, and their application as a fluorescent probe for determination and intracellular imaging of ferric ion
Abstract
Carbon polymer dots (CPDs) were prepared by a one-pot aqueous synthetic route from ascorbic acid and diethylenetriamine at room-temperature. The CPDs under 350-nm excitation exhibit blue fluorescence peaking at 430 nm with a quantum yield of 47%. Other features include an average diameter of 5 nm, a fluorescence that is independent of the excitation wavelength, good water dispersibility and photostability, and excellent biocompatibility. The CPDs are shown to be viable fluorescent probes for ferric ion which acts as a strong quencher. The response to Fe(III) is linear in the 0.2 to 10 μM concentration range, and the detection limit is 0.1 μM. The probe was applied to the determination of Fe(III) in environmental waters and to intracellular imaging of ferric ions in HeLa cells.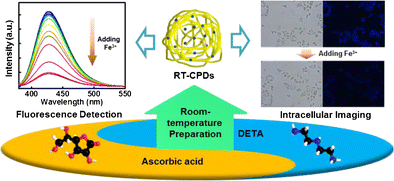 Keywords
Quantum yield 
TEM 
XPS 
FTIR 
Formation mechanism 
Photoluminescence 
Stern-Volmer plot 
Tap water 
River water 
HeLa cells 
Notes
Acknowledgements
This work was financially supported by the Natural Science Foundation of China (Grant No. 21475018 and 21235001), the Fundamental Research Funds for the Central Universities (Grant No. N140505005 and N141008001).
Compliance with ethical standards
The author(s) declare that they have no competing interests.
Copyright information
© Springer-Verlag Wien 2017