A boronic acid based glucose assay based on the suppression of the inner filter effect of gold nanoparticles on the orange fluorescence of graphene oxide quantum dots
Abstract
The authors describe a non-enzymatioc glucose assay that has three features: (a) The use of a boronic acid as the recognition element; (b) the aggregation of gold nanoparticles (AuNPs), and (c) the use of graphene oxide quantum dots (GOQD) whose fluorescence matches the absorption of the AuNPs and thereby results in an inner filter effect (IFE). The GOQD display an orange colored fluorescence that is filtered off by the AuNPs due to an IFE. In the presence of 3-aminobenzeneboronic acid, glucose is bound to form a cationic species that causes the aggregation of AuNPs to form large assemblies. This is accompanied by a color change from red to blue, and the IFE no longer does occur so that the orange fluorescence of the GOQD pops up again. These findings were used to design an assay witha linear response in the  2.5 to 75 μmol L−1 glucose concentration range, with a detection limit of 0.65 μmol L−1. The method was applied to the determination of glucose in spiked diluted serum and gave satisfactory results.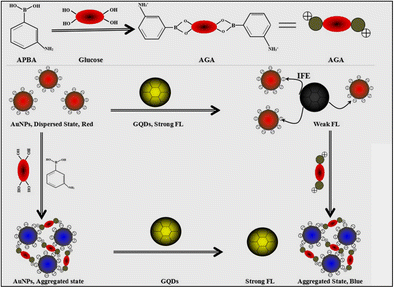 Keywords
Carbonaceous nanomaterial 
Fluorescence 
Aggregation assay 
Glucose 
Molecular recognition 
Serum analysis 
Notes
Acknowledgements
This work was financially supported by the National Natural Science Foundation of China (Nos. 21075050 and 21275063), the Science and Technology Development project of Jilin province, China (No. 20150204010GX).
Compliance with ethical standards
The author(s) declare that they have no competing interests.
Copyright information
© Springer-Verlag Wien 2017