Abstract
Heterogeneity is an inherent property of a wealth of real-world nanomaterials and yet rarely in the reporting of new properties is its effect sufficiently addressed. Graphene quantum dots (GQDs) – fluorescent, nanoscale fragments of graphene - are an extreme example of a heterogeneous nanomaterial. Here, top-down approaches – by far the most predominant – produce batches of particles with a distribution of sizes, shapes, extent of oxidation, chemical impurities and more. This makes characterization of these materials using bulk techniques particularly complex and comparisons of properties across different synthetic methods uninformative. In particular, it hinders the understanding of the structural origin of their fluorescence properties. We present a simple synthetic method, which produces graphene quantum dots with very low oxygen content that can be suspended in organic solvents, suggesting a very pristine material. We use this material to illustrate the limitations of interpreting complex data sets generated by heterogeneous materials and we highlight how misleading this "pristine" interpretation is by comparison with graphene oxide quantum dots synthesized using an established protocol. In addition, we report on the solvatochromic properties of these particles, discuss common characterization techniques and their limitations in attributing properties to heterogeneous materials.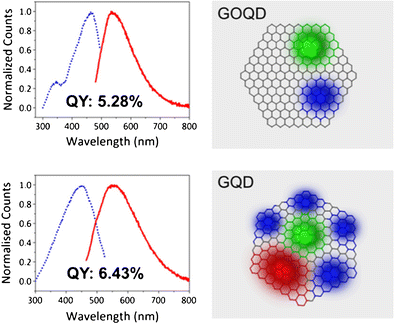 Access options
Buy single article
Instant access to the full article PDF.
US$ 39.95
Tax calculation will be finalised during checkout.
Subscribe to journal
Immediate online access to all issues from 2019. Subscription will auto renew annually.
US$ 119
Tax calculation will be finalised during checkout.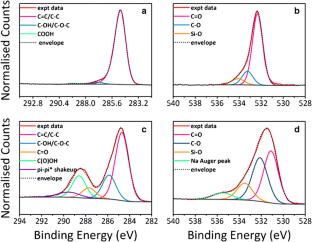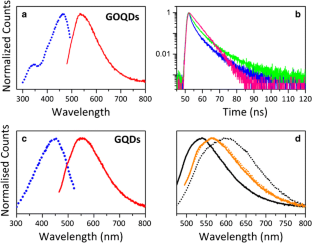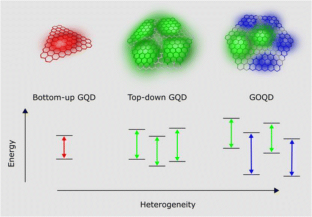 Acknowledgment
We would like to acknowledge the work of Anne Wendel, Marek Josianiak and Chris Bassel, who helped us with the XPS measurements as well as the VUW Raman group – specifically Baptiste Auguié and Eric Le Ru for contributing their Raman expertise.
Author contributions
The manuscript was written through contributions of all authors. All authors have given approval to the final version of the manuscript.
Ethics declarations
The author(s) declare that they have no competing interests.
Electronic supplementary material
About this article
Cite this article
Bradley, S.J., Kroon, R., Laufersky, G. et al. Heterogeneity in the fluorescence of graphene and graphene oxide quantum dots. Microchim Acta 184, 871–878 (2017). https://doi.org/10.1007/s00604-017-2075-9
Received:

Accepted:

Published:

Issue Date:
Keywords
Graphene quantum dots

Quantum yield

Fluorescence lifetime

Photoluminescence

Characterization

TEM

NMR

Raman spectroscopy