In-line monitoring of pH and oxygen during enzymatic reactions in off-the-shelf all-glass microreactors using integrated luminescent microsensors
Abstract
We describe a maskless photopolymerization technique for integration of luminescent sensors for determination of pH values and dissolved oxygen (DO) into commercially available all-glass microfluidic reactors (in sizes as small as 43 ± 3 μm for both DO and pH sensors). The sensor spots are poly(ethyleneglycol acrylate)-based and obtained by photopolymerization of oligomers in the presence of optical probes for oxygen and pH values, respectively. The resulting devices were applied to in-line monitoring of enzymatic conversions of acetylcholine and glucose (by using acetylcholine esterase and glucose oxidase, respectively) on the microscale. The detection limits are 258 μM and 505 μM for acetylcholine and glucose, respectively. The method has a large potential in terms of monitoring enzymatic and other chemical reactions on the microscale in that it does not require special instrumentation apart from a standard widefield fluorescence microscope.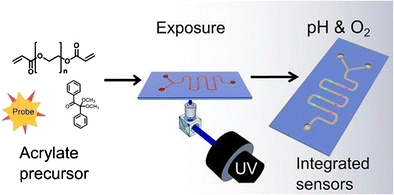 Keywords
Maskless photopolymerization 
Commercial micro flow reactor 
Microfluidic chip 
pH sensor 
Oxygen sensor 
Chemical sensor 
Integrated sensor 
Glucose oxidase 
Acetylcholine esterase 
Fluorescence microscopy 
Notes
Acknowledgements
Financial support of this work by the German Research Foundation (DFG, NA 947/1-2 and 2-1) is gratefully acknowledged.
Compliance with ethical standards
The author(s) declare that they have no competing interests.
Copyright information
© Springer-Verlag Wien 2016