Microchip HPLC separations monitored simultaneously by coherent anti-Stokes Raman scattering and fluorescence detection
Abstract
Coherent anti-Stokes Raman scattering (CARS) was evaluated and applied to process monitoring in chip-based high-performance liquid chromatography (HPLC). By stimulating the C≡N-vibration of acetonitrile via laser excitation at 1064 nm and 858.3 nm, solvent gradients can be monitored in real-time. The approach can also be applied to indirect detection, which is exemplarily shown for the separation of short chain alcohols with an eluent containing acetonitrile. CARS was also combined with epi-fluorescence detection by integrating a 365 nm LED as a third excitation source. This allows fluorescent analytes to be detected in parallel to tracing the acetonitrile fraction of the eluent by CARS. This was applied to separate polycyclic aromatic hydrocarbons within 120 s on custom HPLC glass chips using gradient elution. In this proof of concept study, presenting the first application of CARS in chromatography, the percentage of acetonitrile in the eluent or rather high amounts of alcohols can be traced. If combined with fluorescence, polycyclic aromatic hydrocarbons were detected at the 1 μg·mL−1 range.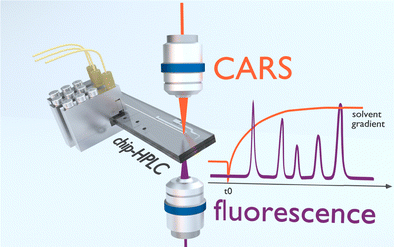 Keywords
CARS 
Raman 
Laser excitation 
Epi-fluorescence detection 
PAHs 
Nonlinear optics 
Liquid chromatorgraphy 
Microfluidics 
Separation science 
Coumarin 120 
Notes
Acknowledgements
We would like to thank the Deutsche Forschungsgemeinschaft and the AIF for funding. The author Josef J. Heiland would like to thank the Studienstiftung des dt. Volkes for the financial support in form of a PhD-scholarship. The authors thank Dr. S. Nagl for his helpful support.
Compliance with ethical standards
The author(s) declare that they have no competing interests.
Copyright information
© Springer-Verlag Wien 2016