Porous silicon microarray for simultaneous fluorometric immunoassay of the biomarkers prostate-specific antigen and human glandular kallikrein 2
Abstract
The authors have developed a porous silicon (P-Si) based duplex antibody microarray platform for simultaneous quantitation of the biomarkers prostate-specific antigen (PSA) and human glandular kallikrein 2 (hK2) in serum. Pore size-controlled P-Si surfaces have an extremely enlarged surface area that enables high-density immobilization of fluorescently labeled antibodies by physical adsorption. Automated microarraying of the antibodies provides a fast and reproducible duplex format of antibody arrays on the P-Si chips placed in the wells of a microtiter plate. The assay platform showed a 100 fg·mL−1 limit of detection for both PSA and hK2, and a dynamic range that extends over five orders of magnitude. After optimization of the density of both capture antibodies, neither the PSA nor the hK2 array showed cross-sensitivity to non-target proteins or other plasma proteins. The microarray was evaluated by titration of PSA and hK2, respectively, in the same serum samples. In our perception, this highly sensitive and selective platform holds promise for improved detection of tumor markers in an early diagnostic stage, but also to monitor the recurrence of prostate cancer.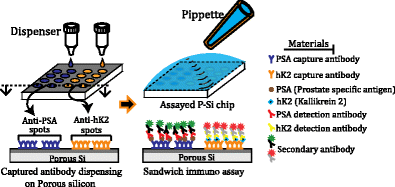 Keywords
Duplex antibody microarray 
PSA 
hK2 
Silicon anodization 
Prostate cancer 
Serum analysis 
Notes
Acknowledgments
This study was partly supported by RIKEN FPR program and JSPS KAKENHI Grant Number 25350581. This project is also supported by Korea Ministry of Environment as "EI project" (ERL E211-41003-0007-0).
Compliance with ethical standards
The author(s) declare that they have no competing interests.
Copyright information
© Springer-Verlag Wien 2016