Abstract
The authors have developed a porous silicon (P-Si) based duplex antibody microarray platform for simultaneous quantitation of the biomarkers prostate-specific antigen (PSA) and human glandular kallikrein 2 (hK2) in serum. Pore size-controlled P-Si surfaces have an extremely enlarged surface area that enables high-density immobilization of fluorescently labeled antibodies by physical adsorption. Automated microarraying of the antibodies provides a fast and reproducible duplex format of antibody arrays on the P-Si chips placed in the wells of a microtiter plate. The assay platform showed a 100 fg·mL−1 limit of detection for both PSA and hK2, and a dynamic range that extends over five orders of magnitude. After optimization of the density of both capture antibodies, neither the PSA nor the hK2 array showed cross-sensitivity to non-target proteins or other plasma proteins. The microarray was evaluated by titration of PSA and hK2, respectively, in the same serum samples. In our perception, this highly sensitive and selective platform holds promise for improved detection of tumor markers in an early diagnostic stage, but also to monitor the recurrence of prostate cancer.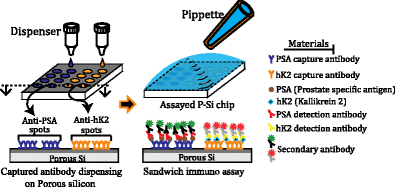 This is a preview of subscription content, log in to check access.
Access options
Buy single article
Instant access to the full article PDF.
US$ 39.95
Price includes VAT for USA
Subscribe to journal
Immediate online access to all issues from 2019. Subscription will auto renew annually.
US$ 199
This is the net price. Taxes to be calculated in checkout.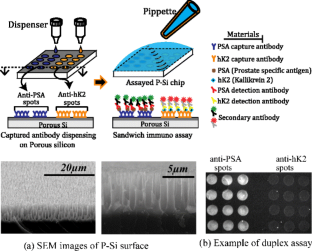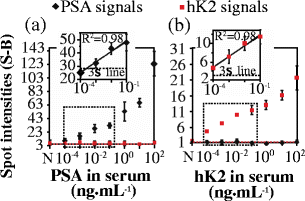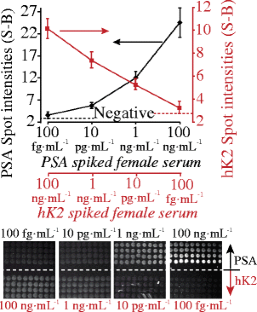 References
1.

Ekins RP (1989) Multi-analyte immunoassay. J Pharm Biomed Anal 7:155–168

2.

Ling MM, Ricks C, Lea PI (2007) Multiplexing molecular diagnostics and immunoassays using emerging microarray technologies. Expert Rev Mol Diagn 7:87–98

3.

Kingsmore SF (2006) Multiplexed protein measurement: technologies and applications of protein and antibody arrays. Nat Rev Drug Discov 5:310–321

4.

Ellington A, Kullo IJ, Bailey KR, Klee G (2010) Antibody-based protein multiplex platforms: technical and operational challenges. Clin Chem 56:186–193

5.

Horn S, Lueking A, Murphy D, Staudt A, Gutjahr C, Schulte K, König A, Landsberger M, Lehrach H, Felix SB, Cahill DJ (2006) Profiling humoral autoimmune repertoire of dilated cardiomyopathy (DCM) patients and development of a disease-associated protein chip. Proteomics 6:605–613

6.

Ptacek J, Devgan G, Michaud G, Zhu H, Zhu X, Fasolo J, Guo H, Jona G, Breitkreutz A, Sopko R, McCartney RR, Schmidt MC, Rachidi N, Lee S, Mah AS, Meng L, Stark M, Stern DF, De Virgilio C, Tyers M, Andrews B, Gerstein M, Schweitzer B, Predki PF, Snyder M (2005) Global analysis of protein phosphorylation in yeast. Nature 438:679–684

7.

Miller MB, Tang Y (2009) Basic concepts of microarrays and potential applications in clinical microbiology. Clin Microbiol Rev 22:611–633

8.

Diamondis EP, Yousef GM (2002) Human tissue kallikreins: a family of new cancer biomarkers. Clin Chem 48:1198–1205

9.

Pampalakis G, Sotiropoulou G (2007) Tissue kallikrein proteolytic cascade pathways in normal physiology and cancer. Biochim Biophys Acta 1776:22–31

10.

Vickers A, Cronin A, Roobol M, Savage C, Peltola M, Pettersson K, Scardino F, Schroder PT, Lilja H (2010) Reducing unnecessary biopsy during prostate cancer screening using a four-kallikrein panel: an independent replication. J Clin Oncol 28:2493–2498

11.

Tewari A, Raman JD, Chang P, Rao S, Divine G, Menon M (2006) Long-term survival probability in men with clinically localized prostate cancer treated either conservatively or with definitive treatment (radiotherapy or radical prostatectomy). Urology 68:1268–1274

12.

Hugosson J, Aus G, Lilja H, Lodding P, Pihl CG (2004) Results of a randomized, population-based study of biennial screening using serum prostate-specific antigen measurement to detect prostate carcinoma. Cancer 100:1397–1405

13.

Andriole GL, Levin D, Crawford ED, Gelmann E, Pinsky PF, Chia D, Kramer BS, Reding D, Church TR, Grubb RL, Izmirlian G, Ragard LR, Clapp JD, Prorok PC, Gohagan JK (2005) Prostate cancer screening in the prostate, lung, colorectal and ovarian (PLCO) cancer screening trial: findings from the initial screening round of a randomized trial. J Natl Cancer Inst 97:433–438

14.

Lilja H, Ulmert D, Vickers AJ (2008) Prostate-specific antigen and prostate cancer: prediction, detection and monitoring. Nat Rev Cancer 8:268–278

15.

Recker F, Maciej FR, Kwiatkowski K, Piironen T, Pettersson K, Lümmen G, Wernli M, Wiefelspütz J, Graber SF, Goepel M, Huber A, Tscholl R (1998) The importance of human glandular kallikrein and its correlation with different prostate specific antigen serum forms in the detection of prostate carcinoma. Cancer 83:2540–2547

16.

Steuber T, Vickers AJ, Serio AM, Vaisanen V, Haese A, Pettersson K, Eastham JA, Scardino PT, Huland H, Lilja H (2007) Prostate specific kallikrein-related peptidases and their relation to prostate cancer biology and detection; established relevance and emerging roles. Clin Chem 53:233–240

17.

Henttu P, Lukkarinen O, Vihko P (1990) Expression of the gene coding for human prostate-specific antigen and related hGK-1 in benign and malignant tumors of the human prostate. Int J Cancer 45:654–660

18.

van Gils M, Stenman UH, Schalken JA, Schröder FH, Luider TM, Lilja H, Bjartell A, Hamdy, Pettersson Bischoff K, Takalo R, Nilsson O, Mulders P, Bangma C (2005) Innovations in serum and urine markers in prostate cancer current European research in the P-mark project. Eur Urol 48:1031–1041

19.

Kumar A, Mikolajczyk SD, Goel AS, Millar LS, Saedi MS (1997) Expression of pro form of prostate-specific antigen by mammalian cells and its conversion to mature, active form by human kallikrein 2. Cancer Res 57:3111–3114

20.

Lilja H, Christensson A, Dahlén U, Matikainen MT, Nilsson O, Pettersson K, Lövgren T (1991) Prostate-specific antigen in serum occurs predominantly in complex with alpha 1-antichymotrypsin. Clin Chem 37:1618–1625

21.

Zhang W, Finne P, Leinonen J, Vesalainen S, Nordling S, Stenman U (1991) Measurement of the complex between prostate-specific antigen and α1-protease inhibitor in serum. Clin Chem 45:814–821

22.

Jung K, Elgeti U, Lein M, Brux B, Sinha P, Rudolph B, Hauptmann S, Schnorr D, Loening SA (2000) Ratio of free or complexed prostate-specific antigen (PSA) to total PSA: which ratio improves differentiation between benign prostatic hyperplasia and prostate cancer. Clin Chem 46:55–62

23.

Roddam AW, Duffy MJ, Hamdy FC, Ward AW, Patnick J, Price CP, Rimmer J, Sturgeon C, White P, Allen NE (2005) Use of prostate-specific antigen (PSA) isoforms for the detection of prostate cancer in men with a PSA level of 2–10 ng/ml: systematic review and meta-analysis. Eur Urol 48:386–399

24.

Järås K, Adler B, Tojo A, Malm J, Marko-Varga G, Lilja H, Laurell T (2012) PSA quantification of 80 plasma samples from the clinical routine using antibody mircoarrays. Clin Chim Acta 414:76–84

25.

Liu D, Huang X, Wang Z, Jin A, Sun X, Zhu L, Wang F, Ma Y, Niu G, Walker A (2013) Chen X gold nanoparticle-based activatable probe for sensing ultralow levels of prostate-specific antigen. ACS Nano 7:5568–5576

26.

Thaxton C, Elghanian R, Thomas A, Stoeva S, Lee J, Smith N, Schaeffer A, Klocker H, Horninger W, Bartsch G, Mirkin C (2009) Nanoparticle-based bio-barcode assay redefines "undetectable" PSA and biochemical recurrence after radical prostatectomy. PNAS 106:18437–18442

27.

Kim SH, Iwai S, Araki S, Sakakihara S, Iino R, Noji H (2012) Large-scale femtoliter droplet array for digital counting of single biomolecules. Lab Chip 12:4986–4991

28.

Wilson D, Hanlon D, Provuncher G, Chang L, Song L, Patel P, Ferrell E, Lepor H, Partin A, Chan D, Sokoll L, Cheli C, Thiel R, Fournier D, Duffy D (2011) Fifth-generation digital immunoassay for prostate-specific antigen by single molecule array technology. Clin Chem 57:1712–1721

29.

Lee SW, Kim S, Malm J, Jeong OC, Lilja H, Laurell T (2013) Improved porous silicon (P-Si) microarray based PSA (prostate specific antigen) immunoassay by optimized surface density of the capture antibody. Anal Chim Acta 796:108–114

30.

Uludag Y, Köktürk G (2015) Determination of prostate-specific antigen in serum samples using gold nanoparticle based amplification and lab-on-a-chip based amperometric detection. Microchim Acta 182:1685–1691

31.

Sun XC, Lei C, Guo L, Zhou Y (2016) Sandwich immunoassay for the prostate specific antigen using a micro-fluxgate and magnetic bead labels. Microchim Acta 183:2385–2393

32.

Stephan C, Jung K, Nakamura T, Yousef GM, Kristiansen G, Diamond EP (2006) Serum human glandular kallikrein 2 (hK2) for distinguishing stage and grade of prostate cancer. Int J Urol 13:238–243

33.

Vaisanen V, Eriksson S, Ivaska KK, Lilja H, Nurmi M, Pettersson K (2004) Development of sensitive immunoassays for free and total human glandular kallikrein 2. Clin Chem 50:1607–1617

34.

Ressine A, Ekström S, Marko-Varga G, Laurell T (2003) Macro-/nanoporous silicon as a support for high-performance protein microarrays. Anal Chem 75:6968–6974

35.

Lee SW, Hosokawa K, Laurell T, Kim S, Maeda M (2015) A highly sensitive porous silicon (P-Si)-based human kallikrein 2 (hK2) immunoassay platform toward accurate diagnosis of prostate cancer. Sensors 15:11972–11987

36.

Jongho P, Yasuko Y, Takeshi H (2016) Fabrication of p-type porous silicon using double tank electrochemical cell with halogen and LED light sources. Sensors Actuators B 5:136–143
Acknowledgments
This study was partly supported by RIKEN FPR program and JSPS KAKENHI Grant Number 25350581. This project is also supported by Korea Ministry of Environment as "EI project" (ERL E211-41003-0007-0).
Ethics declarations
The author(s) declare that they have no competing interests.
Electronic supplementary material
Below is the link to the electronic supplementary material.
About this article
Cite this article
Lee, S., Hosokawa, K., Kim, S. et al. Porous silicon microarray for simultaneous fluorometric immunoassay of the biomarkers prostate-specific antigen and human glandular kallikrein 2. Microchim Acta 183, 3321–3327 (2016). https://doi.org/10.1007/s00604-016-1986-1
Received:

Accepted:

Published:

Issue Date:
Keywords
Duplex antibody microarray

PSA

hK2

Silicon anodization

Prostate cancer

Serum analysis