Electromembrane extraction and anodic stripping voltammetric determination of mercury(II) using a glassy carbon electrode modified with gold nanoparticles
Abstract
This study presents a method for the selective determination of Hg(II) using electromembrane extraction (EME), followed by square wave anodic stripping voltammetry (SWASV), using a gold nanoparticle-modified glassy carbon electrode, (AuNP/GCE). By applying an electrical potential of typically 60 V for 12 min through a thin supported liquid membrane (1-octanol), Hg(II) ions are extracted from a donor phase (i.e., the sample solution) to an acidic acceptor solution (15 μL) placed in the lumen of a hollow fiber. The influences of experimental parameters during EME were optimized using face-centered central composite design. The calibration plot, established at a working voltage of 0.55 V (vs. Ag/AgCl), extends from 0.2 to 10 μg.L−1 of Hg(II). The limit of detection, at a signal to noise ratio of 3, is 0.01 μg.L−1 and the relative standard deviations (for 5 replicate determinations at 3 concentration levels) are between 7.5 and 8.7 %. The method was successfully applied to the determination of Hg(II) in spiked real water samples to give recoveries ranging from 89 to 97 %. The results were validated by cold vapor atomic absorption spectroscopy.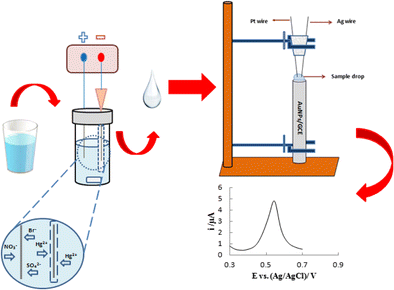 Keywords
Square wave anodic stripping voltammetry 
Single-drop voltammetry 
Face-centered central composite design 
Porous hollow fiber 
FE-SEM 
Notes
Acknowledgments
The authors wish to express their gratitude to the University of Zanjan Research Council for support of this work.
Compliance with Ethical Standards
The author(s) declare that they have no competing interests
Copyright information
© Springer-Verlag Wien 2016