Electrochemical sensor for nitrite using a glassy carbon electrode modified with gold-copper nanochain networks
Abstract
Bimetallic gold-copper nanochain networks (AuCu NCNs) were prepared by a single-step wet-chemical approach using metformin as a growth-directing agent. The formation mechanism was investigated in detail, and the AuCu NCNs were characterized by transmission electron microscopy (TEM), X-ray photoelectron spectroscopy (XPS) and X-ray diffraction (XRD). The nanocrystals were deposited on glassy carbon electrode and this resulted in a highly sensitive sensor for nitrite. Features include a low working potential (best at 0.684 V vs. SCE), fair sensitivity (17.55 μA mM−1), a wide linear range (0.01 to 4.0 mM), a low detection limit (0.2 μM, S/N = 3), and superior selectivity as compared to other sensors.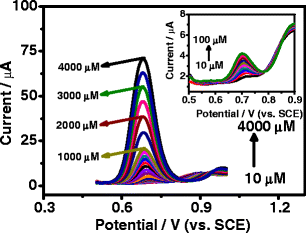 Keywords
Metformin 
Bimetallic structures 
Cyclic voltammetry 
High-resolution TEM 
Annular dark-field scanning TEM 
Notes
Acknowledgments
This work was financially supported by National Natural Science Foundation of China (No. 21475118, 21175118 and 21275130) and Zhejiang province of undergraduate scientific and technological innovation project (New Talents Program, No. 2015404004 for S.S. Huang).
Copyright information
© Springer-Verlag Wien 2015