A nanocomposite consisting of graphene oxide and Fe3O4 magnetic nanoparticles for the extraction of flavonoids from tea, wine and urine samples
Abstract
We describe a single-step solvothermal method for the preparation of nanocomposites consisting of graphene oxide and Fe3O4 nanoparticles (GO/Fe3O4). This material is shown to be useful as a magnetic sorbent for the extraction of flavonoids from green tea, red wine, and urine samples. The nanocomposite is taking advantage of the high surface area of GO and the magnetic phase separation feature of the magnetic sorbent. The nanocomposite is recyclable and was applied to the extraction of flavonoids prior to their determination by HPLC. The effects of amount of surfactant, pH value of the sample solution, extraction time, and desorption condition on the extraction efficiency, and the regeneration conditions were optimized. The limits of detection for luteolin, quercetin and kaempferol range from 0.2 to 0.5 ng∙ mL−1 in urine, from 3.0 to 6.0 ng∙mL−1 in green tea, and from 1.0 to 2.5 ng∙mL−1 in red wine. The recoveries are between 82.0 and 101.4 %, with relative standard deviations of <9.3 %.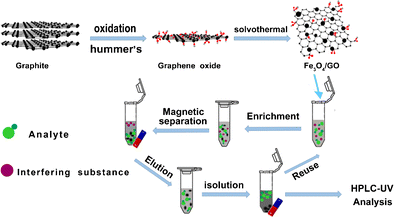 Keywords
Graphene oxide-Fe3O4 
Nanocomposite 
Magnetic solid phase extraction 
Vibrating sample magnetometer 
Flavonoids 
High performance liquid chromatography 
HPLC 
Notes
Acknowledgments
This work was supported by the National Natural Science Foundation of China (Grant No. 81402899), the Open Project of Key Laboratory of Modern Toxicology of the Ministry of Education (Grant No. NMUMT201404), National Basic Science Personal Training Fund (No. J0630858) and the Key Laboratory of Biomedical Functional Materials, China Pharmaceutical University.
Copyright information
© Springer-Verlag Wien 2015