Microsphere-based immunoassay integrated with a microfluidic network to perform logic operations
Abstract
Lab on a chip (LOC) intelligent diagnostics can be described by molecular logic-based circuits. We report on the development of an LOC approach with logic capability for screening combinations of antigen and antibody in the same sample. A microsphere-based immunoassay was integrated with a microfluidic network device to perform the logic operations AND and INHIBIT. Using the clinically relevant biomarkers TNF-α cytokine and anti-TNF-α antibody, we obtained a fluorescent output in the presence of both inputs. This results in an AND operation, while the presence of only one specific input results in a different fluorescent signal, thereby indicating the INHIBIT operation. This approach demonstrates the effective use of molecular logic computation for developing portable, point-of-care technologies for diagnostic purposes due to fast detection times, minimal reagent consumption and low costs. This model system may be further expanded to screening of multiple disease markers, combinatorial logic applications, and developing "smart" sensors and therapeutic technologies.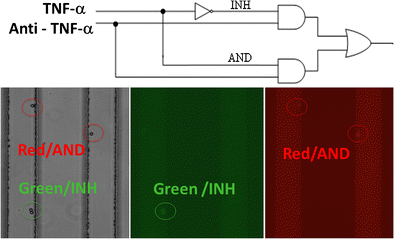 Keywords
Molecular logic gates 
Boolean logic operations 
Microfluidics 
TNF -α 
Anti-TNF-α 
Immunoassay 
Point-of-care diagnostics 
Notes
Acknowledgments
We thank Ms. Vinny Motwani and Mr. Micah Amdur-Clark for their assistance in the preparation of Microfluidic devices for the experiments.
Copyright information
© Springer-Verlag Wien 2015