Determination of prostate-specific antigen in serum samples using gold nanoparticle based amplification and lab-on-a-chip based amperometric detection
Abstract
We describe an electrode array and microfluidics based integrated biochip for the quantitation of the tumor marker prostate specific antigen (PSA). The surface of the chip was functionalized with a self-assembled monolayer of mercaptoundecanoic acid prior to the immobilization of the antibody against PSA. A flow of buffer or spiked human serum (75 %) and, subsequently, the detection antibody and gold nanoparticles (Au-NPs) modified with horseradish peroxidase were passed over the antibody-coated electrodes. This was followed by the injection of the substrate tetramethylbenzidine and simultaneous amperometry during the flow. This resulted in a real-time amperometric reading. The method has detection limits (LODs) of 0.2 ng∙L−1 in buffer and of 1 ng∙L−1 in 75 % human serum. The linear part of the calibration plot has an r2 of 0.97. These LODs are well below the clinical threshold level of 4 ng∙L−1. This assay is rapid (~15 min) which compares favorably with respect to conventional chronoamperometric analysis and to ELISA tests which require ~45 min. This new platform has a potential as an automatted point-of-care device for clinical use because it is likely to be applicable to numerous other clinical analytes for which appropriate antibodies are available.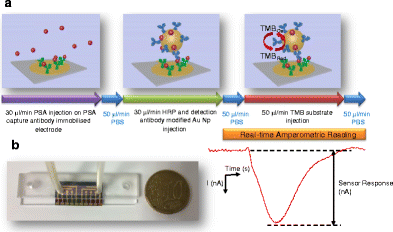 Keywords
Amperometry 
Electrochemical sensing 
Biosensor 
Cancer biomarker 
PSA 
Notes
Acknowledgments
The project is supported by the Republic of Turkey Ministry of Development Infrastructure Grant (no: 2011 K120020) and BILGEM - TUBITAK (The Scientific and Technological Research Council of Turkey) (grant no: S569000). We gratefully acknowledge Dr. Zehra Ölçer from GYTE, Aylin Ersoy, Sinan Budak, Atike Demiralp, Hakkı Aktepe, Tugba Yurt, and Muammer Karadağ from BILGEM - TUBITAK for their contribution to the fabrication of the electrode arrays and sensor cassette.
Conflict of interests
The authors declare no competing financial interest.
Copyright information
© Springer-Verlag Wien 2015