Direct electron transfer from native human hemoglobin using a glassy carbon electrode modified with chitosan and a poly(N,N-diethylacrylamide) hydrogel containing red blood cells
Abstract
We report on a new whole cell biosensor for hydrogen peroxide. A chitosan-coated glassy carbon electrode (GCE) was modified with poly(N,N-diethylacrylamide) (PDEA) hydrogel containing human red blood cells (RBCs). The morphology of RBCs in the hydrogel was investigated using scanning electron microscopy (SEM). Fourier transform infrared spectroscopy and SEM were applied to study the association of the PDEA chains and RBCs. Uncompromised bioactivity of native human hemoglobin in the RBCs on the modified GCE was confirmed by cyclic voltammetry. The modified electrode showed a faster electron transfer rate and better electrocatalytic activity in the reduction of H2O2 than previously reported sensors. A linear relationship is found between the response to H2O2 and its concentration in the range from 0.11 μM to 12.7 mM. The detection limit is 55 nM at an SNR of 3. It is assumed that the improvement of the biosensor results from the porosity and conductivity of the PDEA hydrogel.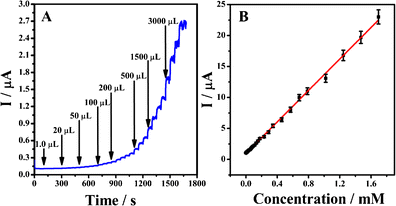 Keywords
Hydrogels 
Red blood cells 
Human native hemoglobin 
Hydrogen peroxide 
Direct electron transfer 
Electrocatalytic activiy 
Notes
Acknowledgments
This work was financially supported by the National Natural Science Foundation of China (Grant numbers: 21175075, 21375066 and 81202249), the Natural Science Foundation of Jiangsu Province (Grant numbers: BK2011047, BK2012651 and BK2012652), the Priority Academic Program Development of Jiangsu Higher Education Institutions (PAPD) and the Social Development Item of Nantong City (Grant number: HS2012017).
Copyright information
© Springer-Verlag Wien 2014