Abstract
Levels of total and/or oligomeric α-synuclein may be used as a biomarker tool to aid in the diagnosis and development of new disease-modifying therapies. We report here on a porous silicon antibody microarray for the fluorimetric determination of cerebrospinal fluid levels of total α-synuclein, a protein involved the pathology of Parkinson's disease. The surface of porous silicon has a 3-dimensional macro- and nanoporous structure, and this offers a large binding capacity for capturing probe molecules. Porous silicon also warrants efficient immobilization of antibodies by surface adsorption, and does not require chemical immobilization. The platform requires 10 μL of cerebrospinal fluid, and each test requires 4 h for assay only (including immobilization of capturing antibody). The limit of detection is 35 pg mL−1 of α-synuclein in cerebrospinal fluid, and the dynamic analytical range extends from 0.01 to 100 ng·mL−1.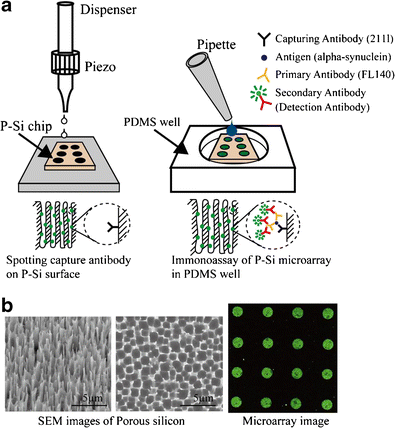 This is a preview of subscription content, log in to check access.
Access options
Buy single article
Instant access to the full article PDF.
US$ 39.95
Price includes VAT for USA
Subscribe to journal
Immediate online access to all issues from 2019. Subscription will auto renew annually.
US$ 199
This is the net price. Taxes to be calculated in checkout.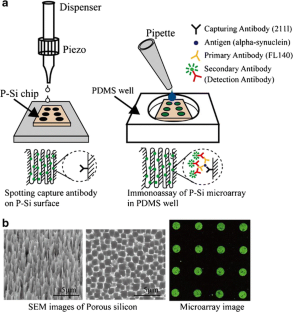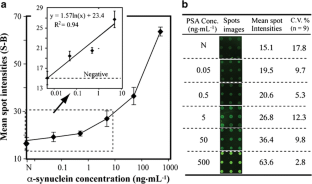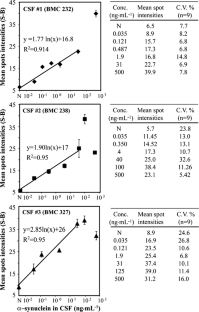 References
1.

Jellinger KA (2003) Neropathological spectrum of synucleinopathies. Mov Disord 18:2–12

2.

Eller M, Williams DR (2011) α-synuclein in Parkinson disease and other neurodegenerative disorders. Clin Chem Lab Med 49:403–408

3.

Mollenhauer B, Locascio JJ, Schulz-Schaeffer W, Sixel-Döring F, Trenkwalder C, Schlossmacher MG (2011) α-synuclein and tau concentrations in cerebrospinal fluid of patients presenting with parkinsonism: a cohort study. Lancet Neurol 10:230–240

4.

Hall S, Öhrfelt A, Constantinescu R, Andreasson U, Surova Y, Bostrom F, Nilsson C, Håkan W, Decraemer H, Någga K, Minthon L, Londos E, Vanmechelen E, Holmberg B, Zetterberg H, Blennow K, Hansson O (2012) Accuracy of a panel of 5 cerebrospinal fluid biomarkers in the differential diagnosis of patients with dementia and/or parkinsonian disorders. Arch Neurol 69:1445–1452

5.

Polymeropoulos MH, Lavedan C, Leroy E, Ide SE, Dehejia A, Dutra A, Pike B, Root H, Rubenstein J, Boyer R, Stenroos ES, Chandrasekharappa S, Athanassiadou A, Papapetropoulos T, Johnson WG, Lazzarini AM, Duvoisin RC, Di Iorio G, Golbe LI, Nussbaum RL (1997) Mutation in the alpha-synuclein gene identified in families with Parkinson's disease. Science 276:2045–2047

6.

Kruger R, Kuhn W, Muller T, Woitalla D, Graeber M, Kosel S, Przuntek H, Epplen JT, Schols L, Riess O (1998) Ala30Pro mutation in the gene encoding alpha-synuclein in Parkinson's disease. Nat Genet 18:106–108

7.

Zarranz J, Alegre J, Gomez-Esteban JC, Lezcano E, Ros R, Ampuero I, Vidal L, Hoenicka J, Rodriguez O, Atares B, Llorens V, Gomez Tortosa E, del Ser T, Munoz DG, de Yebenes JG (2004) The new mutation, E46K, of alpha-synuclein causes Parkinson and Lewy body dementia. Ann Neurol 55:164–173

8.

Singleton AB, Farrer M, Johnson J, Singleton A, Hague S, Kachergus J, Hulihan M, Peuralinna T, Dutra A, Nussbaum R, Lincoln S, Crawley A, Hanson M, Maraganore D, Adler C, Cookson MR, Muenter M, Baptista M, Miller D, Blancato J, Hardy J, Gwinn-Hardy K (2003) Alpha-Synuclein locus triplication causes Parkinson's disease. Science 302:841

9.

Chartier-Harlin MC, Kachergus J, Roumier C, Mouroux V, Douay X, Lincoln S, Levecque C, Larvor L, Andrieux J, Hulihan M, Waucquier N, Defebvre L, Amouyel P, Farrer M, Destee A (2004) Alpha-synuclein locus duplication as a cause of familial Parkinson's disease. Lancet 364:1167–1169

10.

El-Agnaf OM, Salem, Paleologou KE, Cooper LJ, Fullwood NJ, Gibson MJ (2003) Alpha-synuclein implicated in Parkinson's disease is present in extracellular biological fluids, including human plasma. FASEB J 17:1945–1947

11.

Tokoda T, Qureshi MM, Ardah MT, Varghese S, Shehab SA, Kasai T (2010) Detection of elevated levels of alpha-synuclein in cerebrospinal oligomers in CSF from patients with Parkinson disease. Neurology 75:1766–1772

12.

Steinhauer C, Ressine A, Marko-Varga G, Laurell, Borrebaeck C, Wingren C (2005) Biocompatibility of surfaces for antibody microarrays: design of macroporous silicon substrates. Anal Biochem 341:204–213

13.

Järås K, Ressine A, Nilsson E, Malm J, Marko-Varga G, Lilja H, Laurell T (2007) Reverse versus sandwich antibody microarrays – a comparison from a clinical perspective. Anal Chem 79:5817–5825

14.

Järås K, Adler B, Lilja H, Malm J, Marko-Varga G, Laurell T (2012) PSA quantitation of 80 plasma samples from the clinical routine using antibody microarrays. Clin Chim Acta 414:76–84

15.

Lee SW, Kim S, Malm J, Jeong OC, Lilja H, Laurell T (2013) Improved porous silicon microarray based prostate specific antigen immunoassay by optimized surface density of the capture antibody. Anal Chim Acta 796:108–114

16.

Hong Z, Shi M, Chung K, Quinn J, Peskind E, Glasko D, Jankovic J, Zabetian C, Leverenz J, Baird G, Montine T, Hancock A, Hwang H, Pan C, Brandner J, Kang U, Jensen P, Zhang J (2010) DJ-1 and α-synuclein in human cerebrospinal fluid as biomarkers of Parkinson's disease. Brain 133:713–726

17.

Ressine A, Marko-Varga G, Laurell T (2007) Porous silicon protein microarray technology and ultra- superhydrophobic states for improved bioanalytical readout. Biotechnol Annu Rev 13:149–200

18.

Tokuda T, Salem S, Allsop D, Mizuno T, Nakagawa M, Qureshi M, Locascio JJ, Schlossmacher MG, El-Agnaf O (2006) Decreased α–synuclein in cerebrospinal fluid of aged individuals and subjects with Parkinson's disease. Biochem Biophys Res Commun 349:162–166

19.

Wood WG (2008) Immunoassays & co.: past, present, future-A review and outlook from personal experience and involvement over the past 35 years. Clin Lab 54:423–438

20.

Mollenhauer B, Cullen V, Kahn I, Krastins B et al (2008) Direct quantification of CSF α-synuclein by ELISA and first cross-sectional study in patients with neurodegeneration. Exp Neurol 213:315–325

21.

Aerts MB, Esselink R, Bloem BR, Verbeek MM (2011) Cerebrospinal fluid tau and phosphorylated tau protein are elevated in corticobasal syndrome. Mov Dis 26:169–173

22.

Tinsley RB, Kotschet K, Modesto D, Ng H, Wang Y, Nagley P, Shaw G, Horne MK (2010) Sensitive and specific detection of α-synuclein in human plasma. J Neurosci Res 88:2693–2700
Acknowledgment
The Swedish Research Council-Linnaeus Grant, Bagadilico, The Swedish Research Council (grant no. 621-2009-5361; 2009-5361) and Korea- Swedish Research Cooporation Program (STINT) and STINT Institutional Grant: IG2010 2068. This project also supported by Korea Ministry of Environment as "EI project" (ERL E211-41003-0007-0), and Agency for Defence Development through Chemical and Biological Defence Research Center (2012-0126-005).
Additional information
Sangwook Lee and Edina Silajdžić equally contributed to the paper.
Electronic supplementary material
Below is the link to the electronic supplementary material.
About this article
Cite this article
Lee, S., Silajdžić, E., Yang, H. et al. A porous silicon immunoassay platform for fluorometric determination of α-synuclein in human cerebrospinal fluid. Microchim Acta 181, 1143–1149 (2014). https://doi.org/10.1007/s00604-014-1180-2
Received:

Accepted:

Published:

Issue Date:
Keywords
Porous silicon

Antibody microarray

α-synuclein

Parkinson's disease