Abstract
Biosensors are projected to find many applications due to their high selectivity and sensitivity, rapid reaction, economy and ease of handling in field measurements. Even though biosensors for a wide range of environmental pollutants have been extensively reported in the literature, the decision to develop a suitable biosensing system that can be approved by a regulatory perspective for environmental applications is fraught with technical issues. These issues mainly concern the biological recognition element, the physico-chemical transducer and the interfaces between the biological and the physical components, but also aspects of fluidics, electronics, and software for data processing. This article reviews methods together with a process to move biosensor technology from research laboratories to market, focusing as a case in point on challenges and possible opportunities in the development of photosynthetic-based biosensors for environmental applications.
This is a preview of subscription content,
to check access.
Access this article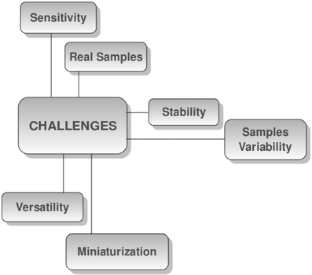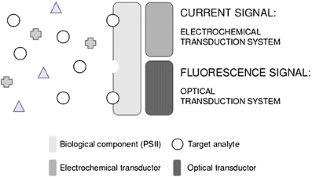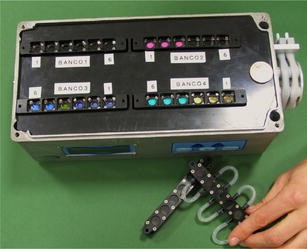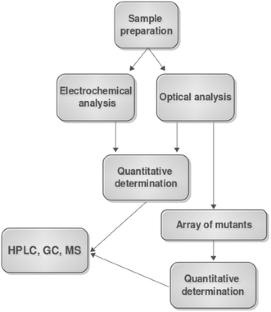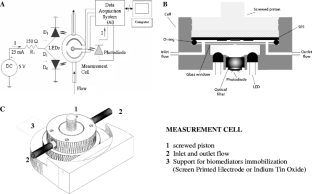 References
Thevenot DR, Tóth K, Durst RA, Wilson GS (1999) Electrochemical biosensors: recommended definitions and classification. Pure Appl Chem 71:2333–2348

RB-159R Biosensors and Bioelectronics report released by Business Communications Co., Inc. (bccresearch.com)

Rogers KM, Llewellyn RW (1995) Biosensors for environmental monitoring: a regulatory perspective. Trends Anal Chem 14(7):289–294

Rogers KR (1995) Biosensors for environmental applications. Biosens Bioelectron 10:533–541

Clark LC, Lyons C (1962) Electrode systems for continuous monitoring in cardivascular surgery. Ann N Y Acad Sci 102:29–45

Renneberg R, Pfeiffer D, Lisdat F, Wilson G, Wollenberger U, Ligler F, Turner APF (2008) Frieder Scheller and the short history of biosensors. Adv Biochem Engin Biotechnol 109:1–18

Scheller FW, Wollenberger U, Warsinke A, Lisdat F (2001) Research and development in biosensors. Curr Opin Biotechnol 12:35–40

Buonasera K, Pezzotti G, Scognamiglio V, Tibuzzi A, Giardi MT (2009) A new platform of biosensors for pre-screening of pesticide residues to support laboratory analyses. J Agric Food Chem (ID: jf-2009-027602.R1 Accepted on 20 November 2009 in press)

Loung JHT, Male KB, Glennon JD (2008) Biosensor technology: technology push versus market pull. Biotechnol Adv 26:492–500

Giardi MT, Pace E (2005) Photosynthetic proteins for technological applications. Trends Biotech 25:253–267

Campàs M, Carpentier R, Rouillon R (2008) Plant tissue-and photosynthesis-based biosensors. Biotechnol Adv 26:370–378

Touloupakis E, Giannoudi L, Piletsky SA, Guzzella L, Pozzoni F, Giardi MT (2005) A multi-biosensor based on immobilized Photosystem II on screen-printed electrodes for the detection of herbicides in river water. Biosens Bioelectron 20(10):1984–1992

Chaplen FWR, Vissvesvaran G, Henry EC, Jovanovic GN (2007) Improvement of bioactive compound classification through integration of orthogonal cell-based biosensing methods. Sensors 7:38–51

Euzet P, Giardi MT, Rouillon R (2005) A crosslinked matrix of thylakoids coupled to the fluorescence transducer in order to detect herbicides. Anal Chim Acta 539:263–269

Giardi MT, Guzzella L, Euzet P, Rouillon R, Esposito D (2005) Detection of herbicide subclasses by an optical multibiosensor based on an array of photosystem II mutants. Environ Sci Technol 39:5378–5384

Breton F, Euzet P, Piletsky SA, Giardi MT, Rouillon R (2006) Integration of photosynthetic biosensor with molecularly imprinted polymer-based solid phase extraction cartridge. Anal Chim Acta 569:50–57

Naessens M, Leclerc JC, Tran-Minh C (2000) Fiber optic biosensor using chlorella vulgaris for determination of toxic compounds. Ecotoxicol Environ Saf 46:181–185

Marty J-L, Garcia D, Rouillon R (1995) Biosensors: potential in pesticide detection. Trends Anal Chem 14(7):329–333

Tibuzzi A, Rea G, Pezzotti G, Esposito D, Johanningmeier U, Giardi MT (2007) A new miniaturized multiarray biosensor system for fluorescence detection. J Phys Condens Matter 19:395006–395018

Rea G, Polticelli F, Antonacci A, Scognamiglio V, Katiyar P, Kulkarni SA, Johanningmeier U, Giardi MT (2009) Structure-based design of novel Chlamydomonas reinhardtii D1–D2 photosynthetic proteins for herbicide monitoring. Protein Sci 18(10):2139–2151

Giardi MT, Scognamiglio V, Rea G, Rodio G, Antonacci A, Lambreva M, Pezzotti G, Johanningmeier U (2009) Optical biosensors for environmental monitoring based on computational and biotechnological tools for engineering the photosynthetic D1 protein of Chlamydomonas reinhardtii. Biosens Bioelectron 25:294–300

Newman SM, Boynton JE, Gillham NW, Randolph-Anderson BL, Johnson AM, Harris EH (1990) Nonrandom distribution of chloroplast recombination events in Chlamydomonas reinhardtii: evidence for a hotspot and an adjacent cold region. Genetics 126:875–888

Johanningmeier U, Heiss S (1993) Construction of a Chlamydomonas reinhardtii mutant lacking introns in the psbA gene. Plant Mol Biol 22:91–99

Oettmeier W (1999) Herbicide resistance and supersensitivity in photosystem II. Cell Mol Life Sci 15:1255–1277

Scognamiglio V, Raffi D, Lambreva M, Rea G, Tibuzzi A, Pezzotti G, Johanningmeier U, Giardi MT (2009) Chlamydomonas reinhardtii genetic variants as probes for fluorescence sensing system in detection of pollutants. Anal Bioanal Chem 394(4):1081–1087

Rodriguez M Jr, Charlene AS, Greenbaum E (2002) Biosensors for rapid monitoring of primary-source drinking water using naturally occurring photosynthesis. Biosens Bioelectron 17:843–849

Pandard P, Rawson DM (2006) An amperometric algal biosensor for herbicide detection employing a carbon cathode oxygen electrode. Environ Toxicol Water Qual 8(3):323–333

Védrine C, Leclerc JC, Durrieu C, Tran-Minh C (2003) Optical whole-cell biosensor using Chlorella vulgaris designed for monitoring herbicides. Biosens Bioelectron 18(4):457–463

Giardi MT, Esposito D, Leopardi C, Mattoo A, Margonelli A, Angelici G (2006) A biosensor for herbicides. EU Patent N.01830148.1-2204

Rodriguez-Mozaz S, Marco M-P, Lopez de Alda MJ, Barceló D (2004) Biosensors for environmental applications: future development trends. Pure Appl Chem 76(4):723–752

Borisov Sergey M, Wolfbeis Otto S (2008) Optical biosensors. Chem Rev (Washington, DC, United States) 108(2):423–461

He YX, Yuzhi FP (2006) Applications of carbon nanotubes in electrochemical DNA biosensors. Microchim Acta 152:175–186

Choi MMF (2004) Progress in enzyme-based biosensors using optical transducers. Microchimica Acta 148:107–132

Yunhua Wu, Shengshui Hu (2007) Biosensors based on direct electron transfer in redox proteins. Microchimica Acta 159:1–17

Nagl S, Schaeferling M, Wolfbeis Otto S (2005) Fluorescence analysis in microarray technology. Microchim Acta 151:1–21

Rodriguez-Mozaz S, Lopez de Alda MJ, Barceló D (2006) Biosensors as useful tools for environmental analysis and monitoring. Anal Bioanal Chem 386:1025–1041
Acknowledgment
During the years 2005–2009 the photosynthetic-based biosensor prototypes were supported by the following projects within Eurotransbio, EU and MAP/MIUR-IT Calls: Multibioplat, Multitask, B01/0547/03/X3, MAP-IT, Biodiserba 6932 and Agrobiosens 9431, MIUR-IT, BEEP-C-EN, EU.
About this article
Cite this article
Scognamiglio, V., Pezzotti, G., Pezzotti, I. et al. Biosensors for effective environmental and agrifood protection and commercialization: from research to market. Microchim Acta 170, 215–225 (2010). https://doi.org/10.1007/s00604-010-0313-5
Received:

Accepted:

Published:

Issue Date:

DOI: https://doi.org/10.1007/s00604-010-0313-5
Keywords