Abstract
In this study, a new mobile rock cutting testing apparatus was designed and produced for rock cuttability assessment called vertical rock cutting rig (VRCR) which was designed specially to fit into hydraulic press testing equipment which are available in almost every rock mechanics laboratory. Rock cutting trials were initiated just after the production of VRCR along with calibration of the measuring load cell with an external load cell to validate the recorded force data. Then, controlled rock cutting tests with both relieved and unrelieved cutting modes were implemented on five different volcanic rock samples with a standard simple-shaped wedge tool. Additionally, core cutting test which is an important approach for roadheader performance prediction was simulated with VRCR. Mini disc cutters and point attack tools were used for execution of experimental trials. Results clearly showed that rock cutting tests were successfully realized and measuring system is delicate to rock strength, cutting depth and other variables. Core cutting test was successfully simulated, and it was also shown that rock cutting tests with mini disc cutters and point attack tools are also successful with VRCR.
This is a preview of subscription content, log in to check access.
Access options
Buy single article
Instant access to the full article PDF.
US$ 39.95
Price includes VAT for USA
Subscribe to journal
Immediate online access to all issues from 2019. Subscription will auto renew annually.
US$ 99
This is the net price. Taxes to be calculated in checkout.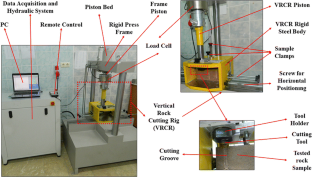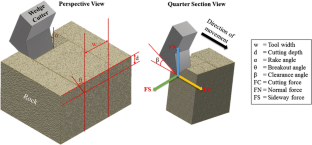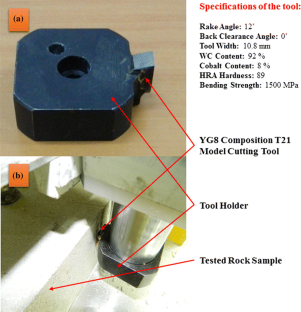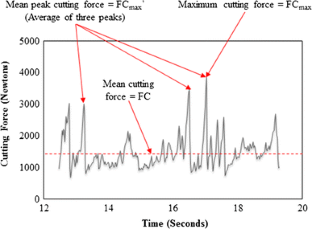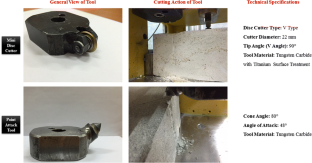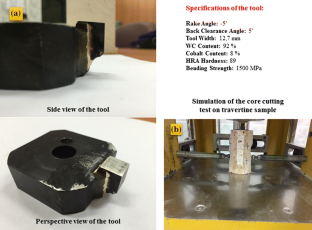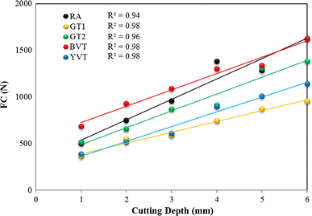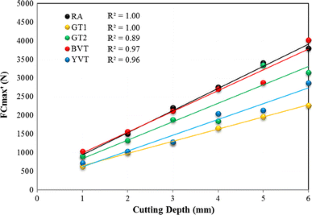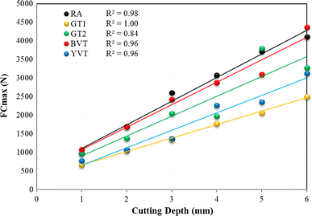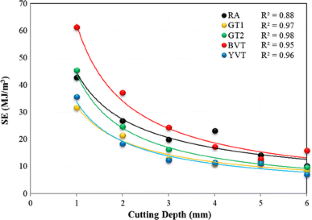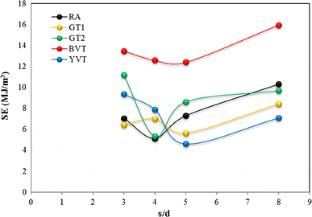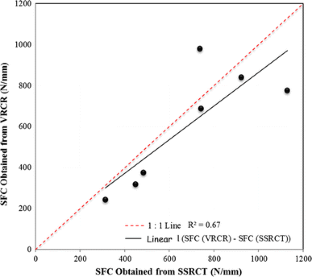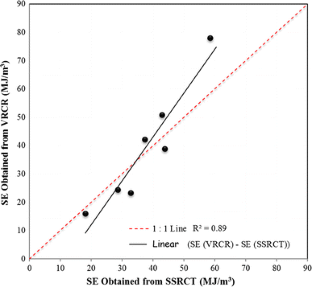 References
Abu Bakar MZ, Gertsch LS, Rostami J (2014) Evaluation of fragments from disc cutting of dry and saturated sandstone. Rock Mech Rock Eng 47(5):1891–1903

Balci C, Bilgin N (2007) Correlative study of linear small and full-scale rock cutting tests to select mechanized excavation machines. Int J Rock Mech Min Sci 44(3):468–476

Bamford WE (1986) Cuttability and drillability of rock. Civ Coll Tech Rep Eng Aust 1–4

Bamford WE (1987) Workshop on rock cuttability and drillability. In: Herget G, Vongpaisal S (eds) International congress on rock mechanics, Montreal, vol 3, pp 1508–1510

Barker JS (1964) A laboratory investigation of rock cutting using large picks. Int J Rock Mech Min Sci Geomech Abstr 1:519–534

Basarir H, Karpuz C (2004) A rippability classification system for marls in lignite mines. Eng Geol 74:303–318

Basarir H, Karpuz C, Tutluoglu L (2008) Specific energy based rippability classification system for coal measure rock. J Terra 45(1–2):51–62

Bieniawski ZT (1973) Engineering classifications of jointed rock masses. Trans S Afr Inst Civ Eng 15:335–345

Bilgin N, Shahriar K (1989) Results obtained from tunnel drifting in Golden Horn (In Turkish). In: 11th Scientific and technical mining congress of Turkey, Ankara, pp 305–319

Bilgin N, Dincer T, Copur H, Erdogan M (2004) Some geological and geotechnical factors affecting the performance of a roadheader in an inclined tunnel. Tunn Undergr Space Technol 19:629–636

Bilgin N, Demircin MA, Copur H, Balci C, Tuncdemir H, Akcin NA (2006) Dominant rock properties affecting the performance of conical picks and the comparison of some experimental and theoretical results. Int J Rock Mech Min Sci 43(1):139–156

Bilgin N, Balci C, Tumac D, Feridunoglu C, Copur H (2010) Development of a portable rock cutting rig for rock cuttability determination. In: Zhao J, Labiouse V, Dudt JP, Mathier JF (eds) European rock mechanics symposium EUROCK 2010, Lausanne, pp 405–408

Cho JW, Jeon S, Jeong HY, Chang SH (2013) Evaluation of cutting efficiency during TBM disc cutter excavation within a Korean granitic rock using linear-cutting-machine testing and photo- grammetric measurement. Tunn Undergr Space Technol 35:37–54

Copur H (2010) Linear stone cutting tests with chisel tools for identification of cutting principles and predicting performance of chain saw machines. Int J Rock Mech Min Sci 47(1):104–120

Copur H, Tuncdemir H, Bilgin N, Dincer T (2001) Specific energy as a criterion for the use of rapid excavation systems in Turkish mines. Trans Inst Min Met 110:149–157

Copur H, Balci C, Tumac D, Bilgin N (2011) Field and laboratory studies on natural stones leading to empirical performance prediction of chain saw machines. Int J Rock Mech Min Sci 48(2):269–282

Deliac EP (1985) Recent developments in the design and optimization of drum type cutting machines in France. In: Kelly MN (ed) Man CO. Rapid excavation and tunnelling congress, New York, pp 264–283

Deliac E, Gripp MF (1983) Etude quantitative de l'abattage mecanique par pics a partir d'essais en modele reduit. Ind Miner Les Tech 5(82):275–292

Detournay E, Drescher A, Hultman DA (1997) Portable rock strength evaluation device. United States Patent 5670711

Dubugnon O, Barendsen P (1985) Small scale model testing a new approach in TBM development. In: Man CO, Kelly MN (eds) Rapid excavation and tunnelling congress, New York, pp 245–263

Entacher M, Lorenz S, Galler R (2014) Tunnel boring machine performance prediction with scaled rock cutting tests. Int J Rock Mech Min Sci 70:450–459

Evans I (1958) Theoretical aspects of coal ploughing. In: Watton WH (ed) Mechanical properties of non-metallic brittle materials. Butterworths, London, pp 451–468

Evans I (1972) Line spacing of picks for effective cutting. Int J Rock Mech Min Sci 9:355–361

Evenden MP, Edwards JS (1985) Cutting theory and coal seam assessment techniques and their application to shearer design. Min Sci Tech 2:253–270

Fowell RJ (1993) The mechanics of rock cutting. In: Hudson JA (ed) Comprehensive rock engineering, vol 4. Pergamon Press, Oxford, pp 155–176

Fowell RJ, McFeat-Smith I (1976) Factors influencing the cutting performance of a selective tunnelling machine. In: Tunnelling '76. Institution of Mining and Metallurgy, London, pp 301–309

Fowell RJ, Johnson ST (1982) Rock classification and assessment for rapid excavation. In: Proceedings of the symposium on strata mechanics, Newcastle upon Tyne, pp 241–244

Fowell RJ, Pycroft AS (1980) Rock machinability studies for the assessment of selective tunneling machine performance. In: Proceedings of the 21st U.S. symposium on rock mechanics (USRMS), University of Missouri, Rolla, pp 149–162

Howarth DF, Adamson WR, Berndt JR (1986) Correlation of model tunnel boring and drilling machine performances with rock properties. Int J Rock Mech Min Sci Geomech Abstr 23(2):171–175

Hurt KG (1980) Rock cutting experiments with point attack tools. Coll Guard 47–50

ISRM (1981) Rock characterization testing and monitoring. In: Brown ET (ed) ISRM suggested methods. Pergamon, Oxford, p 211

Keles S (2005) Cutting performance assessment of a medium weight roadheader at Cayırhan coal mine. MSc thesis. Middle East Technical University, Ankara, p 58

Koncagul O (1997) Diggability assessment of bucket wheel excavators in Elbistan lignite mine. PhD thesis. Middle East Technical University, Ankara, p 147

McFeat-Smith I, Fowell RJ (1977) Correlation of rock properties and the cutting performance of tunnelling machines. In: Conference on rock engineering, Newcastle upon Tyne, pp 581–602

McFeat-Smith I, Fowell RJ (1979) The selection and application of roadheaders for rock tunneling. In: Rapid excavation and tunnelling conference, pp 261–279

Nishimatsu Y (1972) The mechanics of rock cutting. Int J Rock Mech Min Sci 9:261–270

Nishimatsu Y (1993) Theories of rock cutting. In: Hudson JA (ed) Comprehensive rock engineering, vol 1. Pergamon, Oxford, pp 647–662

Potts ELJ, Shuttleworth P (1958) A study of ploughability of coal with special reference to the effects of blade shape, direction of planning to the cleat, planning speed and influence of water infusion. Trans Inst Min Eng 117:519–553

Roepke WW, Wingquist GF, Olson RC, Hanson BD (1983) Bureau of Mines coal cutting technology facilities at the Twin Cities Research Center, 8951, p 24

Rostami J, Ozdemir L, Neil DM (1994) Performance prediction: a key issue in mechanical hard rock mining. Min Eng 46:1263–1267

Roxborough FF, Eskikaya S (1974) Dimensional considerations in the design of a scale model for coal face production system research. Int J Rock Mech Min Sci Geomech Abstr 11:129–137

Roxborough FF, Philips HR (1974) Experimental studies on the excavation of rocks using picks. In: Advances in rock mechanics. Proceedings of the third ISRM congress, Denver, pp 1407–1412

Stavropoulou M (2006) Modeling of small-diameter rotary drilling tests on marbles. Int J Rock Mech Min Sci 43:1034–1051

Tamrock (1999) Rock excavation handbook. In: Heinio M (ed) Sandvik tamrock Corp, p 305

Yasar S (2013) An investigation on cuttability characteristics of some rock and ore from Eastern Black Sea Region. MSc thesis. Karadeniz Technical University, Trabzon, p 105

Yasar S, Capik M, Yilmaz AO (2015) Cuttability assessment using the Drilling Rate Index (DRI). Bull Eng Geol Env 74(4):1349–1361

Zhang J, Jin LY, Xu JC, Liu XQ (2007) Microstructure and properties of brazing joint between YG8 cemented carbide and A3 steel. Sol State Phen 127:265–270
Acknowledgements
This study is a part of the PhD thesis of Serdar Yasar. This work was carried out under the support of Scientific Research Projects Unit of Karadeniz Technical University (project code FDK-2015-5382), and authors are very grateful for the support. Additionally, authors would like to thank to Prof. Dr. Nuh Bilgin, Prof. Dr. Hanifi Copur and Assoc. Prof. Dr. Deniz Tumac for their generous helps during rock cutting tests with small-scale rock cutting test in Istanbul Technical University.
About this article
Cite this article
Yasar, S., Yilmaz, A.O. A Novel Mobile Testing Equipment for Rock Cuttability Assessment: Vertical Rock Cutting Rig (VRCR). Rock Mech Rock Eng 50, 857–869 (2017). https://doi.org/10.1007/s00603-016-1149-z
Received:

Accepted:

Published:

Issue Date:
Keywords
Rock cutting mechanics

Mechanical excavation

Rock cutting tests

Core cutting test

Vertical rock cutting rig (VRCR)

Specific energy

Cutting force