This is a preview of subscription content,
to check access.
Access this article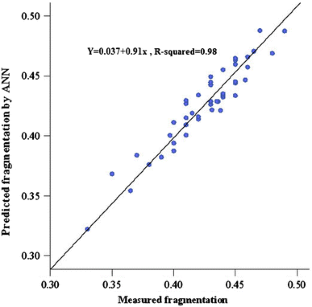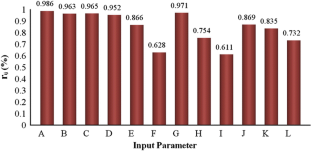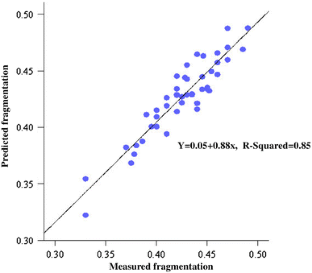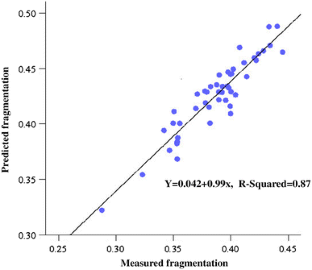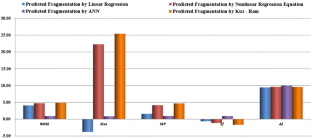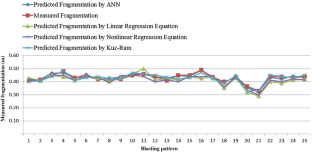 References
Achen CH (1982) Interpreting and using regression. Sage Publications, Beverly Hills

Cai JG, Zhao J (1997) Use of neural networks in rock tunneling. In: Proceedings of the 9th international conference on computer methods and advances in geomechanics, Wuhan, China, November 1997, pp 613–618

Chenard J-F, Caissie D (2008) Stream temperature modelling using artificial neural networks: application on Catamaran Brook, New Brunswick, Canada. Hydrol Process 22(17):3361–3372

Cohen J, Cohen P, West SG, Aiken LS (2003) Applied multiple regression/correlation analysis for the behavioral sciences. Lawrence Erlbaum Associates, Mahwah

Cunningham CVB (1983) The Kuz–Ram model for prediction of fragmentation from blasting. In: Proceedings of the 1st international symposium on rock fragmentation by blasting, Lulea, Sweden, August 1983, pp 439–453

Djordjevic N (1999) A two-component model of blast fragmentation. In: Proceedings of the 6th international symposium for rock fragmentation by blasting, Johannesburg, South Africa, August 1999, pp 213–219

Hair JF, Anderson RE, Tatham RL, Black WC (1998) Multivariate data analysis. Prentice Hall International, Madrid, Englewood

Hunter GC, McDermott C, Miles NJ, Singh A, Scoble MJ (1990) A review of image analysis techniques for measuring blast fragmentation. Min Sci Tech 11:19–36

Jong YH, Lee CI (2004) Influence of geological conditions on the powder factor for tunnel blasting. Int J Rock Mech Min Sci 41:533–538

Khandelwal M, Singh TN (2002) Prediction of waste dump stability by an intelligent approach. In: Proceedings of the national symposium on new equipment—new technology, management and safety, Bhubaneshwar, India, pp 38–45

Kulatilake PHSW, Qiong Wu, Hudaverdi T, Kuzu C (2010) Mean particle size prediction in rock blast fragmentation using neural networks. Eng Geol 114:298–311

Kuznetsov VM (1973) The mean diameter of the fragments formed by blasting rock. J Min Sci 9:144–148

Latham J-P, Lu P (1999) Development of an assessment system for the blastability of rock masses. Int J Rock Mech Min Sci 36:41–55

Lilly PA (1986) An empirical method of assessing rock mass blastability. In: Proceedings of the large open pit mining conference, Melbourne, Australia, June 1986, pp 89–92

MacKenzie AS (1966) Cost of explosives—do you evaluate it properly? Min Congr J 52:32–41

Michaud P, Lizotte Y, Scoble M (1997) Rock fragmentation and mining productivity: characterization and case studies. In: Proceedings of the 23rd annual conference on explosives and blasting technique, Las Vegas, NV, February 1997, pp 61–72

Morin MA, Ficarazzo F (2006) Monte Carlo simulation as a tool to predict blasting fragmentation based on the Kuz–Ram model. Comput Geosci 32:352–359

Neaupane KM, Adhikari NR (2006) Prediction of tunneling-induced ground movement with the multi-layer perceptron. Tunn Undergr Sp Tech 21:151–159

Ouchterlony F (2005) The Swebrec function: linking fragmentation by blasting and crushing. Min Technol 114:29–44

Palani S, Liong S-Y, Tkalich P (2008) An ANN application for water quality forecasting. Mar Pollut Bull 56:1586–1597

Pearson DW, Steele NC, Albrecht RF (eds) (1995) Artificial neural nets and genetic algorithms. Springer-Verlag Wien, New York

Pedhazur EJ (1997) Multiple regression in behavioral research. Harcourt Brace, Orlando

Picconi MJ, Romano A, Olson CL (1993) Business statistics: elements and applications. Harper Collins, New York

Platikanov S, Puig X, Martín J, Tauler R (2007) Chemometric modeling and prediction of trihalomethane formation in Barcelona's water works plant. Water Res 41:3394–3406

Rosin P, Rammler E (1933) The laws governing the fineness of powdered coal. J Inst Fuel 7:29–36

Ross TJ (1995) Fuzzy logic with engineering applications. McGraw-Hill, New York

Simpson PK (1990) Artificial neural systems: foundations, paradigms, applications, and implementations. Pergamon Press, New York

Singh VK, Singh D, Singh TN (2001) Prediction of strength properties of some schistose rocks from petrographic properties using artificial neural networks. Int J Rock Mech Min Sci 38:269–284

Yang Y, Zhang Q (1997) A hierarchical analysis for rock engineering using artificial neural networks. Rock Mech Rock Eng 30:207–222
Acknowledgments
The authors sincerely thank the anonymous reviewers for their helpful comments and highly valuable suggestions that greatly helped to improve the first version of the paper. All of their suggestions were incorporated directly in the revised paper. The authors would like to thank Reza Ebrahimipour (Blasting Engineer), Hamid Mohammadi (Rock Mechanics Engineer), and Kousha Maadan Co. from Gol-e-Gohar mine who kindly provided valuable suggestions during this research. The authors would also like to thank Mohammadreza Moradidoost, who kindly provided valuable grammatical suggestions during this research.
About this article
Cite this article
Enayatollahi, I., Aghajani Bazzazi, A. & Asadi, A. Comparison Between Neural Networks and Multiple Regression Analysis to Predict Rock Fragmentation in Open-Pit Mines. Rock Mech Rock Eng 47, 799–807 (2014). https://doi.org/10.1007/s00603-013-0415-6
Received:

Accepted:

Published:

Issue Date:

DOI: https://doi.org/10.1007/s00603-013-0415-6
Keywords