Abstract
Pulmonary hypertension (PHT) is an overlooked cardiovascular morbidity in patients with end stage renal disease. The pathogenesis of PHT in this group of patients is not explained satisfactorily. The aim of our study to evaluate the prevalence and the role of AV shunt in pathogenesis of pulmonary hypertention. Our study included 58 patients with ESRD without a known cause of PHT who were either in the predialysis period (stage 1V CKD) (14 patients) or maintained on chronic hemodialysis (stage V CKD) (44 patients) in Theodor Bilharz Research Institute (TBRI), Cairo, Egypt. In the chronic hemodialysis group, there were 27 males and 17 females with a mean age of 57.11 ± 12.31 years (range 28–65). In the predialysis group, there were 8 males and 6 females with a mean age 53.45 ± 9.41 years (range 28–66). Pulmonary arterial pressure (PAP) and cardiac output were evaluated by Doppler echocardiography in the 14 pre-dialysis patients without PHT few (4.3 ± 0.8) months after creation of AV fistula and in the 44 hemodialysis patients (33.6 ± 4.2 months) after creation of AV fistula within 1 h of completion of hemodialysis session. Arteriovenous fistula (AVF) flow was measured by Doppler sonography. PHT (systolic PAP ≥35 mm Hg) was observed in 25 (56.8%) patients receiving hemodialysis with a mean systolic PAP of 46.4 ± 13.6 mm Hg. In the predialysis group after creation of AV fistula, PHT was found in 6 (42.9%) patients with a mean systolic PAP of 42.8 ± 12.8 mm Hg. The cardiac output and AV shunt flow were found to be increased in patients with elevated systolic PAP in both groups (p < 0.05). CRF duration and AV fistula duration were positively correlated with systolic PAP in patients receiving hemodialysis (p < 0.05). After compression of AV fistula in 11 hemodialysis patients, the mean value of PHT decreased (from 43.98 ± 15.6 to 33.22 ± 11.7 mm Hg). This study demonstrates a high prevalence of PHT among patients with ESRD in predialysis period after creation of AV fistula and on chronic HD via a surgical A-V fistula. Cardiac output, AV shunt flow and duration, and ESRD duration may be involved in the pathogenesis of PHT. The development of PHT following access formation represents a failure of the pulmonary circulation to accommodate the access-mediated elevated CO. Pre-dialysis patients scheduled for access formation should be screened for the presence of sub-clinical PHT.
Access options
Buy single article
Instant access to the full article PDF.
USD 39.95
Price excludes VAT (USA)
Tax calculation will be finalised during checkout.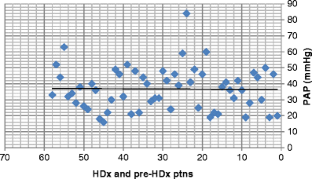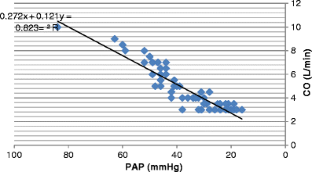 References
Havlucua Y, Kursatb S, Ekmekcic C, Celikd P, Sertere S, Bayturanc O, et al. Pulmonary hypertension in patients with chronic renal failure. Respiration. 2007;74:503–10.

Domenici A, Luciani R, Principe F. Pulmonary hypertension in dialysis patients. Perit Dial Int. 2010;30(2):251–2.

Yigla M, Banderski R, Azzam ZS, Reisner SA, Nakhoul F. Arterio-venous access in end-stage renal disease patients and pulmonary hypertension. Ther Adv Respir Dis. 2008;2(2):49–53.

Faraz HA, Shah MK, Qureshi TA, Mubarak KK. Pulmonary hypertension in end-stage renal disease: clinical and hemodynamic improvement with endothelin receptor antagoist bosentan. Chest Meeting Abstracts. 2006;130(4):304S–5S.

Okura H, Takatsu Y. High output failure as a cause of pulmonary hypertension. Intern Med. 1994;33:363–5.

Yigla M, Nakhoul F, Sabag A, Tov N, Gorevich B, Abassi Z, et al. Pulmonary hypertension in patients with end-stage renal disease. Chest. 2003;123:1577–82.

Nakhoul F, Yigla M, Gilman R, Reisner SA, Abassi Z. The pathogenesis of pulmonary hypertension in haemodialysis patients via arterio-venous access. Nephrol Dial Transplant. 2008;20(8):1686–92.

Chuang C, Chen CH, Wu MJ, Cheng CH, Shu KH. Arterio-venous access in end-stage renal disease patients and pulmonary hypertension. Ther Adv Respir Dis. 2008;2(2):49–53.

Berger M, Haimowitz A, Van Tosh A, Berdoff RL, Goldberg E. Quantitative assessment of pulmonary hypertension in patients with tricuspid regurgitation using continuous wave Doppler ultrasound. J Am Coll Cardiol. 1985;6:359–65.

Ihlen H, Endresen K, Golf S, Nitter-Hauge S. Cardiac stroke volume during exercise measured by Doppler echocardiography: comparison with the thermodilution technique and evaluation of reproducibility. Br Heart J. 1987;58:455–9.

Otterstad JE, Froeland G, St John Sutton M, Holme L. Accuracy and reproducibility of biplane two-dimensional echocardiographic measurements of left ventricular dimensions and function. Eur Heart J. 1997;18:507–13.

Jeffery TK, Morelli NW. Molecular and cellular basis of pulmonary vascular remodeling in pulmonary hypertension. Prog Cardiovasc Dis. 2002;45:173–202.

Perez-Penate G, Cabrera Navarro P, Ponce Gonzalez M, Gorriz Gomez E, Pulido Duque J, Garcia Quintana A, et al. Long-term inhaled nitric oxide plus dipyridamole for pulmonary arterial hypertension. Respiration. 2005;72:419–22.

Vaziri ND. Effect of chronic renal failure on nitric oxide metabolism. Am J Kidney Dis. 2001;38:S74–9.

Brooks DP. Role of endothelin in renal function and dysfunction. Clin Exp Pharmacol Physiol. 1996;23:345–9.

Yigla M, Azzam Z, Rubin AHE, et al. Background disease in 714 patients with moderate to severe pulmonary hypertension. Isr Med Assoc J. 2000;2:501–6.

Anderson CB, Codd CR, Graff RA, Groce MA, Harter HR, Newton WT. Cardiac failure and upper extremity arteriovenous dialysis fistula: case reports and a review of literature. Arch Intern Med. 1976;136:292–7.

Bendayan D, Bazı Y, Kramer MR. Pulmonary calcifications: a review. Respir Med. 2000;94:190–3.

Chan ED, Morales DV, Welsh CH, McDermott MT, Schwarz MI. Calcium deposition with or without bone formation in the lung. Am J Respir Crit Care Med. 2002;165:1654–69.

Block GA, Hulbert-Sharon TE, Levin NW, Port FK. Association of serum phosphorus and calcium × phosphate product with mortality risk in chronic hemodialysis patients: a national study. Am J Kidney Dis. 1998;31:607–17.

Amin M, Fawzy A, Hamid MA, Elhendy A. Pulmonary hypertension in patients with chronic renal failure: role of parathyroid hormone and pulmonary artery calcifications. Chest. 2003;124:2093–7.
About this article
Cite this article
Abdallah, E.A., Waked, E., Metwaly, A. et al. The Role of Arterio-Venous Shunt in the Pathogenesis of Pulmonary Hypertention in Patients with End-stage Renal Disease. Kidney 19, 239–243 (2010). https://doi.org/10.1007/s00596-010-0166-2
Published:

Issue Date:

DOI: https://doi.org/10.1007/s00596-010-0166-2
Keywords
Pulmonary hypertention (PHT)

end-stage renal disease (ESRD)

AV fistula

hemodialysis