Abstract
Purpose
Intraoperative bleeding from the pelvic venous structures is one of the most serious complications of total pelvic exenteration with distal sacrectomy. The purpose of this study was to investigate the topographic anatomy of these veins and the potential source of the bleeding in cadaver dissections.
Methods
We dissected seven cadavers, focusing on the veins in the surgical resection line for total pelvic exenteration with distal sacrectomy.
Results
The presacral venous plexus and the dorsal vein complex are thin-walled, plexiform, and situated on the line of resection. The internal iliac vein receives blood from the pelvic viscera and the perineal and the gluteal regions and then crosses the line of resection as a high-flow venous system. It has abundant communications with the presacral venous plexus and the dorsal vein complex.
Conclusion
The anatomical features of the presacral venous plexus, the dorsal vein complex, and the internal iliac vein make them highly potential sources of bleeding. Surgical management strategies must consider the anatomy and hemodynamics of these veins carefully to perform this procedure safely.
This is a preview of subscription content, log in to check access.
Access options
Buy single article
Instant access to the full article PDF.
US$ 39.95
Price includes VAT for USA
Subscribe to journal
Immediate online access to all issues from 2019. Subscription will auto renew annually.
US$ 99
This is the net price. Taxes to be calculated in checkout.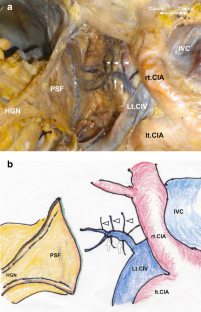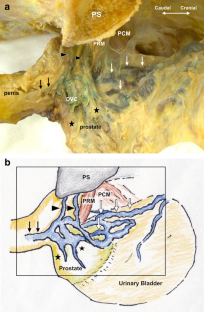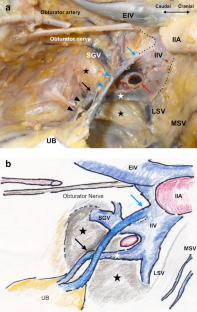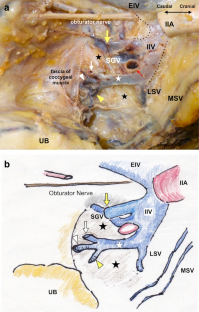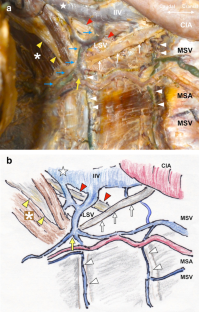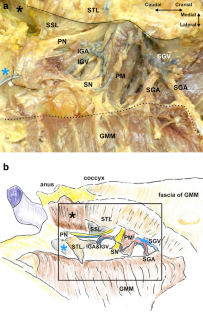 References
1.

Palmer G, Martling A, Cedermark B, Holm T. A population-based study on the management and outcome in patients with locally recurrent rectal cancer. Ann Surg Oncol. 2007;14:447–54.

2.

Milne T, Solomon MJ, Lee P, Young JM, Stalley P, Harrison JD, et al. Sacral resection with pelvic exenteration for advanced primary and recurrent pelvic cancer: a single-institution experience of 100 sacrectomies. Dis Colon Rectum. 2014;57:1153–61.

3.

Georgiou PA, Bhangu A, Brown G, Rasheed S, Nicholls RJ, Tekkis PP. Learning curve for the management of recurrent and locally advanced primary rectal cancer: a single team's experience. Colorectal Dis. 2015;17:57–655.

4.

Milne T, Solomon MJ, Lee P, Young JM, Stalley P, Harrison JD. Assessing the impact of a sacral resection on morbidity and survival after extended radical surgery for locally recurrent rectal cancer. Ann Surg. 2013;258:1007–133.

5.

Moriya Y, Akasu T, Fujita S, Yamamoto S. Total pelvic exenteration with distal sacrectomy for fixed recurrent rectal cancer in the pelvis. Dis Colon Rectum. 2004;47:2047–53.

6.

Pelv Ex Collaborative. Factors affecting outcomes following pelvic exenteration for locally recurrent rectal cancer. Br J Surg. 2018;105:650–7.

7.

Baqué P, Karimdjee B, Iannelli A, Benizri E, Rahili A, Benchimol D, et al. Anatomy of the presacral venous plexus: implications for rectal surgery. Surg Radiol Anat. 2004;26:355–8.

8.

Wanebo HJ, Koness RJ, Vezeridis MP, Cohen SI, Wrobleski DE. Pelvic resection of recurrent rectal cancer. Ann Surg. 1994;220:586–95.

9.

Wang QY, Shi WJ, Zhao YR, Zhou WQ, He ZR. New concepts in severe presacral hemorrhage during proctectomy. Arch Surg. 1985;120:1013–20.

10.

Celentano V, Ausobsky JR, Vowden P. Surgical management of presacral bleeding. Ann R Coll Surg Engl. 2014;96:261–5.

11.

Flynn MK, Romero AA, Amundsen CL, Weidner AC. Vascular anatomy of the presacral space: a fresh tissue cadaver dissection. Am J Obstet Gynecol. 2005;192:1501–5.

12.

LePage PA, Villavicencio JL, Gomez ER, Sheridan MN, Rich NM. The valvular anatomy of the iliac venous system and its clinical implications. J Vasc Surg. 1991;14:678–83.

13.

Lotz PR, Seeger JF. Normal variations in iliac venous anatomy. AJR Am J Roentgenol. 1982;138:735–8.

14.

Kachlik D, Pechacek V, Musil V, Baca V. The venous system of the pelvis: new nomenclature. Phlebology. 2010;25:162–73.

15.

Caggiati A, Bergan J, Gloviczki P, Eklof B, Allegra C, Partsch A. Nomenclature of the veins of the lower limb: extensions, refinements, and clinical application. J Vasc Surg. 2005;41:719–24.

16.

Beneventi FA, Noback GJ. Distribution of the blood vessels of the prostate gland and urinary bladder; application retropubic prostatectomy. J Urol. 1949;62:663–71.

17.

Reiner WG, Walsh PC. An anatomical approach to the surgical management of the dorsal vein and Santorini's plexus during radical retropubic surgery. J Urol. 1979;121:198–200.

18.

Solomon MJ, Austin KK, Masuya L, Lee P. Pubic bone excision and perineal urethrectomy for radical anterior compartment excision during pelvic exenteration. Dis Colon Rectum. 2015;58:1114–9.

19.

Miller JI, Larson TR. Simplified technique for improving exposure of the apical prostate during radical retropubic prostatectomy. Urology. 1993;44:117–8.

20.

Chong GO, Lee YH, Hong DG, Cho YL, Lee YS. Anatomical variations of the internal iliac veins in the presacral area: clinical implications during sacral colpopepxy or extended pelvic lymphadenectomy. Clin Anat. 2014;28:661–4.

21.

Morita S, Saito N, Mitsuhashi N. Variations in internal iliac veins detected using multidetector computed tomography. Acta Radiol. 2007;48:1082–5.

22.

Kanjanasilp P, Ng JL, Kajohnwongsatit K, Thiptanakit C, Limvorapitak T, Sahakitrungruang C. Anatomical variations of iliac vein tributaries and their clinical implications during complex pelvic surgeries. Dis Colon Rectum. 2019;62:809–14.
Ethics declarations
Conflict of interest
We have no conflicts of interest to declare.
Additional information
Publisher's Note
Springer Nature remains neutral with regard to jurisdictional claims in published maps and institutional affiliations.
Electronic supplementary material
Below is the link to the electronic supplementary material.
Supplementary file1 (MPEG 22986 kb)
Supplementary file2 (MPEG 24760 kb)
About this article
Cite this article
Ishii, M., Shimizu, A., Lefor, A.K. et al. Surgical anatomy of the pelvis for total pelvic exenteration with distal sacrectomy: a cadaveric study. Surg Today (2020). https://doi.org/10.1007/s00595-020-02144-x
Received:

Accepted:

Published:
Keywords
Pelvic exenteration

Sacrum

Iliac vein

Hemodynamics

Cadaver