Abstract
Purpose
The anatomical site of resected lobes may influence postoperative cerebral infarction. The objective of the current study was to determine if left upper pulmonary lobectomy is a risk factor for postoperative cerebral infarction.
Methods
This was a retrospective case–control study in patients undergoing pulmonary lobectomy from 2004 to 2013 in Japan. We retrospectively identified 610 patients from 153 institutions who had developed postoperative cerebral infarction following pulmonary lobectomy. The control group consisted of 773 patients who underwent lobectomy without cerebral infarction during a randomly selected single month in 2009 at the same institutions.
Results
Factors associated with cerebral infarction were age [10-year intervals, odds ratio (OR): 1.46; 95% confidence interval (CI): 1.23–1.73; p < 0.001], male sex (OR 1.92; 95% CI 1.29–2.86; p = 0.001), presence of comorbidities (OR 1.82; 95% CI 1.35–2.44; p < 0.001), perioperative anti-platelet or anti-coagulant drug use (OR 1.71; 95% CI 1.20–2.45; p = 0.003), and lobectomy. Subgroup analyses revealed that cerebral infarction was strongly associated with left upper lobectomy.
Conclusions
Our findings suggest that left upper lobectomy is associated with a higher risk of cerebral infarction than other types of lobectomy, particularly in the early postoperative period.
Access options
Buy single article
Instant access to the full article PDF.
USD 39.95
Price excludes VAT (USA)
Tax calculation will be finalised during checkout.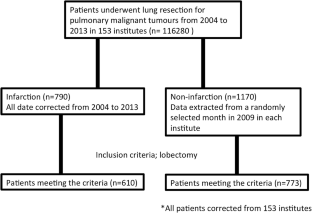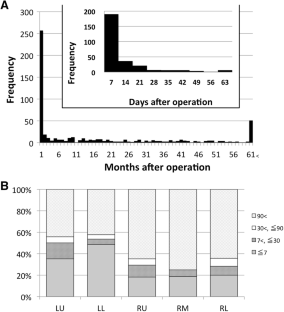 References
Matsumoto K, Sato S, Okumura M, Niwa H, Hida Y, Kaga K, et al. Frequency of cerebral infarction after pulmonary resection: a multicenter, retrospective study in Japan. Surg Today. 2018;48:571–2.

Nojiri T, Inoue M, Takeuchi Y, Maeda H, Shintani Y, Sawabata N. Impact of cardiopulmonary complications of lung cancer surgery on long-term outcomes. Surg Today. 2015;45:740–5.

Kam PC, Calcroft RM. Peri-operative stroke in general surgical patients. Anaesthesia. 1997;52:879–83.

Ohtaka K, Hida Y, Kaga K, Iimura Y, Shiina N, Muto J. Pulmonary vein thrombosis after video-assisted thoracoscopic left upper lobectomy. J Thorac Cardiovasc Surg. 2012;143:e3–5.

Ohtaka K, Hida Y, Kaga K, Kato T, Muto J, Nakada-Kubota R, et al. Thrombosis in the pulmonary vein stump after left upper lobectomy as a possible cause of cerebral infarction. Ann Thorac Surg. 2013;95:1924–8.

Masuda M, Okumura M, Doki Y, Endo S, Hirata Y, et al. Annual report by the Japanese Association for Thoracic Surgery. Gen Thorac Cardiovasc Surg. 2014;2016(64):665–97.

Yamamoto T, Suzuki H, Nagato K, Nakajima T, Iwata T, Yoshida S, et al. Is left upper lobectomy for lung cancer a risk factor for cerebral infarction? Surg Today. 2016;46:780–4.

Ikeda H, Yamana N, Murata Y, Saiki M. Thrombus removal by acute-phase endovascular reperfusion therapy to treat cerebral embolism caused by thrombus in the pulmonary vein stump after left upper pulmonary lobectomy: case report. NMC Case Rep J. 2015;2:26–30.

Sawabata N, Miyaoka E, Asamura H, Nakanishi Y, Eguchi K, Mori M, et al. Japanese lung cancer registry study of 11,663 surgical cases in 2004: demographic and prognosis changes over decade. J Thorac Oncol. 2011;6:1229–355.

Ellekjaer EF, Wyller TB, Sverre JM, Holmen J. Lifestyle factors and risk of cerebral infarction. Stroke. 1992;23:829–34.

Holmes HM. Quality of life and ethical concerns in the elderly thoracic surgery patient. Thorac Surg Clin. 2009;19:401–7.

Okada M, Sakamoto T, Yuki T, Mimura T, Miyoshi K, Tsubota N. Hybrid surgical approach of video-assisted minithoracotomy for lung cancer: significance of direct visualization on quality of surgery. Chest. 2005;128:2696–701.

Gual-Capllonch F, Teis A, Palomeras E. Pulmonary vein spontaneous echocontrast and stroke after pulmonary lobectomy. J Clin Ultrasound. 2013;41:321–2.

Ohtaka K, Takahashi Y, Uemura S, Shoji Y, Hayama S, Ichimura T, et al. Blood stasis may cause thrombosis in the left superior pulmonary vein stump after left upper lobectomy. J Cardiothorac Surg. 2014;9:159.

Go AS, Hylek EM, Chang Y, Phillips KA, Henault LE, Capra AM, et al. Anticoagulation therapy for stroke prevention in atrial fibrillation: how well do randomized trials translate into clinical practice. JAMA. 2003;290:2685–92.

Kleemann T, Becker T, Strauss M, Schneider S, Seidl K. Prevalence of left atrial thrombus and dense spontaneous echo contrast in patients with short-term atrial fibrillation < 48 h undergoing cardioversion: value of transesophageal echocardiography to guide cardioversion. J Am Soc Echocardiogr. 2009;22:1403–8.

Stoddard MF, Dawkins PR, Prince CR, Ammash NM. Left atrial appendage thrombus is not uncommon in patients with acute atrial fibrillation and a recent embolic event: a transesophageal echocardiographic study. J Am Coll Cardiol. 1995;25:452–9.

Ichimura H, Ozawa Y, Nishina H, Shiotani S. Thrombus formation in the pulmonary vein stump after left upper lobectomy: a report of four cases. Ann Thorac Cardiovasc Surg. 2014;20(Suppl):613–6.

Manabe S, Oshima Y, Nakano M, Fujii T, Maehara T, Nitta K, et al. Renal infarction in a patient with pulmonary vein thrombosis after left upper lobectomy. Case Rep Nephrol Urol. 2014;4:103–8.
Acknowledgments
The authors are grateful to the members of the JACS office for their support with data management and to the members of each JACS institute included in this study for their assistance with data collection.
Ethics declarations
Conflicts of interest
None declared.
Additional information
Publisher's Note
Springer Nature remains neutral with regard to jurisdictional claims in published maps and institutional affiliations.
Electronic supplementary material
Below is the link to the electronic supplementary material.
About this article
Cite this article
Matsumoto, K., Sato, S., Okumura, M. et al. Left upper lobectomy is a risk factor for cerebral infarction after pulmonary resection: a multicentre, retrospective, case–control study in Japan. Surg Today 50, 1383–1392 (2020). https://doi.org/10.1007/s00595-020-02032-4
Received:

Accepted:

Published:

Issue Date:

DOI: https://doi.org/10.1007/s00595-020-02032-4
Keywords