Abstract
A vascular ring is a rare congenital cardiovascular anomaly, which encircles and compresses the trachea or esophagus, or both. In this review we discuss the pathophysiology, theoretical embryopathogenesis, diagnostic modalities, and surgical treatment of the different types of vascular ring. Knowledge of the normal embryonic development of the aortic arch and related structures is important for understanding and classifying the various forms of vascular ring. The development of a vascular ring begins with the embryonic aortic arch system. The persistence, involution, or regression of the arches determines the multiple variations of vascular ring. With the development of new technologies, multi-detector computed tomography (MDCT) has become a good diagnostic modality for pre- and postoperative evaluation. MDCT provides an excellent image of aortic arch abnormalities and the related anatomy, as well as the tracheal pathology. For patients with symptoms, surgical division of the vascular ring usually achieves excellent outcomes with marked resolution of symptoms and a low risk of morbidity and mortality. Symptomatic vascular rings require early surgical intervention to prevent prolonged vascular compression of the airway and serious complications.
This is a preview of subscription content, log in to check access.
Access options
Buy single article
Instant access to the full article PDF.
US$ 39.95
Tax calculation will be finalised during checkout.
Subscribe to journal
Immediate online access to all issues from 2019. Subscription will auto renew annually.
US$ 79
Tax calculation will be finalised during checkout.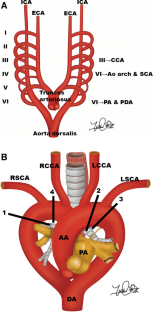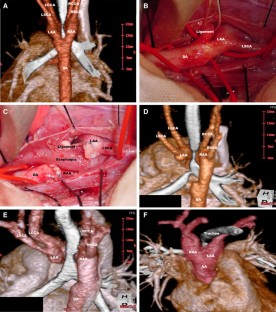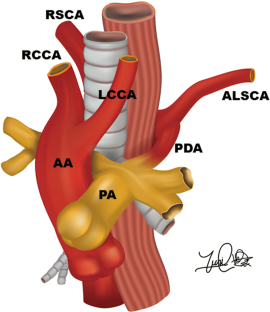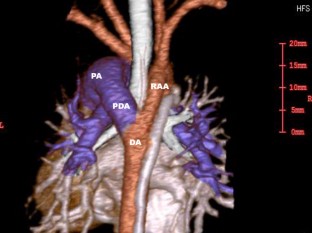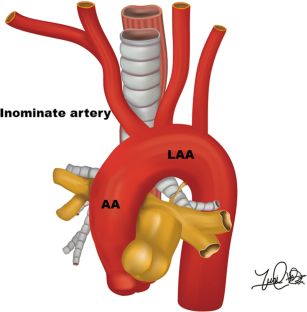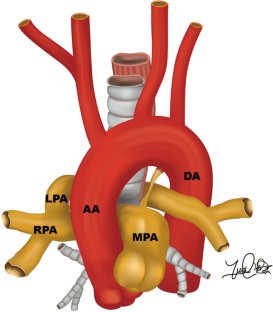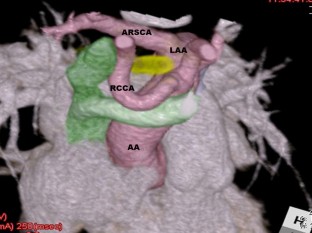 References
1.

Vascular ring and sling. In: Kirklin, Barratt-Boyes, (eds) Cardiac surgery. 4th edn. Philadelphia: Elsevier Saunders 2013; 1832–1854.

2.

Backer CL, Mongé MC, Popescu AR, Eltayeb OM, Rastatter JC, Rigsby CK. Vascular rings. Semin Pediatr Surg. 2016;25:165–75.

3.

Licari A, Manca E, Rispoli GA, Mannarino S, Pelizzo G, Marseglia GL. Congenital vascular rings: a clinical challenge for the pediatrician. Pediatr Pulmonol. 2015;50:511–24.

4.

Alsenaidi K, Gurofsky R, Karamlou T, Williams WG, McCrindle BW. Management and outcomes of double aortic arch in 81 patients. Pediatrics. 2006;118:e1336–e13411341.

5.

Tola H, Ozturk E, Yildiz O, Erek E, Haydin S, Turkvatan A, et al. Assessment of children with a vascular ring. Pediatr Intern. 2017;59:134–40.

6.

Kussman BD, Geva T, McGowan FX Jr. Cardiovascular causes of airway compression. Pediatr Anesth. 2004;14:60–74.

7.

Backer CL, Mavroudis C. Congenital heart surgery nomemclature and database project: vascular rings, tracheal stenosis, pectus excavatum. Ann Thorac Surg. 2000;69:S308–S318318.

8.

Edwards JE. Anomalies of the derivatives of the aortic arch system. Med Clin North Am. 1948;32:925–49.

9.

Backer CL, Mavroudis C, Rigsby CK, Holinger LD. Trends in vascular ring surgery. J Thorac Cardiovasc Surg. 2005;129:1339–477.

10.

Pu WT, Chung T, Hoffer FA, Jonas RA, Geva T. Diagnosis and management of agenesis of the right lung and left pulmonary artery sling. Am J Cardiol. 1996;78:723–7.

11.

Oshima Y, Yamaguchi M, Yoshimura N, Sato S, Muraji T, Nishijima E, et al. Management of pulmonary artery sling associated with tracheal stenosis. Ann Thorac Surg. 2008;86:1334–8.

12.

Tsugawa C, Nishijima E, Muraji T, Sato S, Takamizawa S, Yamaguchi M, et al. Tracheoplasty for long segment congenital tracheal stenosis: analysis of 29 patients over two decades. J Peaiatr Surg. 2003;38:1703–6.

13.

Woods RK, Sharp RJ, Holcomb GW, Snyder CL, Lofland GK, Ashcraft KW, et al. Vascular anomalies and tracheoesophageal compression: a single institution's 25-year experience. Ann Thorac Surg. 2001;72:434–9.

14.

Cerillo AG, Amoretti F, Moschetti R, Murzi B, Chiappino D. Sixteen-row multislice computed tomography in infants with double aortic arch. Int J Cardiol. 2005;99:191–4.

15.

An HS, Choi EY, Kwon BS, Kim GB, Bae EJ, Noh CI, et al. Airway compression in children with congenital heart disease evaluated using computed tomography. Ann Thorac Surg. 2013;96:2192–7.

16.

Rogalla N, Wauer R, Rogalla P. Dynamic assessment of tracheal stenosis due to double aortic arch using low-dose, 16-slice computed tomography. Circulation. 2004;109:e308–e309309.

17.

Funabashi N, Ishida A, Yoshida K, Komuro I. Double aortic arch with a compressed trachea demonstrated by multislice computedtomography. Circulation. 2004;110:e68–e6969.

18.

Cantinotti M, Hegde S, Bell A, Razavi R. Diagnostic role of magnetic resonance imaging in identifying aortic arch anomalies. Congenit Heart Dis. 2008;3:117–23.

19.

Weinberg PM. Aortic arch anomalies. J Cardiovasc Magnet Reson. 2006;8:633–43.

20.

Iwaki R, Higuma T, Ichida F, Yoshimura N. Follow-up of persistent tracheal stenosis after surgery for a double aortic arch. World J Pediatr Congenit Heart Surg. 2015;6:458–61.

21.

Berge M, van der Laag J, van der Ent CK, Beek FJA. Clinical, radiological and functional follow-up after surgical decompression of double aortic arch. Pediatr Radoiol. 2002;32:561–6.

22.

Wang Y, Fan M, Siddiqui FA, Wang M, Sun W, Sun X, et al. Strategies for accurate diagnosis of fetal aortic arch anomalies: benefits of three-dimensional sonography with spatiotemporal image correction and a novel algorithm for volume analysis. J Am Soc Echocardiogr. 2018;31:1238–51.

23.

François K, Panzer J, Groote KD, Vandekerckhove K, De Wolf D, De Wilde H, et al. Early and late outcomes after surgical management of congenital vascular rings. Eur J Pediatr. 2017;176:371–7.

24.

Backer CL, Mongé MC, Russell HM, Popescu AR, Rastatter JC, Costello JM. Reoperation after vascular ring repair. Semin Thorac Cardiovasc Surg Pediatr Card Surg Ann. 2014;17:48–55.

25.

Naimo PS, Fricke TA, Donald JS, Sawan E, d'Udekem Y, Brizard CP, et al. Long-term outcomes of complete vascular ring division in children: a 36-year experience from a single institution. Interact Cardiovasc Thorac Surg. 2017;24:234–9.

26.

Riggle KM, Rice-Townsend SE, Waldhausen JHT. Thoracoscopic division of vascular rings. J Pediatr Surg. 2017;52:1113–6.

27.

Herrin MA, Zurakowski D, Fynn-Thompson F, Baird CW, del Nido PJ, Emani SM. Outcomes following thoracotomy or thoracoscopic vascular ring division in children and young adults. J Thorac Cardiovasc Surg. 2017;154:607–15.

28.

Shinkawa T, Greenberg SB, Jaquiss RDB, Imamura M. Primary translocation of aberrant left subclavian artery for children with symptomatic vascular ring. Ann Thorac Surg. 2012;93:1262–5.

29.

Yamaguchi M, Ohashi H, Hosokawa Y, Oshima Y, Tsugawa C, Kimura K. Surgical treatment of airway obstruction associated with congenital heart disease in infants and small children. Eur J Cardiothorac Surg. 1991;5:479–85.
Ethics declarations
Conflict of interest
We have no conflicts of interest to declare in association with the present study.
Additional information
This review was submitted at the invitation of the editorial committee.
Publisher's Note
Springer Nature remains neutral with regard to jurisdictional claims in published maps and institutional affiliations.
About this article
Cite this article
Yoshimura, N., Fukahara, K., Yamashita, A. et al. Congenital vascular ring. Surg Today 50, 1151–1158 (2020). https://doi.org/10.1007/s00595-019-01907-5
Received:

Accepted:

Published:

Issue Date:
Keywords
Vascular ring

Double aortic arch

Tracheoesophageal compression

Multidetector computed tomography

Thoracoscopic surgery