Abstract
Defunctioning of colorectal anastomosis either with loop transverse colostomy or ileostomy was evaluated using updated and cumulative meta-analyses. Studies were identified by a systematic search of Embase, PubMed, Cochrane Library, and Google Scholar databases and were selected as per the PRISMA checklist. Both randomised control trials (RCTs) and retrospective studies were included. A sensitivity analysis was performed, and a cumulative meta-analysis was performed to monitor evidence over time. Significantly more male patients underwent loop ileostomy than transverse colostomy [odds ratio (OR) = 0.59 (95% confidence interval (CI) 0.39, 0.90), p < 0.001, I2 = 48%]. Significantly more colostomies were complicated by stoma prolapse than by ileostomies [OR = 6.32 (95% CI 2.78, 14.35), p < 0.001, I2 = 0%). Patients with ileostomy demonstrated a significantly higher complication rate of high-output stoma than patients with colostomies [Peto OR = 0.16 (95% CI 0.04, 0.55), p = 0.004, I2 = 0%]. Patients with colostomies demonstrated significantly more complications related to stoma reversal, such as wound infections and incisional hernias, than patients with ileostomies [OR = 3.45 (95% CI 2.00, 5.95), p < 0.001, I2 = 0%; OR = 4.80 (95% CI 1.85, 12.44), p < 0.001, I2 = 0%, respectively]. Overall complications related to stoma formation and closure did not demonstrate significant differences; however, their I2 values were 82% and 76%, respectively, suggesting high heterogeneity, which may have influenced the results. A subgroup analysis of RCTs showed no discrepancies when compared to the whole sample. In the cumulative meta-analysis, the effect size of each study was non-significant for the entire period. The demonstrated significant differences did not translate in favour of ileostomy when the overall complications of stoma formation and reversal were evaluated. Confounding factors and underpowered samples may have influenced the results. Future multicentre RCTs with homogeneous populations and adequate power may demonstrate more conclusive evidence regarding the superiority of one procedure over the other.
This is a preview of subscription content,
to check access.
Access this article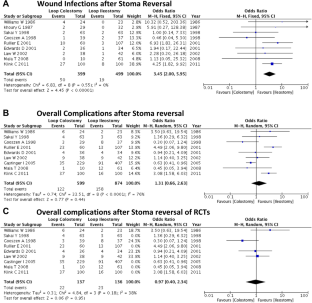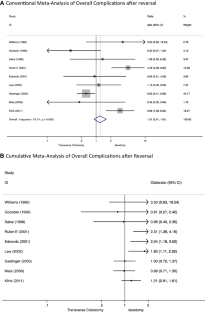 References
Heald RJ. A new approach to rectal cancer. Br J Hosp Med. 1979;22:277–81.

Heald RJ, Ryall RD. Recurrence and survival after total mesorectal excision for rectal cancer. Lancet. 1986;1:1479–82.

Aitken RJ. Mesorectal excision for rectal cancer. Br J Surg. 1996;83:214–16.

Carlsen E, Schlichting E, Guldrog I, Johnson E, Heald RJ. Effect of the introduction of total mesorectal excision for the treatment of rectal cancer. Br J Surg. 1998;85:526–29.

Rullier E, Laurent C, Garrelon JL, Michel P, Saric J, Parneix M. Risk factors for anastomotic leakage after resection of rectal cancer. Br J Surg. 1998;85:355–58.

Bell SW, Walker KG, Rickard MJ, Sinclair G, Dent OF, Chapuis PH, Bokey EL. Anastomotic leakage after curative anterior resection results in a higher prevalence of local recurrence. Br J Surg. 2003;90:1261–66.

Kumar A, Daga R, Vijayaragaran P, Prakash A, Singh RK, Behari E, et al. Anterior resection for rectal carcinoma-risk factors for anastomotic leaks and strictures. World J Gastroenterol. 2011;17:1475–9.

Bax TW, McNevin MS. The value of diverting loop ileostomy on the high-risk colon and rectal anastomosis. Am J Surg. 2007;193:585–7.

Gessler B, Haglid E, Angete E. Loop ileostomies in colorectal cancer patients-morbidity and risk factors for non-reversal. J Surg Res. 2012;178:708–14.

Lertsithichai P, Rattanapichart P. Temporary ileostomy versus temporary colostomy: a meta-analysis of complications. Asian J Surg. 2004;27:202–10.

Güenaga KF, Lustosa SA, Saad SS, Sacomato H, Matos D. Ileostomy or colostomy for temporary decompression of colorectal anastomosis. Act Cir Bras. 2008;23:294–303.

Tilney HS, Sains PS, Loregrove RE, Reese GE, Heriot AG, Tekkis PP. Comparison of outcomes following ileostomy versus colostomy for defunctioning colorectal anastomoses. World J Surg. 2007;31:1142–51.

Higgins JPT, Greens S, editors Cochrane handbook for systematic reviews of interventions version 5.1 [update March 2011]. The Cochrane Collaboration 2011. http://www.cochrane.handbook.org.

Wells GA, Shea B, O'Connell D, Peterson J, Welch V, Losos M, Tugwell P. The Newcastle-Ottawa scale (NOS) for assessing the quality of nonrandomised studies in meta-analyses. http://www.ohri.ca/programs/clinical_ epidemiology/oxford.asp.

Higgins JP, Thompson SG, Deeks JJ, Altman DG. Measuring inconsistency in meta-analyses. BMJ. 2003;327:557–60.

Hozo SP, Diulbegovic B, Hozo I. Estimating the mean and variance from the median, range, and the size of a sample. BMC Med Res Methodol. 2005;5:13.

Harbord RM, Harris RJ, Sterne JA. Updated tests for small-study effects in meta-analyses. Stata J. 2009;9:197–210.

Williams NS, Nasmyth DG, Jones D, Smith AH. De-functioning stomas: a prospective controlled trial comparing loop ileostomy with loop transverse colostomy. Br J Surg. 1986;73:566–70.

Khoury GA, Lewis MC, Meleagros L, Lewis AA. Colostomy or ileostomy after colorectal anastomosis? A randomized trial. Ann R Coll Surg Engl. 1987;69:57.

Gooszen AW, Geelkerken RH, Hermans J, Lagaay MB, Gooszen HG. Temporary decompression after colorectal surgery: randomized comparison of loop ileostomy and loop colostomy. Br J Surg. 1998;85:76–9.

Sakai Y, Nelson H, Larson D, Maidl L, Young-Fadok T, Ilstrup D. Temporary transverse colostomy vs loop ileostomy in diversion; a case-study. Arch Surg. 2001;136:338–42.

Edwards DP, Leppington-Clarke A, Sexton R, Heald RJ, Moran BJ. Stoma-related complication are more frequent after transverse colostomy than loop ileostomy: a prospective randomized clinical trial. Br J Surg. 2001;88:360–63.

Rullier E, Le Toux N, Laurent C, Garellon JL, Parneix M, Saric J. Loop ileostomy versus loop colostomy for defunctioning low anastomoses during rectal cancer surgery. World J Surg. 2001;25:274–7.

Law WL, Chu KW, Choi HK. Randomized clinical trial comparing loop ileostomy and loop transverse colostomy for faecal diversion following total mesorectal excision. Br J Surg. 2002;89:704–8.

Gastinger I, Marush F, Steinert R, Wolff S, Koeckerling F, Lippert H, et al. Protective defunctioning stoma in low anterior resection for rectal carcinoma. Br J Surg. 2005;92:1137–42.

Mala T, Nesbakken A. Morbidity related to the use of a protective stoma I anterior resection for rectal cancer. Colorectal Dis. 2008;10:785–8.

Klink CD, Lioupis K, Binnebösel M, Kaemmer D, Kozubek I, Grommes J, et al. Diversion stoma after colorectal surgery: loop colostomy or ileostomy. Int J Colorectal Dis. 2011;26:431–36.

Lau J, Antman EM, Jimenez-Silva J, Kupelnick B, Mosteller F, Chalmers TC. Cumulative meta-analysis of therapeutic trials for myocardial infarction. N Engl J Med. 1992;327:248–54.
Ethics declarations
Conflict of interest
The authors declare no conflicts of interest.
Ethical approval
This report does not describe any study with human participants or animals performed by any of the authors.
About this article
Cite this article
Gavriilidis, P., Azoulay, D. & Taflampas, P. Loop transverse colostomy versus loop ileostomy for defunctioning of colorectal anastomosis: a systematic review, updated conventional meta-analysis, and cumulative meta-analysis. Surg Today 49, 108–117 (2019). https://doi.org/10.1007/s00595-018-1708-x
Received:

Accepted:

Published:

Issue Date:

DOI: https://doi.org/10.1007/s00595-018-1708-x
Keywords