Abstract
Purpose
Goreisan, a traditional Japanese medicine, has previously been used for hydrostatic modulation. This retrospective study investigated the efficacy of goreisan for spermatic cord hydrocele resolution in children.
Methods
Seventy-two boys treated for spermatic cord hydrocele between 2012 and 2015 were included; Goreisan was administered to 16 [group G, median age 3 (1–8) years], and 56 were followed without medication [group C, median age 1 (0–8) years]. An age-matched comparison was conducted between 14/16 group G patients (group g) and 14/56 group C patients (group c).
Results
Incidences of resolution were higher in groups G and g than in groups C and c, respectively, both during the study period and within the first 6-month observation period; groups G and g also had a significantly lower incidence of surgery for hydrocele than in groups C and c, respectively. The interval from the commencement of observation until hydrocele resolution was significantly shorter in group G than in group C, but not in group g than in group c.
Conclusion
Goreisan can effectively promote the resolution of spermatic cord hydrocele in children and may be a valid treatment choice for this condition.
This is a preview of subscription content, log in to check access.
Access options
Buy single article
Instant access to the full article PDF.
US$ 39.95
Price includes VAT for USA
Subscribe to journal
Immediate online access to all issues from 2019. Subscription will auto renew annually.
US$ 99
This is the net price. Taxes to be calculated in checkout.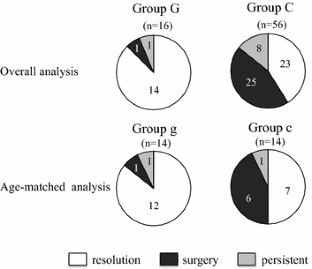 References
1.

Tanaka S, Akira T, Tabata M. Pharmacological analysis of the traditional chinese prescription "goreisan-ryo". Yakugaku Zasshi. 1984;104:601–6 (in Japanese).

2.

Okamura A, Kawamoto Y, Sakoda E, Murakami T, Hara T. Evaluation of recurrence factors and Gorei-san administration for chronic subdural hematoma after percutaneous subdural tapping. Hiroshima J Med Sci. 2013;62:77–82.

3.

Yasunaga H. Effect of Japanese herbal kampo medicine goreisan on reoperation rates after burr-hole surgery for chronic subdural hematoma: analysis of a national inpatient database. Evid Based Complement Altern Med. 2015;. doi:10.1155/2015/817616.

4.

Yamada K, Yagi G, Kanba S. Effectiveness of Gorei-san (TJ-17) for treatment of SSRI-induced nausea and dyspepsia: preliminary observations. Clin Neuropharmacol. 2003;26:112–4.

5.

Kori K, Oikawa T, Odaguchi H, Omoto H, Hanawa T, Minami T. Go-rei-San, a kampo medicine, reduces postoperative nausea and vomiting: a prospective, single-blind, randomized trial. J Altern Complement Med. 2013;19:946–50.

6.

Komiyama S, Takeya C, Takahashi R, Yamamoto Y, Kubushiro K. Feasibility study on the effectiveness of Goreisan-based kampo therapy for lower abdominal lymphedema after retroperitoneal lymphadenectomy via extraperitoneal approach. J Obstet Gynaecol Res. 2015;41:1449–56.

7.

Christensen T, Cartwright PC, Devries C, Snow BW. New onset of hydroceles in boys over 1 year of age. Int J Urol. 2006;13:1425–7.

8.

Zhao HP, Zhang ZR, Ding BH, Guo SM, Zhao YZ, Dong SN. Sixty-two cases of intractable ascites due to cirrhosis treated by the modified Wulingsan power plus abdominal reinfusion of the concentrated ascites after ultrafiltration. J Tradit Chin Med. 2009;29:115–20.

9.

Makino B, Kobayashi M, Kimura K, Ishimatsu M, Sakakibara I, Higuchi M, et al. Local variation in the content of angiotensin II and arginine vasopressin receptor antagonistic terpenoids in the rhizomes of Alisma orientale. Planta Med. 2002;68:226–31.

10.

Kimura Y, Sumiyoshi M. Effects of an Atractylodes lancea rhizome extract and a volatile component β-eudesmol on gastrointestinal motility in mice. J Ethnopharmacol. 2012;141:530–6.

11.

Yuan D, Mori J, Komatsu K, Makino T, Kano Y. An anti-aldosteronic diuretic component (drain dampness) in Polyporus sclerotium. Biol Pharm Bull. 2004;27:867–70.

12.

Tang J, Nie J, Li D, Zhu W, Zhang S, Ma F, et al. Characterization and antioxidant activities of degraded polysaccharides from Poria cocos sclerotium. Carbohydr Polym. 2014;105:121–6.

13.

Bae WY, Choi JS, Kim JE, Jeong JW. Cinnamic aldehyde suppresses hypoxia-induced angiogenesis via inhibition of hypoxia-inducible factor-1α expression during tumor progression. Biochem Pharmacol. 2015;98:41–50.

14.

Ohno K, Terasawa K. Case report of infantile hydrocele successfully treated with therapy based on kampo diagnosis. Kampo Med. 2008;59:647–9 (in Japanese).

15.

Isohama Y. Modulation of aquaporin water channel function by kampo medicines. Kampo Newest Therapy. 2008;17:27–35 (in Japanese).
Acknowledgements
HK was supported by JSPS KAKENHI Grant Number 26462706 (Grant-in-Aid for Scientific Research [C]). The authors would like to thank Enago (http://www.enago.jp) for the English language review.
Ethics declarations
Conflict of interest
The authors declare that they have no conflicts of interest.
About this article
Cite this article
Takeda, N., Tanaka, K., Watanabe, E. et al. Efficacy of the traditional Japanese medicine goreisan for the resolution of spermatic cord hydrocele in children. Surg Today 48, 175–179 (2018). https://doi.org/10.1007/s00595-017-1566-y
Received:

Accepted:

Published:

Issue Date:
Keywords
Spermatic cord hydrocele

Goreisan

Traditional Japanese medicine

Resolution