Abstract
Purpose
More effective methods are needed for breast reconstruction after breast-conserving surgery for breast cancer. The aim of this clinical study was to assess the perioperative and long-term outcomes of adipose-derived regenerative cell (ADRC)-enriched autologous fat grafting.
Methods
Ten female patients who had undergone breast-conserving surgery and adjuvant radiotherapy for breast cancer were enrolled. An ADRC-enriched fat graft prepared from the patient's adipose tissue was implanted at the time of adipose tissue harvest. The perioperative and long-term outcomes of the grafts, which included safety, efficacy, and questionnaire-based patient satisfaction, were investigated.
Results
The mean operation time was 188 ± 30 min, and the mean duration of postoperative hospitalization was 1.2 ± 0.4 days. No serious postoperative complications were associated with the procedure. Neither recurrence nor metastatic disease was observed during the follow-up period (7.8 ± 1.5 years) after transplantation. Of 9 available patients, "more than or equal to average" satisfaction with breast appearance and overall satisfaction were reported by 6 (66.7%) and 5 (55.6%) patients, respectively.
Conclusions
ADRC-enriched autologous fat transplantation is thus considered to be safe perioperatively, with no long-term recurrence, for patients with breast cancer treated by breast-conserving surgery, and it may be an option for breast reconstruction, even after adjuvant radiotherapy.
This is a preview of subscription content, log in to check access.
Access options
Buy single article
Instant access to the full article PDF.
US$ 39.95
Price includes VAT for USA
Subscribe to journal
Immediate online access to all issues from 2019. Subscription will auto renew annually.
US$ 99
This is the net price. Taxes to be calculated in checkout.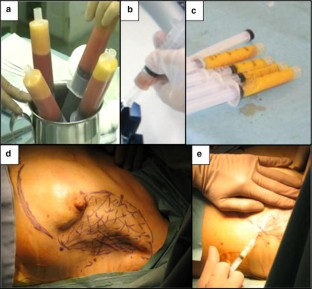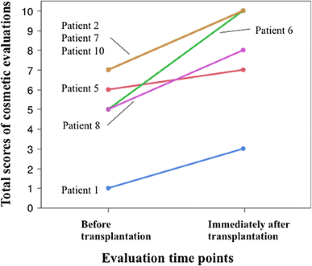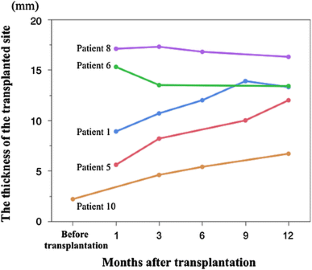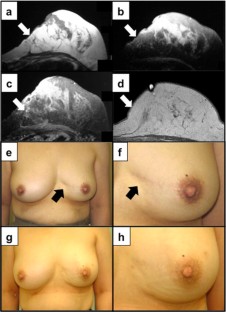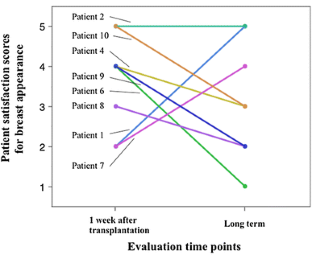 References
1.

Veronesi U, Cascinelli N, Mariani L, Greco M, Saccozzi R, Luini A, et al. Twenty-year follow-up of a randomized study comparing breast-conserving surgery with radical mastectomy for early breast cancer. N Engl J Med. 2002;347:1227–32.

2.

Waljee JF, Hu ES, Ubel PA, Smith DM, Newman LA, Alderman AK. Effect of esthetic outcome after breast-conserving surgery on psychosocial functioning and quality of life. J Clin Oncol. 2008;26:3331–7.

3.

Kijima Y, Yoshinaka H, Funasako Y, Kaneko K, Hirata M, Mizoguchi T, et al. Immediate breast reconstruction using autologous free dermal fat grafts provides better cosmetic results for patients with upper inner cancerous lesions. Surg Today. 2011;41:477–89.

4.

Kijima Y, Yoshinaka H, Owaki T, Funasako Y, Aikou T. Immediate reconstruction using inframammary adipofascial flap of the anterior rectus sheath after partial mastectomy. Am J Surg. 2007;193:789–91.

5.

Spear SL, Boehmler JH, Bogue DP, Mafi AA. Options in reconstructing the irradiated breast. Plast Reconstr Surg. 2008;122:379–88.

6.

Churgin S, Isakov R, Yetman R. Reconstruction options following breast conservation therapy. Cleve Clin J Med. 2008;75(Suppl 1):S24–9.

7.

El D, Garimella V, Mahapatra TK, McManus PL, Drew PJ. Lipomodelling of the breast: a review. Breast. 2010;19:202–9.

8.

Saint-Cyr M, Rojas K, Colohan S, Brown S. The role of fat grafting in reconstructive and cosmetic breast surgery: a review of the literature. J Reconstr Microsurg. 2012;28:99–110.

9.

Mizushima T, Takahashi H, Takeyama H, Naito A, Haraguchi N, Uemura M, et al. A clinical trial of autologous adipose-derived regenerative cell transplantation for a postoperative enterocutaneous fistula. Surg Today. 2016;46:835–42.

10.

Akita S, Akino K, Hirano A, Ohtsuru A, Yamashita S. Noncultured autologous adipose-derived stem cells therapy for chronic radiation injury. Stem Cells Int. 2010;2010:532704.

11.

Marino G, Moraci M, Armenia E, Orabona C, Sergio R, De Sena G, et al. Therapy with autologous adipose-derived regenerative cells for the care of chronic ulcer of lower limbs in patients with peripheral arterial disease. J Surg Res. 2013;185:36–44.

12.

Granel B, Daumas A, Jouve E, Harle JR, Nguyen PS, Chabannon C, et al. Safety, tolerability and potential efficacy of injection of autologous adipose-derived stromal vascular fraction in the fingers of patients with systemic sclerosis: an open-label phase I trial. Ann Rheum Dis. 2015;74:2175–82.

13.

Houtgraaf JH, den Dekker WK, van Dalen BM, Springeling T, de Jong R, van Geuns RJ, et al. First experience in humans using adipose tissue-derived regenerative cells in the treatment of patients with ST-segment elevation myocardial infarction. J Am Coll Cardiol. 2012;59:539–40.

14.

Perin EC, Sanz-Ruiz R, Sanchez PL, Lasso J, Perez-Cano R, Alonso-Farto JC, et al. Adipose-derived regenerative cells in patients with ischemic cardiomyopathy: the PRECISE trial. Am Heart J. 2014;168(88–95):e2.

15.

Gotoh M, Yamamoto T, Kato M, Majima T, Toriyama K, Kamei Y, et al. Regenerative treatment of male stress urinary incontinence by periurethral injection of autologous adipose-derived regenerative cells: 1-year outcomes in 11 patients. Int J Urol. 2014;21:294–300.

16.

Tanikawa DY, Aguena M, Bueno DF, Passos-Bueno MR, Alonso N. Fat grafts supplemented with adipose-derived stromal cells in the rehabilitation of patients with craniofacial microsomia. Plast Reconstr Surg. 2013;132:141–52.

17.

Kolle SF, Fischer-Nielsen A, Mathiasen AB, Elberg JJ, Oliveri RS, Glovinski PV, et al. Enrichment of autologous fat grafts with ex vivo expanded adipose tissue-derived stem cells for graft survival: a randomised placebo-controlled trial. Lancet. 2013;382:1113–20.

18.

Koh KS, Oh TS, Kim H, Chung IW, Lee KW, Lee HB, et al. Clinical application of human adipose tissue-derived mesenchymal stem cells in progressive hemifacial atrophy (Parry-Romberg disease) with microfat grafting techniques using 3-dimensional computed tomography and 3-dimensional camera. Ann Plast Surg. 2012;69:331–7.

19.

Sterodimas A, de Faria J, Nicaretta B, Boriani F. Autologous fat transplantation versus adipose-derived stem cell-enriched lipografts: a study. Aesthet Surg J. 2011;31:682–93.

20.

Tissiani LA, Alonso N. A prospective and controlled clinical trial on stromal vascular fraction enriched fat grafts in secondary breast reconstruction. Stem Cells Int. 2016;2016:2636454.

21.

Peltoniemi HH, Salmi A, Miettinen S, Mannerstrom B, Saariniemi K, Mikkonen R, et al. Stem cell enrichment does not warrant a higher graft survival in lipofilling of the breast: a prospective comparative study. J Plast Reconstr Aesthet Surg. 2013;66:1494–503.

22.

Perez-Cano R, Vranckx JJ, Lasso JM, Calabrese C, Merck B, Milstein AM, et al. Prospective trial of adipose-derived regenerative cell (ADRC)-enriched fat grafting for partial mastectomy defects: the RESTORE-2 trial. Eur J Surg Oncol. 2012;38:382–9.

23.

Gentile P, Orlandi A, Scioli MG, Di Pasquali C, Bocchini I, Curcio CB, et al. A comparative translational study: the combined use of enhanced stromal vascular fraction and platelet-rich plasma improves fat grafting maintenance in breast reconstruction. Stem Cells Transl Med. 2012;1:341–51.

24.

Kamakura T, Ito K. Autologous cell-enriched fat grafting for breast augmentation. Aesthetic Plast Surg. 2011;35:1022–30.

25.

Sobin LH, Wittekind C. International Union against Cancer. TNM: classification of malignant tumours. 6th ed. New York: Wiley-Liss; 2002.

26.

Fitoussi AD, Berry MG, Couturaud B, Falcou MC, Salmon RJ. Management of the post-breast-conserving therapy defect: extended follow-up and reclassification. Plast Reconstr Surg. 2010;125:783–91.

27.

Sawai S, Nakajima K, Ichihara S, Yano K, Watanabe O, Kitamura K, et al. Cosmetic assessment of the breast after surgery. In: The 12th annual meeting of the Japan Breast Cancer Society. vol 12. 2004. p. 107–8.

28.

Katayama H, Kurokawa Y, Nakamura K, Ito H, Kanemitsu Y, Masuda N, et al. Extended Clavien–Dindo classification of surgical complications: Japan Clinical Oncology Group postoperative complications criteria. Surg Today. 2016;46:668–85.

29.

Dindo D, Demartines N, Clavien PA. Classification of surgical complications: a new proposal with evaluation in a cohort of 6336 patients and results of a survey. Ann Surg. 2004;240:205–13.

30.

Lin K, Matsubara Y, Masuda Y, Togashi K, Ohno T, Tamura T, et al. Characterization of adipose tissue-derived cells isolated with the Celution system. Cytotherapy. 2008;10:417–26.

31.

Jotzu C, Alt E, Welte G, Li J, Hennessy BT, Devarajan E, et al. Adipose tissue derived stem cells differentiate into carcinoma-associated fibroblast-like cells under the influence of tumor derived factors. Cell Oncol (Dordr). 2011;34:55–67.

32.

Yu JM, Jun ES, Bae YC, Jung JS. Mesenchymal stem cells derived from human adipose tissues favor tumor cell growth in vivo. Stem Cells Dev. 2008;17:463–73.

33.

Zhao M, Dumur CI, Holt SE, Beckman MJ, Elmore LW. Multipotent adipose stromal cells and breast cancer development: think globally, act locally. Mol Carcinog. 2010;49:923–7.

34.

Zimmerlin L, Donnenberg AD, Rubin JP, Basse P, Landreneau RJ, Donnenberg VS. Regenerative therapy and cancer: in vitro and in vivo studies of the interaction between adipose-derived stem cells and breast cancer cells from clinical isolates. Tissue Eng Part A. 2011;17:93–106.

35.

Donnenberg VS, Zimmerlin L, Rubin JP, Donnenberg AD. Regenerative therapy after cancer: what are the risks? Tissue Eng Part B Rev. 2010;16:567–75.

36.

Toyserkani NM, Quaade ML, Sorensen JA. Cell-assisted lipotransfer: a systematic review of its efficacy. Aesthetic Plast Surg. 2016;40:309–18.

37.

Zhou Y, Wang J, Li H, Liang X, Bae J, Huang X, et al. Efficacy and safety of cell-assisted lipotransfer: a systematic review and meta-analysis. Plast Reconstr Surg. 2016;137:44e–57e.

38.

Watanabe T, Hoshikawa Y, Ishibashi N, Suzuki H, Notsuda H, Watanabe Y, et al. Mesenchymal stem cells attenuate ischemia-reperfusion injury after prolonged cold ischemia in a mouse model of lung transplantation: a preliminary study. Surg Today. 2017;47:425–31.

39.

Zhu M, Zhou Z, Chen Y, Schreiber R, Ransom JT, Fraser JK, et al. Supplementation of fat grafts with adipose-derived regenerative cells improves long-term graft retention. Ann Plast Surg. 2010;64:222–8.

40.

Matsumoto D, Sato K, Gonda K, Takaki Y, Shigeura T, Sato T, et al. Cell-assisted lipotransfer: supportive use of human adipose-derived cells for soft tissue augmentation with lipoinjection. Tissue Eng. 2006;12:3375–82.

41.

Sumi M, Sata M, Toya N, Yanaga K, Ohki T, Nagai R. Transplantation of adipose stromal cells, but not mature adipocytes, augments ischemia-induced angiogenesis. Life Sci. 2007;80:559–65.

42.

Rehman J, Traktuev D, Li J, Merfeld-Clauss S, Temm-Grove CJ, Bovenkerk JE, et al. Secretion of angiogenic and antiapoptotic factors by human adipose stromal cells. Circulation. 2004;109:1292–8.

43.

Nakagami H, Maeda K, Morishita R, Iguchi S, Nishikawa T, Takami Y, et al. Novel autologous cell therapy in ischemic limb disease through growth factor secretion by cultured adipose tissue-derived stromal cells. Arterioscler Thromb Vasc Biol. 2005;25:2542–7.

44.

Eto H, Suga H, Matsumoto D, Inoue K, Aoi N, Kato H, et al. Characterization of structure and cellular components of aspirated and excised adipose tissue. Plast Reconstr Surg. 2009;124:1087–97.

45.

Keck M, Zeyda M, Gollinger K, Burjak S, Kamolz LP, Frey M, et al. Local anesthetics have a major impact on viability of preadipocytes and their differentiation into adipocytes. Plast Reconstr Surg. 2010;126:1500–5.

46.

Kijima Y, Yoshinaka H, Hirata M, Mizoguchi T, Ishigami S, Arima H, et al. Immediate reconstruction using a modified inframammary adipofascial flap after partial mastectomy. Surg Today. 2013;43:456–60.

47.

Kijima Y, Yoshinaka H, Hirata M, Arima H, Nakajo A, Shinden Y, et al. Oncoplastic surgery combining partial mastectomy and immediate volume replacement using a thoracodorsal adipofascial cutaneous flap with a crescent-shaped dermis. Surg Today. 2014;44:2098–105.
Ethics declarations
Conflict of interest
Mark H. Hedrick is the President and Chief Executive Officer of Cytori Therapeutics, Inc. Hideki Iwaguro is the Director of Medical and Scientific Affairs of Cytori Therapeutics, K.K. The other authors declare that they have no conflicts of interest in association with this study.
Role of the funding source
The Celution system was loaned at no charge, and reagents and disposable supplies were provided at no cost for this study by Cytori Therapeutics, Inc.
About this article
Cite this article
Ito, S., Kai, Y., Masuda, T. et al. Long-term outcome of adipose-derived regenerative cell-enriched autologous fat transplantation for reconstruction after breast-conserving surgery for Japanese women with breast cancer. Surg Today 47, 1500–1511 (2017). https://doi.org/10.1007/s00595-017-1544-4
Received:

Accepted:

Published:

Issue Date:
Keywords
Breast cancer

Breast-conserving surgery

Breast reconstruction

Adipose-derived regenerative cell

Quality of life