Abstract
Purpose
We developed a touchless display system that allows the user to control the medical imaging software via hand gestures in the air. We conducted this study to verify the effectiveness of this novel touchless display system as a tool for assisting with surgical imaging.
Methods
The patient's computed tomography (CT) data are generally observed on a display during surgery. The "Dr. aeroTAP" touchless display system was developed to generate virtual mouse events based on the position of one hand. We conducted comparative analyses of using the Dr. aeroTAP vs. using a regular mouse (control group) by measuring the time to select a 3D image from 24 thumbnail images on a screen (study 1) and to then see the CT image on the DICOM viewer (study 2).
Results
We used the Dr. aeroTAP in 31 hepato-biliary operative procedures performed at our hospital. In study 1, which measured the time required to select one of 24 thumbnails, there were significant differences between the mouse and Dr. aeroTAP groups for all five surgeons who participated (P < 0.001). In study 2, there were also significant differences in the time required for CT DICOM images to be displayed (P < 0.001).
Conclusions
The touchless interface proved efficient for allowing the observation of surgical images while maintaining a sterile field during surgery.
Access options
Buy single article
Instant access to the full article PDF.
USD 39.95
Price includes VAT (USA)
Tax calculation will be finalised during checkout.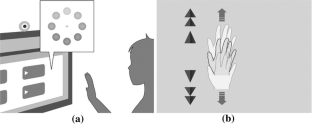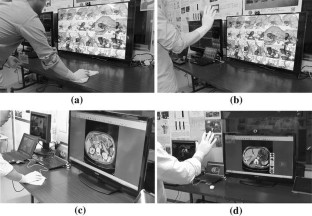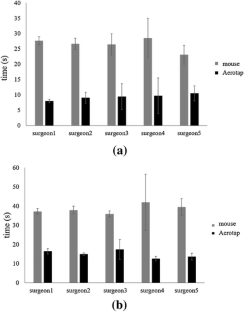 References
1.

Miyamoto R, Oshiro Y, Hashimoto S, Kohno K, Fukunaga K, Oda T, et al. Three-dimensional imaging identified the accessory bile duct in a patient with cholangiocarcinoma. World J Gastroenterol. 2014;20:11451–5.

2.

Oshiro Y, Mitani J, Okada T, Ohkohchi N. A novel three-dimensional print of liver vessels and tumors in hepatectomy. Surg Today. 2017;47:521–4.

3.

Takamoto T, Hashimoto T, Ogata S, Inoue K, Maruyama Y, Miyazaki A, et al. Planning of anatomical liver segmentectomy and subsegmentectomy with 3-dimensional simulation software. Am J Surg. 2013;206:530–8.

4.

Lamadé W, Glombitza G, Fischer L, Chiu P, Cárdenas CE, Thorn M, et al. The impact of 3-dimensional reconstructions on operation planning in liver surgery. Arch Surg. 2000;135:1256–61.

5.

Rosa GM, Elizondo ML. Use of a gesture user interface as a touchless image navigation system in dental surgery: case series report. Imaging Sci Dent. 2014;44:155–60.

6.

Oshiro Y, Yano H, Mitani J, Kim S, Kim J, Fukunaga K, et al. Novel 3-dimensional virtual hepatectomy simulation combined with real-time deformation. World J Gastroenterol. 2015;21:9982–92.

7.

Saito S, Yamanaka J, Miura K, Nakao N, Nagao T, Sugimoto T, et al. A novel 3D hepatectomy simulation based on liver circulation: application to liver resection and transplantation. Hepatology. 2005;41:1297–304.

8.

Radtke A, Sotiropoulos GC, Molmenti EP, Schroeder T, Peitgen HO, Frilling A, et al. Computer-assisted surgery planning for complex liver resections: when is it helpful? A single-center experience over an 8-year period. Ann Surg. 2010;252:876–83.

9.

Strickland M, Tremaine J, Brigley G, Law C. Using a depth-sensing infrared camera system to access and manipulate medical imaging from within the sterile operating field. Can J Surg. 2013;56:E1–6.

10.

Ruppert GC, Reis LO, Amorim PH, de Moraes TF, da Silva JV. Touchless gesture user interface for interactive image visualization in urological surgery. World J Urol. 2012;30:687–91.

11.

Jacob MG, Wachs JP, Packer RA. Hand-gesture-based sterile interface for the operating room using contextual cues for the navigation of radiological images. J Am Med Inform Assoc. 2013;20:e183–6.

12.

Katayama H, Kurokawa Y, Nakamura K, et al. Extended Clavien–Dindo classification of surgical complications: Japan Clinical Oncology Group postoperative complications criteria. Surg Today. 2016;46:668.

13.

Tan JH, Chao C, Zawaideh M, Roberts AC, Kinney TB. Informatics in radiology: developing a touchless user interface for intraoperative image control during interventional radiology procedures. RadioGraphics. 2013;33:E61–70.
Acknowledgments
We thank Dr. S. Kuroshima of JSPS/Chiba University for their support. We especially thank Mr. T. Sakamoto of nextEDGE Technology K.K. for the joint development of the "Dr. aeroTAP" based on the aero TAP touchless interface system originally developed by nextEDGE Technology K.K. under the joint research and development agreement between our institute and the nextEDGE Technology K.K.
Ethics declarations
Funding
Department of Surgery, Division of Gastroenterological and Hepato-biliary Surgery, and Organ Transplantation, Faculty of Medicine, University of Tsukuba.
Ethical standards
This study was approved by a research ethics committee at the University of Tsukuba Hospital.
Conflict of interest
We have no potential conflicts of interest to declare.
About this article
Cite this article
Oshiro, Y., Ohuchida, K., Okada, T. et al. Novel imaging using a touchless display for computer-assisted hepato-biliary surgery. Surg Today 47, 1512–1518 (2017). https://doi.org/10.1007/s00595-017-1541-7
Received:

Accepted:

Published:

Issue Date:
Keywords
Computer-assisted surgery

Hepato-biliary surgery

Touchless interface

CT