Abstract
Purpose
To investigate the clinical characteristics of acute type A aortic dissection (ATAAD) occurring during a sporting activity.
Methods
The subjects of this study were 615 patients who underwent surgery for ATAAD between 1990 and 2015. The patients were divided into two groups according to whether the ATAAD was associated with a sporting activity (sports group: n = 25, mean age 62.3 years; non-sports group: n = 590, mean age 63.7 years). Specific activity was assessed in the sports group, and the characteristics and outcomes were compared between the groups.
Results
The sports group accounted for 5% of the patients with daytime onset ATAAD (25/479). The most common sport was golf (n = 8), followed by swimming (n = 4), cycling (n = 4), and weight lifting (n = 3). The average diameter of the ascending aorta on preoperative computed tomography was 4.8 cm. The dissection characteristics of the sports group included DeBakey type I (n = 23, 92%) and malperfusion (n = 9, 36%), which were similar to those of the non-sports group. The 30-day mortality rates were 16% (4/25) for the sports group and 8% (49/590) for the non-sports group (P = 0.33).
Conclusions
The most common sport associated with ATAAD was golf, followed by swimming cycling, and weight lifting. The findings of this study reinforce that sports-related aortic dissection is not a unique clinical condition of young syndromic patients, but can occur in all age groups.
Access options
Buy single article
Instant access to the full article PDF.
USD 39.95
Price excludes VAT (USA)
Tax calculation will be finalised during checkout.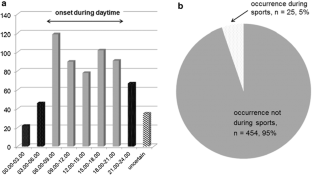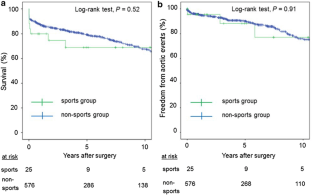 References
Mitchell JH, Haskell W, Snell P, Van Camp SP. Task Force 8: classification of sports. J Am Coll Cardiol. 2005;45:1364–7.

de Virgilio C, Nelson RJ, Milliken J, Snyder R, Chiang F, MacDonald WD, et al. Ascending aortic dissection in weight lifters with cystic medial degeneration. Ann Thorac Surg. 1990;49:638–42.

Hogan CJ. An aortic dissection in a young weightlifter with non-Marfan fibrillinopathy. Emerg Med J. 2005;22:304–5.

Hatzaras I, Tranquilli M, Coady M, Barrett PM, Bible J, Elefteriades JA. Weight lifting and aortic dissection: more evidence for a connection. Cardiology. 2007;107:103–6.

Schachner T, Fischler N, Dumfarth J, Bonaros N, Krapf C, Schobersberger W, et al. Aortic dissection type A in alpine skiers. Biomed Res Int. 2013;2013:192459.

Chaddha A, Eagle KA, Braverman AC, Kline-Rogers E, Hirsch AT, Brook R, et al. Exercise and Physical Activity for the Post-Aortic Dissection Patient: The Clinician's Conundrum. Clin Cardiol. 2015;38:647–51.

Uchida K, Imoto K, Yanagi H, Date K. Acute aortic dissection occurring during the butterfly stroke in a 12-year-old boy. Interact Cardiovasc Thorac Surg. 2009;9:366–7.

Jo YJ, Lee EJ, Oh JW, Moon CM, Cho DK, Cho YH, et al. Aortic dissection and rupture in a child. Korean. Circ J. 2011;41:156–9.

Higashi S, Yoshida Y, Mitsuoka H. Dissecting aneurysms at the bases of the brachiocephalic artery and the left common carotid artery due to localized dissection of the aortic arch; report of a case. Kyobu Geka. 2007;60:575–8.

Yim ES. Aortic root disease in athletes: aortic root dilation, anomalous coronary artery, bicuspid aortic valve, and Marfan's syndrome. Sports Med. 2013;43:721–32.

Vuckovic SA. An unusual presentation of ascending aortic arch dissection. J Emerg Med. 2000;19:149–52.

Yoong S, Heyes G, Davison GW, Hannon R, O'Donnell ME. Spontaneous dissection of the external iliac artery secondary to golf club manufacturing. Vasc Endovascular Surg. 2013;47:73–5.

Yamada SM, Goto Y, Murakami M, Hoya K, Matsuno A. Vertebral artery dissection caused by swinging a golf club: case report and literature review. Clin J Sport Med. 2014;24:155–7.

Hata M, Yoshitake I, Wakui S, et al. Sleep disorders and aortic dissection in a working population. Surg Today. 2012;42:403–5.

Mayerick C, Carre F, Elefteriades J. Aortic dissection and sport: physiologic and clinical understanding provide an opportunity to save young lives. J Cardiovasc Surg (Torino). 2010;51:669–81.

Suzuki S, Masuda M. An update on surgery for acute type A aortic dissection: Aortic root repair, endovascular stent graft, and genetic research. Surg Today. 2009;39:281–9.

Committee for Scientific Affairs TJAfTS, Masuda M, Kuwano H, Okumura M, Arai H, Endo S, et al. Thoracic and cardiovascular surgery in Japan during 2013: Annual report by The Japanese Association for Thoracic Surgery. Gen. Thorac Cardiovasc Surg. 2015;63:670–701.

Orihasi K. Mesenteric ischemia in acute aortic dissection. Surg Today. 2016;46:509–16.

Orihashi K. Cerebral malperfusion in acute dissection. Surg Today. 2016;46:1353–61.

Marijon E, Uy-Evanado A, Reinier K, Teodorescu C, Narayanan K, Jouven X, et al. Sudden cardiac arrest during sports activity in middle age. Circulation. 2015;131:1384–91.

Kimura N, Tanaka M, Kawahito K, Itoh S, Okamura H, Yamaguchi A, et al. Early- and long-term outcomes after surgery for acute type a aortic dissection in patients aged 45 years and younger. Circ J. 2011;75:2135–43.

Kimura N, Ohnuma T, Itoh S, Sasabuchi Y, Asaka K, Shiotsuka J, et al. Utility of the Penn classification in predicting outcomes of surgery for acute type a aortic dissection. Am J Cardiol. 2014;113:724–30.

Haskell WL, Lee IM, Pate RR, Powell KE, Blair SN, Franklin BA, et al. Physical activity and public health: updated recommendation for adults from the American College of Sports Medicine and the American Heart Association. Circulation. 2007;116:1081–93.

Nelson ME, Rejeski WJ, Blair SN, Duncan PW, Judge JO, King AC, et al. Physical activity and public health in older adults: recommendation from the American College of Sports Medicine and the American Heart Association. Circulation. 2007;116:1094–105.

MacDougall JD, Tuxen D, Sale DG, Moroz JR, Sutton JR. Arterial blood pressure response to heavy resistance exercise. J Appl Physiol. 1985;58(3):785–90.

Palatini P, Mos L, Munari L, Valle F, Del Torre M, Rossi A, et al. Blood pressure changes during heavy-resistance exercise. J Hypertens Suppl. 1989;7:S72–3.

Lindsay DM, Horton JF, Vandervoort AA. A review of injury characteristics, aging factors and prevention programmes for the older golfer. Sports Med. 2000;30:89–103.

Japanese Ministry of Internal affairs and Communications. The 2011 survey on Time use and Leisure activities. 2011. http://www.stat.go.jp/data/topics/pdf/topics64.pdf. Accessed 7 Oct 2012. (in Japanese).

Hatzaras IS, Bible JE, Koullias GJ, Tranquilli M, Singh M, Elefteriades JA. Role of exertion or emotion as inciting events for acute aortic dissection. Am J Cardiol. 2007;100:1470–2.

Cole MH, Grimshaw PN. The crunch factor's role in golf-related low back pain. Spine J. 2014;14:799–807.

Rylski B, Blanke P, Beyersdorf F, Desai ND, Milewski RK, Siepe M, et al. How does the ascending aorta geometry change when it dissects? J Am Coll Cardiol. 2014;63:1311–9.

Chaddha A, Kline-Rogers E, Woznicki EM, Brook R, Housholder-Hughes S, Braverman AC, et al. Cardiology patient page. Activity recommendations for postaortic dissection patients. Circulation. 2014;130:e140–e2.
Ethics declarations
Conflict of interest
We have no conflicts of interest to declare and no relationship with any organization that sponsored this research.
About this article
Cite this article
Itagaki, R., Kimura, N., Itoh, S. et al. Acute type a aortic dissection associated with a sporting activity. Surg Today 47, 1163–1171 (2017). https://doi.org/10.1007/s00595-017-1492-z
Received:

Accepted:

Published:

Issue Date:

DOI: https://doi.org/10.1007/s00595-017-1492-z
Keywords
Aortic dissection

Sports activity

Golf