Abstract
Purpose
Molecular markers as indicators for gastric cancer recurrence are urgently required. The aim of this study was to identify lectins that can be used to predict gastric cancer recurrence after gastrectomy.
Methods
We created lectin expression profiles by microarray analysis for 60 patients, who underwent surgery for gastric cancer at the Oita University Hospital between January, 2005 and December, 2007. Lectin expression and clinicopathological factors in patients who suffered gastric cancer recurrence and those who did not were compared by univariate and multivariate analyses.
Results
Thirteen lectins showed a significant increase in binding to cancer tissues, whereas 11 lectins showed a significant decrease in binding to cancer tissues, when compared with binding to normal epithelia. Multivariate analysis revealed that lymph node metastasis and low Bauhinia purpurea lectin (BPL)-binding signals were independent predictive factors for recurrence. All patients with low BPL expression had significantly worse relapse-free survival than those with high BPL expression.
Conclusions
Our results using a novel lectin microarray system provide the first solid evidence that BPL expression is a predictor of gastric cancer recurrence.
Access options
Buy single article
Instant access to the full article PDF.
US$ 39.95
Tax calculation will be finalised during checkout.
Subscribe to journal
Immediate online access to all issues from 2019. Subscription will auto renew annually.
US$ 79
Tax calculation will be finalised during checkout.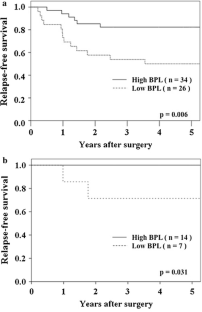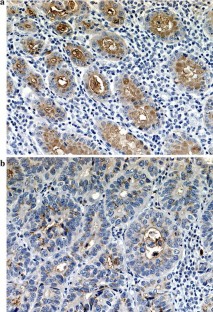 Abbreviations
CEA:

Carcinoembryonic antigen

CA19-9:

Carbohydrate antigen 19-9

HER2:

Human epidermal growth factor receptor 2

EGFR:

Epidermal growth factor receptor

CD44:

Cluster of differentiation 44

ROC:

Receiver operating characteristic

LCA:

Lens culinaris agglutinin

MAL-I:

Maackia amurensis lectin I

SNA:

Sambucus nigra agglutinin

SSA:

Sambucus sieboldiana agglutinin

TJA-I:

Trichosanthes japonica agglutinin I

NPA:

Narcissus pseudonarcissus lectin

ConA:

Concanavalin A

GNA:

Galanthus nivalis agglutinin

HHL:

Hippeastrum hybrid lectin

ACG:

Agrocybe cylindracea galectin

TxLC-I:

Tulipa gesneriana I

MAH:

Maackia amurensis hemagglutinin

UEA-I:

Ulex europaeus agglutinin I

AOL:

Aspergillus oryzae lectin

AAL:

Aleuria aurantia lectin

BPL:

Bauhinia purpurea lectin

EEL:

Euonymus europaeus lectin

ABA:

Agaricus bisporus agglutinin

WFA:

Wisteria floribunda lectin

ACA:

Amaranthus caudatus agglutinin

DBA:

Dolichos biflorus agglutinin

SBA:

Soybean agglutinin

GSL-I-A4:

Griffonia simplicifolia
References
1.

Ferlay J, Shin HR, Bray F, Forman D, Mathers C, Parkin DM. Estimates of worldwide burden of cancer in 2008: GLOBOCAN 2008. Int J Cancer. 2010;127:2893–917.

2.

Bang Y-J, Kim Y-W, Yang H-K, Chung HC, Park Y-K, Lee KH, et al. Adjuvant capecitabine and oxaliplatin for gastric cancer after D2 gastrectomy (CLASSIC): a phase 3 open-label, randomised controlled trial. Lancet. 2012;379:315–21.

3.

Cunningham D, Allum WH, Stenning SP, Thompson JN, Van de Velde CJH, Nicolson M, et al. Perioperative chemotherapy versus surgery alone for resectable gastroesophageal cancer. N Engl J Med. 2006;355(1):11–20.

4.

Sasako M, Sakuramoto S, Katai H, Kinoshita T, Furukawa H, Yamaguchi T, et al. Five-year outcomes of a randomized phase III trial comparing adjuvant chemotherapy with S-1 versus surgery alone in stage II or III gastric cancer. J Clin Oncol. 2011;29(33):4387–93.

5.

Msika S, Benhamiche A, Jouve J-L, Rat P, Faivre J. Prognostic factors after curative resection of gastric cancer: a population-based study. Eur J Cancer. 2000;36:390–6.

6.

Dicken BJ, Graham K, Hamilton SM, Andrews S, Lai R, Listgarten J, et al. Lymphovascular invasion is associated with poor survival in gastric cancer: an application of gene-expression and tissue array techniques. Ann Surg. 2006;243:64–73.

7.

Kunisaki C, Makino H, Kimura J, Takagawa R, Kosaka T, Ono HA, et al. Impact of lymphovascular invasion in patients with stage I gastric cancer. Surgery. 2010;147:204–11.

8.

Nakayama Y, Gotohda N, Shibasaki H, Nomura S, Kinoshita T, Hayashi R. Usefulness of the neutron/lymphocyte ratio measured preoperatively as a predictor of peritoneal metastasis in patients with advanced gastric cancer. Surg Today. 2014;44:2146–52.

9.

Takahashi Y, Takeuchi T, Sakamoto J, Touge T, Mai M, Ohkura H, et al. The usefulness of CEA and/or CA19-9 in monitoring for recurrence in gastric cancer patients: a prospective clinical study. Gastric Cancer. 2003;6:142–5.

10.

Jørgensen JT, Hersom M. HER2 as a prognostic marker in gastric cancer—a systematic analysis of data from the literature. J Cancer. 2012;3:137–44.

11.

Terashima M, Kitada K, Ochiai A, Ichikawa W, Kurahashi I, Sakuramoto S, et al. Impact of expression of human epidermal growth factor receptors EGFR and ERBB2 on survival in stage II/III gastric cancer. Clin Cancer Res. 2012;18:5992–6000.

12.

Shimada Y, Yamasaki S, Hashimoto Y, Ito T, Kawamura J, Soma T, et al. Clinical significance of dysadherin expression in gastric cancer patients. Clin Cancer Res. 2004;10:2818–23.

13.

Yamamichi K, Uehara Y, Kitamura N, Nakane Y, Hioki K. Increased expression of CD44v6 mRNA significantly correlates with distant metastasis and poor prognosis in gastric cancer. Int J Cancer (Pred Oncol). 1998;79:256–62.

14.

Kodera Y, Nakanishi H, Ito S, Yamamura Y, Fujiwara M, Koike M, et al. Prognostic significance of intraperitoneal cancer cells in gastric carcinoma: detection of cytokeratin 20 mRNA in peritoneal washes, in addition to detection of carcinoembryonic antigen. Gastric Cancer. 2005;8:142–8.

15.

Varki A. Biological roles of oligosaccharides: all of the theories are correct. Glycobiology. 1993;3:97–130.

16.

Park JH, Nishidate T, Kijima K, Ohashi T, Takegawa K, Fujikane T, et al. Critical roles of mucin 1 glycosylation by transactivated polypeptide N-acetylgalactosaminyltransferase 6 in mammary carcinogenesis. Cancer Res. 2010;70:2759–69.

17.

Lange T, Ullrich S, Muller I, Nentwich MF, Stubke K, Feldhaus S, et al. Human prostate cancer in a clinically relevant xenograft mouse model: identification of beta(1,6)-branched oligosaccharides as a marker of tumor progression. Clin Cancer Res. 2012;18:1364–73.

18.

Chen G, Wang Y, Qiu L, Qiu X, Liu H, Wang X, et al. Human IgG Fc-glycosylation profiling reveals associations with age, sex, female sex hormones and thyroid cancer. J Proteomics. 2012;75:2824–34.

19.

Saldova R, Dempsey E, Perez-Garay M, Marino K, Watson JA, Blanco-Fernandez A, et al. 5-AZA-2′-deoxycytidine induced demethylation influences N-glycosylation of secreted glycoproteins in ovarian cancer. Epigenetics. 2011;6:1362–72.

20.

Fry SA, Afrough B, Lomax-Browne HJ, Timms JF, Velentzis LS, Leathem AJ. Lectin microarray profiling of metastatic breast cancers. Glycobiology. 2011;21:1060–70.

21.

Matsuda A, Kuno A, Ishida H, Kawamoto T, Shoda J, Hirabayashi J. Development of an all-in-one technology for glycan profiling targeting formalin-embedded tissue sections. Biochem Biophys Res Commun. 2008;370:259–63.

22.

Nishijima Y, Toyoda M, Yamazaki-Inoue M, Sugiyama T, Miyazawa M, Muramatsu T, et al. Glycan profiling of endometrial cancers using lectin microarray. Genes Cells. 2012;17:826–36.

23.

Nakajima T, Inomata M, Iha H, Hiratsuka T, Etoh T, Shiraishi N, et al (2015) Establishment of new predictive markers for distant recurrence of colorectal cancer using lectin microarray analysis. Cancer Medicine (in press).

24.

Sobin LH, Gospodarowicz MK, Wittekind C. International Union Against Cancer (UICC) TNM classification of malignant tumors, 7th edition, Oxford. UK: Wiley-Blackwell; 2009.

25.

Huang W-L, Li Y-G, Lv Y-C, Guan X-H, Ji H-F, Chi B-R. Use of lectin microarray to differentiate gastric cancer from gastric ulcer. World J Gastroenterol. 2014;20(18):5474–82.

26.

Vanderschaeghe D, Festjens N, Delanghe J, Callewaert N. Glycome profiling using modern glycomics technology: technical aspects and applications. Biol Chem. 2010;391:149–61.

27.

Wu AM, Kabat EA, Gruezo FG, Allen HJ. Immunochemical studies on the combining site of the D-Galactopyranose and 2-Acetamid-2-deoxy-D-Galactopyranose specific lectin isolated from Bauhinia purpurea alba seeds. Arch Biochem Biophys. 1980;204:622–39.

28.

Yamamoto K, Maruyama IN, Osawa T. Cybrog lectins: novel leguminous lectins with unique specificities. J Biochem. 2000;127:137–42.

29.

Iramura T, Osawa T. Studies on a hemagglutinin from Bauhinia purpurea alba seeds. Arch Biochem Biophys. 1972;151:475–81.

30.

Shiratsu K, Higuchi K, Nakayama J. Loss of gastric gland mucin-specific O-glycan is associated with progression of differentiated-type adenocarcinoma of the stomach. Cancer Sci. 2014;105:126–33.

31.

Karasawa F, Shiota A, Goso Y, Kobayashi M, Sato Y, Masumoto J, et al. Essential role of gastric gland mucin in preventing gastric cancer in mice. J Clin Invest. 2012;122:923–34.

32.

Karin M. Nuclear factor-kappaB in cancer development and progression. Nature. 2006;441:431–6.

33.

Takahashi H, Ogata H, Nishigaki R, Broide DH, Karin M. Tobacco smoke promotes lung tumorigenesis by triggering IKKb and JNK1 dependent inflammation. Cancer Cell. 2010;17(1):89–97.

34.

Grivennikov SI, Greten FR, Karin M. Immunity, Inflammation, and Cancer. Cell. 2010;140(6):883–99.

35.

Ohkura H. Tumor markers in monitoring response to chemotherapy for patients with gastric cancer. Jpn J Clin Oncol. 1999;29:525–6.

36.

Yamao T, Kai S, Kazami A, Koizumi K, Handa T, Takemoto N, Maruyama M. Tumor markers CEA, CA19-9 and CA125 in monitoring of response to systemic chemotherapy in patients with advanced gastric cancer. Jpn J Clin Oncol. 1999;29:550–5.

37.

Pectasides D, Mylonakis A, Kostopoulou M, Papadopoulou M, Triantafillis D, Varthalitis J, et al. CEA, CA 19-9, and CA-50 in monitoring gastric carcinoma. Am J Clin Oncol. 1997;20:348–53.

38.

Kodama I, Koufuji K, Kawabata S, Tetsu S, Tsuji Y, Takeda J, Kakegawa T. The clinical efficacy of CA 72-4 as serum marker for gastric cancer in comparison with CA19-9 and CEA. Int Surg. 1995;80:45–8.

39.

Adachi Y, Yasuda K, Inomata M, Sato K, Shiraishi N, Kitano S. Pathology and prognosis of gastric carcinoma: well versus poorly differentiated type. Cancer. 2000;89(7):1418–24.

40.

Li C, Oh SJ, Kim S, Hyung WJ, Yan M, Zhu ZG, Noh SH. Macroscopic Borrmann type as a simple prognostic indicator in patients with advanced gastric cancer. Oncology. 2009;77(3–4):197–204.

41.

Baiocchi GL, Tiberio GA, Minicozzi AM, Morgagni P, Marrelli D, Bruno L, et al. A multicentric Western analysis of prognostic factors in advanced, node-negative gastric cancer patients. Ann Surg. 2010;252(1):70–3.

42.

Adachi Y, Oshiro T, Mori M, Maehara Y, Sugimachi K. Tumor size as a simple prognostic indicator for gastric carcinoma. Ann Surg Oncol. 1997;4(2):137–40.
Acknowledgments
This study was supported, in part, by Grants-in-Aid for Scientific Research from the Japanese Society for the Promotion of Science (24591953). We thank Ms. Mayumi Takeda, Ms. Hiroko Taguchi, Ms. Yuiko Aso, and Ms. Maki Fujinaga for technical assistance.
Conflict of interest
T. Futsukaichi and his coauthors declare no conflicts of interest.
About this article
Cite this article
Futsukaichi, T., Etoh, T., Nakajima, K. et al. Decreased expression of Bauhinia purpurea lectin is a predictor of gastric cancer recurrence. Surg Today 45, 1299–1306 (2015). https://doi.org/10.1007/s00595-015-1127-1
Received:

Accepted:

Published:

Issue Date:
Keywords
Bauhinia purpurea lectin

Lectin microarray

Gastric cancer

Recurrence

Glycan