Abstract
Purpose
Carotid endarterectomy is a standard treatment for symptomatic high-degree internal carotid artery stenosis. The aim of this article is to present possible intimal lesions after carotid endarterectomy. These lesions could be manifested as intimal flaps, intimal steps or dissections with or without occlusion or stenosis of the artery.
Methods
The evaluation of the frequency and characteristics of the asymptomatic dissecting intimal lesions of the common carotid arteries was performed in a sample of 100 patients who underwent endarterectomy for symptomatic high-grade stenosis of the internal carotid artery.
Results
We found five patients with asymptomatic dissecting intimal lesions of the common carotid arteries.
Conclusion
The most common causes of these intimal lesions were shunting and prolongation of the clamping time. Routine carotid ultrasound follow-up exams are necessary because of the potential need for a change in the antithrombotic therapy or due to a need to perform an endovascular treatment.
Access options
Buy single article
Instant access to the full article PDF.
US$ 39.95
Tax calculation will be finalised during checkout.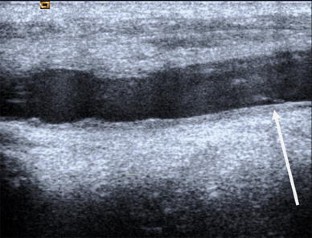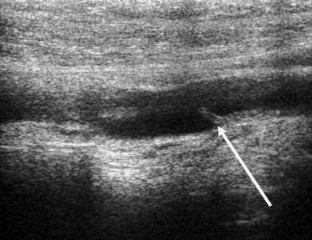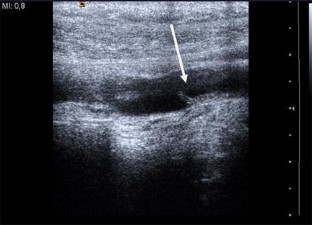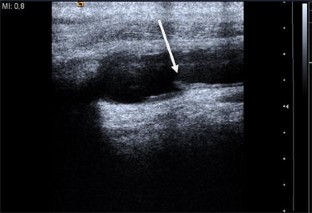 References
1.

Lloyd-Jones D, Adams RJ, Brown TM, Carnethon M, Dai S, De Simone G, et al. Heart disease and stroke statistics–2010 update: A report from the American Heart Association. Circulation. 2010;121:e46–215.

2.

Adams HP Jr, Bendixen BH, Kappelle LJ, Biller J, Love BB, Gordon DL, et al. Classification of subtype of acute ischemic stroke. Definitions for use in a multicenter clinical trial. Toast. Trial of org 10172 in acute stroke treatment. Stroke. 1993;24:35–41.

3.

Demarin V, Lovrencic-Huzjan A, Basic S, Basic-Kes V, Bielen I, Breitenfeld T, et al. Recommendations for the management of patients with carotid stenosis. Acta Clin Croat. 2010;49:101–18.

4.

Liapis CD, Bell PR, Mikhailidis D, Sivenius J, Nicolaides A, Fernandes e Fernandes J, et al. Esvs guidelines. Invasive treatment for carotid stenosis: Indications, techniques. Eur J Vasc Endovasc Surg. 2009;37:1–19.

5.

Strenja-Linic I, Kovacevic M, Kovacic S, Ivancic A, Budiselic B. Early identification of patients with the risk for postoperative carotid restenosis development. Coll Antropol. 2011;35(Suppl 2):263–6.

6.

Ichinose T, Naito K, Tsuruno T. Microsurgical interintimal dissection in carotid endarterectomy. World Neurosurg. 2013. doi:10.1016/j.wneu.2013.01.045.

7.

van der Kolk AG, de Borst GJ, Jongen LM, den Hartog AG, Moll FL, Mali WP, et al. Prevalence and clinical consequences of carotid artery residual defects following endarterectomy: A prospective ct angiography evaluation study. Eur J Vasc Endovasc Surg. 2011;42:144–52.

8.

Russell D, Bakke SJ, Wiberg J, Nakstad P, Nyberg-Hansen R. Patency and flow velocity profiles in the internal carotid artery assessed by digital subtraction angiography and Doppler studies three months following endarterectomy. J Neurol Neurosurg Psychiatry. 1986;49:183–6.

9.

Skelly CL, Meyerson SL, Curi MA, Desai TR, Bassiouny HS, McKinsey JF, et al. Routine early postoperative duplex scanning is unnecessary following uncomplicated carotid endarterectomy. Vasc Endovasc Surg. 2002;36:115–22.

10.

Dillavou ED, Kahn MB, Carabasi RA, Smullens SN, DiMuzio PJ. Long-term follow-up of reoperative carotid surgery. Am J Surg. 1999;178:197–200.

11.

Malek LA, Malek AK, Leszczynski J, Toutounchi S, Elwertowski M, Spiewak M, et al. Carotid clamping time as a risk factor for early restenosis after carotid endarterectomy. Eur J Vasc Endovasc Surg. 2005;30:143–6.

12.

Oszkinis G, Pukacki F, Juszkat R, Weigele JB, Gabriel M, Krasinski Z, et al. Restenosis after carotid endarterectomy: Incidence and endovascular management. Interv Neuroradiol. 2007;13:345–52.

13.

Makihara N, Toyoda K, Uda K, Inoue T, Gotoh S, Fujimoto S, et al. Characteristic sonographic findings of early restenosis after carotid endarterectomy. J Ultrasound Med. 2008;27:1345–52.

14.

Sharpe R, Sayers RD, McCarthy MJ, Dennis M, London NJ, Nasim A, et al. The war against error: A 15 year experience of completion angioscopy following carotid endarterectomy. Eur J Vasc Endovasc Surg. 2012;43:139–45.

15.

Reinert M, Mono ML, Kuhlen D, Mariani L, Barth A, Beck J, et al. Restenosis after microsurgical non-patch carotid endarterectomy in 586 patients. Acta Neurochir (Wien). 2012;154:423–31 (discussion 431).

16.

Bellosta R, Luzzani L, Carugati C, Talarico M, Sarcina A. Routine shunting is a safe and reliable method of cerebral protection during carotid endarterectomy. Ann Vasc Surg. 2006;20:482–7.

17.

Gumerlock MK, Neuwelt EA. Carotid endarterectomy: To shunt or not to shunt. Stroke. 1988;19:1485–90.

18.

Woodworth GF, McGirt MJ, Than KD, Huang J, Perler BA, Tamargo RJ. Selective versus routine intraoperative shunting during carotid endarterectomy: A multivariate outcome analysis. Neurosurgery. 2007;61:1170–6 (discussion 1176-1177).

19.

Pennekamp CW, Moll FL, de Borst GJ. The potential benefits and the role of cerebral monitoring in carotid endarterectomy. Curr Opin Anaesthesiol. 2011;24:693–7.

20.

Wallaert JB, Goodney PP, Vignati JJ, Stone DH, Nolan BW, Bertges DJ et al. Completion imaging after carotid endarterectomy in the vascular study group of New England. J Vasc Surg. 2011;54:376–385, 385 e371–373.

21.

Liapis CD, Paraskevas KI. Do carotid surface irregularities correlate with the development of cerebrovascular symptoms? An analysis of the supporting studies, the opposing studies, and the possible pathomechanism. Vascular. 2006;14:88–92.

22.

Pokrovskii AV, Kuntsevich GI, Beloiartsev DF, Timina IE, Kolosov RV. Carotid thromboses in the early postoperative period after carotid endarterectomy. Angiol Sosud Khir. 2005;11:85–94.

23.

Marone EM, Coppi G, Tshomba Y, Chiesa R. Eight-year experience with carotid artery stenting for correction of symptomatic and asymptomatic post-endarterectomy defects. J Vasc Surg. 2010;52:1511–7.
Conflict of interest
The authors declare no conflict of interests.
About this article
Cite this article
Budincevic, H., Ivkosic, A., Martinac, M. et al. Asymptomatic dissecting intimal lesions of common carotid arteries after carotid endarterectomy. Surg Today 45, 1227–1232 (2015). https://doi.org/10.1007/s00595-014-1018-x
Received:

Accepted:

Published:

Issue Date:
Keywords
Carotid endarterectomy

Intimal lesions

Carotid ultrasound